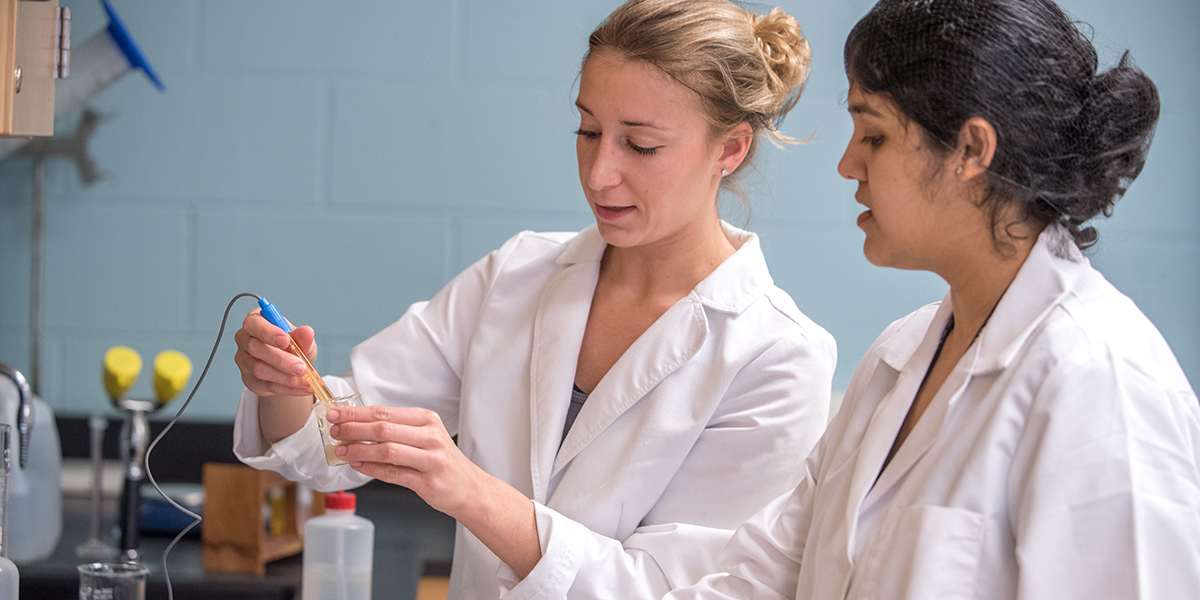 Bachelor of Science in Dietetics - Coordinated Program (CP)
Please note: The Coordinated Program is not accepting new students at this time while it is being reorganized.
Future Education Model Program in Nutrition and Dietetics!!
The University of Akron has applied to the Accreditation Council for Education in Nutrition and Dietetics (ACEND) to open a new and innovative program in Fall 2023 to prepare Registered Dietitian Nutritionists.

The Accreditation Council for Education in Nutrition and Dietetics (ACEND) released the Future Education Model Accreditation Standards for programs in nutrition and dietetics (see www.eatrightpro.org/FutureModel). These accreditation standards integrate didactic coursework with supervised experiential learning in a competency-based curriculum designed to prepare nutrition and dietetics practitioners for future practice.

The ACEND Board has approved our phase 1 application and will make a final accreditation decision on the program in 2023 after review of our phase 2 report.

If successful, following the phase 2 report review by the ACEND Board, we will begin recruiting students for our fall 2023 class.
Contact:
Leann Schaeffer PhD, RD, LD, Program Director for more information. Phone (330) 972-6046, email ls60@uakron.edu.
Accreditation Status
The University of Akron
College of Health and Human Sciences
School of Nutrition & Dietetics-210 Schrank Hall S
240 Carroll Street
Akron, OH 44325-0401


Program Director: Ms. Leann B Schaeffer
Phone: (330) 972-6046
Email: ls60@uakron.edu
For full program information, visit: http://www.uakron.edu/nutritiondietetics
Accreditation is a mark of excellence.
The coordinated program at The University of Akron is accredited by the Accreditation Council for Education in Nutrition and Dietetics (ACEND) for the Coordinated Program in Dietetics. It is ACEND's considered opinion that the program is designed to and does meet all state dietetics licensure and certification laws as some states may interpret their statutes differently.
Accreditation Status: Accredited
Date of Initial Accreditation: 1/1/1975
Accreditation Term Ends: 6/30/2024
Degree Granted: BS
Program Features: Course Credit Transfer Agreements, Student-Identified Supervised Practice/Experiential Learning
---
Description of the Program
The Coordinated program for a Bachelor of Science in Dietetics at University of Akron is one of only three coordinated programs in Ohio. This program enables students to complete their required supervised practice, along with the core knowledge and competencies for the Registered Dietitian at the undergraduate level. Students are placed in a variety of settings, including medical centers, long-term care facilities, school nutrition programs, health departments, wellness centers and many other locations. Students in the Coordinated Program are eligible to take the national Registration Examination immediately following graduation until Dec 31, 2023.
"Effective January 1, 2024, the Commission on Dietetic Registration (CDR) will require a minimum of a master's degree to be eligible to take the credentialing exam to become a registered dietitian nutritionist (RDN). In order to be approved for registration examination eligibility with a bachelor's degree, an individual must meet all eligibility requirements and be submitted into CDR's Registration Eligibility Processing System (REPS) before 12:00 midnight Central Time, December 31, 2023. For more information about this requirement visit CDR's website: https://www.cdrnet.org/graduatedegree. In addition, CDR requires that individuals complete coursework and supervised practice in program(s) accredited by the Accreditation Council for Education in Nutrition and Dietetics (ACEND). Graduates who successfully complete the ACEND-accredited Coordinated Program at The University of Akron are eligible to [apply to an ACEND-accredited supervised practice program/apply to take the CDR credentialing exam to become an RDN." Commission on Dietetic Registration.
Program Mission Statement:
Graduates of the Coordinated Program in Dietetics will be prepared as entry-level Registered Dietitians for future practice in the field of nutrition and dietetics with attitudes, understandings, and skills that will allow them to analyze critically and meet the diverse needs of individuals and/or society. The program provides graduates with the knowledge and tools to develop skills necessary to develop into leaders in the field and to translate and apply the science of food and nutrition to health.
Program goals and objectives can be found in the CP Handbook by clicking here.
---
Program Outcome Data
Program outcome data are available by request of the CP Program Director at ls60@uakron.edu.
---
Program Requirements: Coordinated Program (CP)
Complete B.S. in Dietetics
Complete required Supervised Practice Clinicals
To become a Registered Dietitian, a student must:
Complete the academic requirements;
Complete the supervised experience in dietetics practice;
Obtain appropriate verification; and
Pass the National Credentialing Examination.
---
Applying to the Program
Students apply to CP during the spring semester of their sophomore year. Up to 14 students are accepted annually into the CP. The program is planned to take two years (24 months or 104 weeks). Students may be granted up to 150% of the time (3 years, 36 months, 156 weeks) to complete the program. Two additional slots are available through the waiver process.
Waiver Process
For students possessing a nutrition or dietetics degree or a verification statement from a program accredited by the Accreditation Council for Education in Nutrition and Dietetics (ACEND), the Coordinated Program at the University of Akron is offering an opportunity for students with extenuating circumstances to apply to the program. If you have been working in the profession in the area of community nutrition, food systems management, or medical nutrition therapy after receiving your degree, you will receive credit for prior learning. This will provide an opportunity for you to participate in a variety of placements or be exempted from coursework. Up to two students can be selected for the waiver program. Application for the Coordinated Program remains the same.
For further information refer to the Policy for Waiving Supervised Practice Experience please see Waiver Policy.
In most states, graduates also must obtain licensure or certification to practice. For more information about state licensure requirements click here.

It is ACEND's considered opinion that the program is designed to and does meet all state dietetics licensure and certification laws as some states may interpret their statutes differently.
---
Cost to Student
University undergraduate tuition information can be found here.
Estimated costs for the Coordinated Program can be found in the CP Handbook.
---
Application and Admission Requirements
Procedure for applying to the Coordinated Program:
The student will complete and submit the application for CP by the due date posted on the Nutrition Brightspace page.
The application will be reviewed and scored by the selection committee.
The applicant will participate in the interview process, which will be scored and become part of the total application score.
If the student is applying for a waiver it is to be submitted according to the waiver criteria listed above. If the overall score of the application places the student in the top 14 candidates, the documentation submitted for waiver of supervised practice shall then be reviewed.
Applicants will be chosen by the selection committee based on the scoring of reference letters, interview, work experience, level of volunteerism and shadowing, and application.
If a student is not selected for the program they may re-apply the following year.
There is no cost to apply to the program.
---
Academic and Program Calendar
The academic calendar is posted on the university webpage here.
The program calendar follows the university academic calendar for academics, vacations, and holidays. Students may not miss class time for non-university scheduled breaks. If a student needs a leave of absence from the program they must meet with the Program Coordinator.
---
Graduation and Program Completion Requirements
The Academic Program Agreement for CP students includes courses established to meet the ACEND Accreditation Standards. Verification Statements are issued to program graduates by the Program Director. Students graduating from the Coordinated Program must obtain a grade of "C" or better in all 7760 didactic courses and all science based courses and a B or better in all supervised practice rotations in order to earn a Verification Statement which indicates successful completion of required courses and supervised practice. A GPA of 3.0 must be maintained throughout the program.
Upon successful completion of CP, the Program Director will submit verification data to the Commission on Dietetic Registration with each graduate's current information. After the candidates are approved by CDR, an Authorization to Test letter with information on how to schedule the RD exam will be sent to the candidate.
---
Financial Aid and Loan Deferments, Scholarships, Stipends and Other Monetary Support
The university offers financial assistance to students in the form of financial aid, and scholarships. Information can be found at the Office of Student Financial Aid website.
Nutrition specific scholarship information is available on the school Brightspace page. Enrollment in the CP Program is a requirement for eligibility.
---
Requirements and Expectations Related to Distance Education
Students are not required to locate their own supervised experiential learning sites and/or preceptors except for Staff Relief which is the last semester of the intern's senior year. Interns select a favored clinical site, a new clinical site, or an area of practice where they feel more experience would be favorable. If students encounter difficulties obtaining a clinical site faculty are available for assistance.
---
Additional Information
►The Coordinated Program Curriculum is located here.

Due to the COVID-19 Pandemic, the Coordinated Program in Dietetics made the following temporary changes:
The number of supervised practice hours and alternative experiences has been lowered from 1,200 to 1,000 hours per approval of ACEND.
If supervised practice hours are cancelled by a clinical site, the instructor is replacing those supervised practice hours with simulations, case studies, and projects to ensure students are receiving appropriate learning opportunities.
The university offers multiple support services free of charge for all students. These include tutoring, counseling, financial assistance, etc. All available services are located on each course syllabi as well as the university website here.
---
Contact Information for Program Guidance
Contact the Student Success Center academic advisor or Program Coordinator for academic guidance:
Student Success Center Academic Advisor:
Joan Ogg
Phone: 330-972-5875
Email: jsteese@uakron.edu
Program Director:
Leann Schaeffer MA, RD, LD
Phone: 330-972-6046
Email: ls60@uakron.edu