Nutrition Minor
Contact Person: Pei-Yang Liu Ph.D.
Phone: (330) 972-8842
E-mail: liu4@uakron.edu
Contact Person: Michelle Boltz
Phone: (330) 972-8664
E-mail: boltz@uakron.edu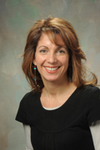 Curriculum Guide (Degree Requirements)
The Nutrition minor consists of 18 credit hours taken in consultation with an advisor. Students majoring in a wide variety of disciplines can benefit from the minor for both personal care and professional knowledge.
---
For information on declaring a Nutrition Minor contact the School's Nutrition Center
Schrank Hall South, Room 210
330-972-2836
nutritioncenter@uakron.edu