Mr William Casterlow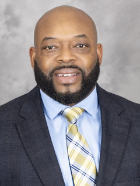 Title: Assoc Dir, AAMLI
Dept/Program: Incl & Equity/Chief Diversity
Office: Simmons Hall 124
Phone: 330-972-3925
Email: wcasterlow@uakron.edu

---
Biography
William McKinley Casterlow was born and raised in Passaic New Jersey which is approximately 12 miles outside New York City. He attended Passaic Public Schools and upon graduating high school joined the United States Army in July 1990. After completing 4 years of active duty service he moved to Ohio with his wife and son in 1994. He worked at the Alliance Tubular Products plant from 1994-1996 in Alliance Ohio before attending college. While in college he began working as an intern; then a full time paraprofessional and was later promoted to District Executive for Scoutreach Programs in 2001 with the Buckeye Council Boy Scouts of America upon completing his Bachelor of Science Degree in Education from Kent State University in 2002 and later completed his Master of Education Degree with concentrations in Community College Leadership, Multicultural Education and Global Education at Kent State University in 2012.
William accepted a position with Kent State University at Stark in 2002 as an Admissions Counselor and has been promoted to Student Development Coordinator with the Upward Bound Programs in Kent and then hired and promoted to Enrollment Management and Student Services Advisor at Kent State University at Stark in 2007.
William's educational endeavors and research is focused on the socioeconomic dynamics of low-income life, people of color in the U.S. and how these dynamics affect educational attainment, community and family development. Through his work in college admissions and community outreach he has worked to develop programs to middle school and high school students that focus on diversity, economic literacy and the benefits of a college education. He also provides presentations on the historical context of the African American experience in America to many college, high school and middle school students including presentations on the effects of the Prison Industrial Complex on African American men. His current research is in educational attainment, employment practices and employee rights where he is exploring how aspects of race, class, gender and economics within American history intersect with the criminal justice system to set the conditions that harmed workers throughout history from 1860's till the present.
Will has been described as amicable, willing to listen and eager to help those in need. He has been involved in numerous community organizations and events over the years. Will is an avid basketball and football fan and enjoys watching Marvel movies and watching series on Netflix with his family and friends.
---