SYLVIA JUSCAK IS DECEMBER'S ZIPTASTIC WINNER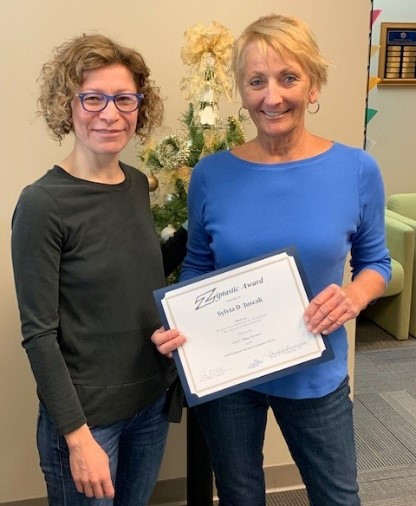 The Staff Employee Advisory Committee is pleased to announce Sylvia Juscak, administrative assistant for the Department of Philosophy, as the Ziptastic Award recipient for December.
Sylvia came to the Philosophy Department in 1986 as a temporary employee with Manpower. After a year, she was hired full-time in the department, where she has spent her entire 33-year career here. Before coming to UA, she worked at Ohio Edison for 18 years.
She was nominated by Dr. Dimitria Gatzia, Philosophy Department chair, who reached out to previous chairpersons as well as past and current faculty and students. Within minutes, Gatzia received numerous responses of support. Every chairperson that has worked with Sylvia praised her devotion, ability to keep the department running smoothly, helpfulness and friendliness. Congratulations, Sylvia!
OHIO PHILOSOPHICAL ASSOCIATION Annual Meeting
The 2020 Annual Meeting of the Ohio Philosophical Association will be held at UofA April 18, 2020.
Prize Essay in Philosophy Contest - WIN $150
The Philosophy Department is pleased to announce its annual Prize Essay in Philosophy competition. For details, click here
PPE student recognized
Rachael Steer, PPE major and commencement speaker at May's graduation ceremony, is also the recipient of the Williams Honors College Hunter Award. The Hunter Award recognizes a graduating senior in the Honors College who shows extraordinary leadership in commitment to and involvement in organizations and activities that serve and improve humankind. Congratulations Rachael!
---