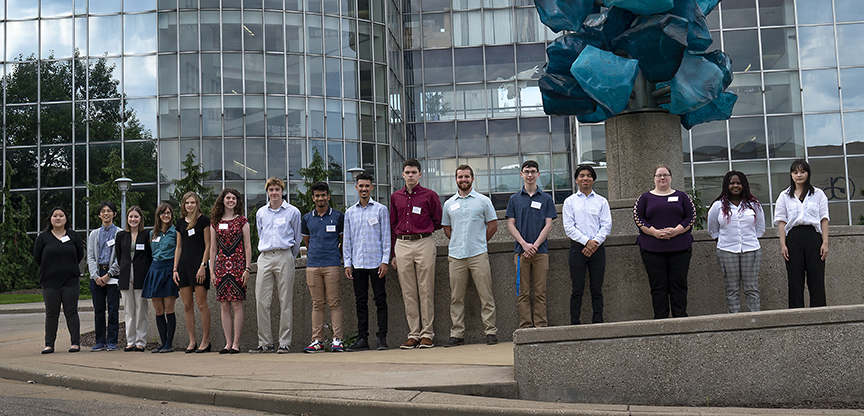 REU: Information for Accepted Students
SUMMER 2023 INTERNSHIP PROGRAM
---
I Was Accepted into the Program! Now What?
Congratulations!
YOUR FIRST STEP: Please carefully read your award letter and review the following program information, then send us a "YES" email or a "NO Thank You" email, within 2 weeks of receipt of your award letter. Please include your full name in the email.
Please send an official transcript if you are accepting and sent a non-official transcript in your application.
You'll receive a stipend of $5,400, with the first $1,800 paid as a check and delivered on the first day of the program.
You'll likely live in this dorm: Exchange Street Residence Hall. Dormitory is covered by the program. Address: Exchange Street Residence Hall, 4 Grant Street, Akron, Ohio, 44304.

Move-in is usually the Sunday immediately before the program starts.
The program pays for your dormitory. The amount paid on your behalf for dormitory is generally considered as taxable income.

The program does not include a meal plan.
Program does include a parking pass if you bring a car.
Some travel-to-campus expenses are covered. Save ALL of your receipts.

If you are flying in, we recommend Akron Canton airport (CAK) or Cleveland (CLE). (Compare prices between the two.) You will need to book your flights.
NOTE: We can arrange - in advance! - a car service to pick you up at the airport, for about $120, which will apply towards your travel allowance. Email your request and flight plans to polymerreu@uakron.edu at least 2 weeks in advance.
NOTE: Just grabbing a taxi at the airport on travel day will be very expensive. Please plan your airport-to-campus travel in advance.

If you are driving in, and driving more than 300 miles, email polymerreu@uakron.edu as soon as possible so we can briefly discuss your plans.
See below for more information and important details for those students who are saying "YES" to their acceptance into the program.
IF YOU SAID, "NO"
---
Thank you for letting us know - we will offer your spot to someone else.
Please apply next year if you're not graduating.
If you wish to share your reason for saying "No", please do in your email. We would like to know.
Good luck with your future endeavors!
IF YOU SAID, "YES"
---
Email: polymerreu@uakron.edu if you have any questions. We are very happy to answer questions and look forward to getting to know you! So ask questions!
Click on a topic below to see specific information and instructions for moving forward into the REU program.
We'll email you exact move-in date/time as soon as we know it. Then you can plan your travel. Plan early if you are flying.
Some travel-to-campus expenses are covered. Save ALL of your receipts - receipts must list what you bought on the receipt.
Please see the "if you are flying in" section on this webpage above. Especially note that if you wish for us to order a car pickup for you, you must ask for this at least 2 weeks in advance!
If you are driving in and will keep your car on campus, your parking pass will be waiting for you at check-in.

Hang your tag on your rear-view mirror A.S.A.P. - passes will cost you $120 to replace.

If you are being dropped off - park anywhere, Sunday, and don't worry about a parking pass. Parking services does not check for parking passes on move-in days.
On move-in day, come to 4 Grant Street, Akron, Ohio, 44304. The check-in office is inside the cut-through at the corner of Grant and E. Exchange. Parking access is from Grant Street. (see image below)

Arrival is expected on TBA.

If you arrive outside of that time

, you'll need to go to the office, find the "on call" number posted, and call that number. Saturday arrival is not appreciated.
Look for grocery carts available to help move your stuff.
Laurel will email you her cell phone number a few days in advance of move-in.
FILL OUT THE ONLINE ENTRY SURVEY - including indicating whether we may share your contact information with your room-mates so you can plan who-will-bring-what.
REGISTER AS A "SPECIAL STUDENT" (find a detailed "how to" under the topics links below) - This process takes a few steps, with processing wait time in-between. Relax, check your emails. We're starting early, we'll be just fine.
REGISTER FOR DORMITORY - Wait until we tell you that your application is completely processed. (When you register for housing, take great care that you register for SUMMER term, not fall term.)
Please go to this link, and for the question "What Type of Program", please click the button under "Certificate-Seeking and Special Students": https://uakron.edu/admissions/undergraduate/who-are-you/other/. (see image below)

Next, SCROLL DOWN and click the blue "Sign Up" link at the bottom of the screen. (see image below)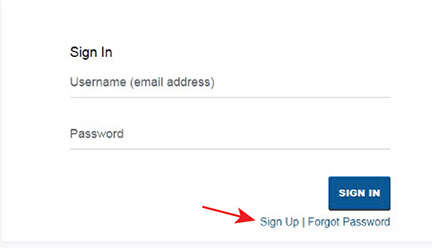 Create a password that is 8 letters and contains a combination of letters and numbers.
Select "UNDERGRADUATE" > Select "SUMMER 2021" for the term.
For Student Type, select "Special - You are seeking a standalone certificate program or special short term..." (see image below).

For Campus, choose "The University of Akron, Main Campus, Akron, Ohio".
For Degree, choose "Non-Degree".
For Enrollment Status, choose "Part-Time".
You WILL RECEIVE A FEE WAIVER, so click YES for the question: "Do you meet any of the following indicators...for an application fee waiver?" (see image below)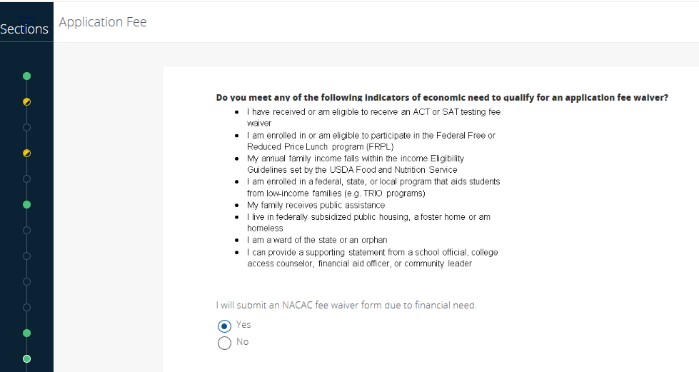 NOTE regarding FEE WAIVER - Laurel Lohrey has already submitted the actual fee waiver document for you, so you will not need to do that step.
NOTE: Do NOT pay an application fee! - If you get an automated email asking you to, DO NOT PAY IT!. We will use the waiver instead.
If you have any questions, please email us: polymerreu@uakron.edu