Remarks by Board Chairman Roland H. Bauer
The following is prepared text of Board Chairman Roland H. Bauer's remarks concerning the appointment of Matthew J. Wilson as interim president during the Board's special meeting on July 11, 2016.
During the last several weeks, all members of this Board of Trustees – as well as our student trustee and our two advisory trustees – have engaged in many conversations and discussions with a wide range of individuals, both from within the University and from the community at large. Those conversations have focused on three broad categories: Where are we as a University now? How best can we move forward? And, what characteristics do we want in the person who can lead the University as its interim president? Those conversations have been extremely valuable in helping us decide whom we should select for this vital role.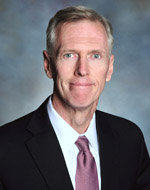 We heard from faculty, staff and students. We talked with representatives from the deans of our colleges as well as department chairs and school directors. We talked with the leadership of the University Council, the Faculty Senate and the AAUP. Several members of the community at large took time to speak directly to us. We also had numerous informal opportunities to hear from many different people in all walks of life. These discussions were very constructive, productive and positive. Uniformly, we heard a key message – that we must all work hard together to move The University of Akron forward. Indeed, that phrase – "move forward" – was heard time and time again.
We are grateful to those with whom we had an opportunity to engage for their time, their thoughtful insights and their suggestions. To a person, those individuals – and so many more in the community – have shown their support for and passion about seeing The University of Akron continue to serve its critical mission of educating the students who come here and preparing them for great careers, while serving as a catalyst for economic growth and development for Akron, Northeast Ohio, the State of Ohio and beyond. While this process was expedited, we had excellent cooperation and full and active Board involvement, and the Board genuinely believes that this was a fair and highly effective process that has yielded a terrific candidate.
Five priorities
Emerging from those conversations and our Board discussions are five priorities that we as a University and specifically our interim president need to address. They include developing a sustainable budget; increasing enrollment; accelerating our progress in increasing student retention; rebuilding and strengthening relationships with our various constituencies; and, significantly growing our development efforts. Achieving those goals will require a strong and capable leader, and we believe we have found that person.
Based upon the input we received and through our own deliberations, the Board reached consensus that the University would be served best by appointing as interim president someone who already is on campus, who has worked with many different aspects of the University and has an appreciation for both the challenges we face and the opportunities that exist for us to move forward.
During the course of our discussions, several individuals were suggested as possible candidates, including several from within the University. We invited four excellent individuals to talk with us, each of whom has a track record of success. Those individuals included Dr. John C. Green, the interim dean of the Buchtel College of Arts and Sciences and the director of the renowned Ray C. Bliss Institute of Applied Politics; Dr. Ravi Krovi, the dean of our College of Business Administration; Dr. David B. Baker, Professor of Psychology and the Margaret Clark Morgan Executive Director of the nationally-recognized Center for the History of Psychology; and, Matthew J. Wilson, the dean of our School of Law. We were and are impressed with the experience and leadership abilities of each of those individuals and appreciate their service to UA and our students.
Interim president introduced
I am pleased to announce that we have selected Matthew J. Wilson, the current Dean of The University School of Law, to become our Interim President. In a few moments, we will vote on a Board resolution to make that appointment official but I'd like to share some of Dean Wilson's background and experience with you.
Dean Wilson, who also is a tenured faculty member, came to The University of Akron in 2014 after serving as professor and Associate Dean of Academic Affairs and Associate Dean of Student Affairs at The University of Wyoming College of Law. He has 25 years of international experience in legal, business and educational matters in the United States, Japan, Korea, the Philippines, and the U.S. Commonwealth of the Northern Mariana Islands.
He began his academic career in 2003 at Temple University's Japan Campus in Tokyo, serving first as its Law Program Director and Associate Professor of Law, and then as its General Counsel, Associate Dean and Senior Associate Dean. During that time, Dean Wilson oversaw academic, administrative, and legal matters related to all undergraduate, graduate, professional, and non-degree programs. He also implemented new marketing strategies, diversified curriculum offerings and modified program structures, which resulted in a nearly four-fold increase in enrollment and revenues in the Law Program in a six-year period. He joined the University of Wyoming College of Law as professor in 2009. From 2011 to 2014, he concurrently served as an international scholar at Kyung Hee University Law School, developing a collaborative relationship with the University and teaching international negotiations each summer at its campus in Seoul, South Korea.
He is a graduate of the University of Utah with a B.S. in Political Science and a B.A. in Asian Studies and holds a J.D. from Temple University School of Law.
Here at The University of Akron, Dean Wilson has significantly advanced the School of Law. Those accomplishments include growing its enrollment in the face of declines at many other law schools; developing innovative program offerings, including a unique dual country, tri-city study abroad program; helping students excel in both bar passage rates and national competitions for client counseling and trial advocacy; and, providing practical experience for students through a new, intensive course in which leading trial attorneys and judges from around the region participate and help students learn how to conduct a trial from beginning to end. As Dean Wilson has noted, employment preparation and placement are important priorities for the School of Law and UA and success has been seen there as well. The employment rate (within nine months of graduation) for the 142 Akron Law graduates in the Class of 2015 – excluding four students who were pursuing additional graduate degrees and four students whose status was unknown – was 92.5%!
We appreciate Dean Wilson's willingness to serve as interim president and we are convinced he will help the entire University achieve the same kind of successes that have been realized within the School of Law.
At this time, I would entertain a motion to adopt the resolution naming Matthew J. Wilson as The University of Akron's interim president.