Toni L. Bisconti, Ph.D.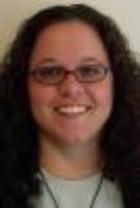 ---
Biography
Dr. Bisconti earned her Ph.D. in Developmental Psychology from The University of Notre Dame in 2001. Her research interests include topics such as ageism, minority stress, experiences of discrimination, and diversity-related education. Courses taught have included Developmental Psychology, Psychology and Diversity, the Psychology of Hate, and Advanced Topics of Human Sexuality.
Her work has appeared in leading journals such as the Journal of Personality and Social Psychology, Psychology and Aging, and the Journals of Gerontology: Psychological Sciences. Prior to joining the faculty at The University of Akron, she was an assistant professor at the University of New Hampshire.
---
Publications
*Vale, M., Bisconti, T. L., & *Sublett, J. F. (in press). Benevolent ageism: Attitudes of overaccommodative behavior towards older women. Journal of Social Psychology.
*Walker, R. V., *Powers, S. M., & Bisconti, T. L., (2016). Positive aspects of the caregiving experience: Finding hope in the midst of the storm. Journal of Women & Therapy, 39(3/4), 354-370. doi: 10.1080/02703149.2016.1116868
---