UA students participate in emergency management exercise in Chicago
December 13, 2016
A team of six senior Emergency Management and Homeland Security students from The University of Akron were chosen to pilot test the first-ever student partnership at the National Seminar and Tabletop Exercise for Institutions of Higher Education (NTTX) at the University of Illinois at Chicago Nov. 16-17. The opportunity was offered by the Homeland Security Office of Academic Engagement in the Department of Homeland Security (DHS), in partnership with the Federal Emergency Management Agency (FEMA).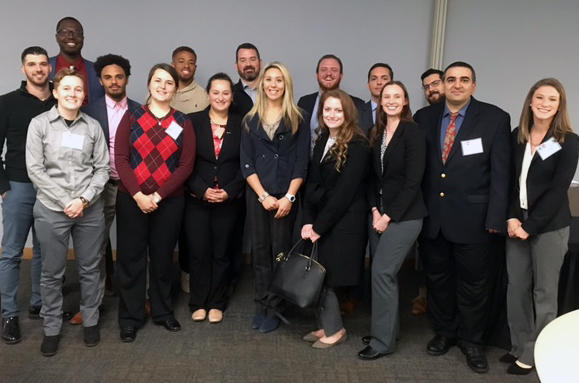 Students in UA's Emergency Management and Homeland Security program were in Chicago recently for hands-on learning in a tabletop exercise.
Dr. Stacy Willett, a professor in the Department of Disaster Science and Emergency Services in the College of Applied Sciences and Technology, led the UA student team, which assisted with around 350 participants from across the country. Willett is a FEMA Higher Education program member and an NTTX planning team member.
The six seniors, who are all earning B.S. in Emergency Management and Homeland Security degrees, are Chriss Scott, Elise Fine, Taron Slone, Bilal Abdlrasul, Katie Knight and Miles Baldwin. They are pictured above with Willett, center front, and members of the DHS Office of Academic Engagement and other emergency management specialists.
A grant was provided by the FEMA Emergency Management Higher Education Program to assist the students in participating in tabletop exercise. Each was required to submit an analysis of the NTTX experience to the Department of Homeland Security for future planning. A collective report to FEMA resulted in a publication for the students.
UA team opens doors for others
Based on the performance of the UA students, the Department of Homeland Security will continue student participation in the NTTX — giving EMHS students across the country the opportunity for this unique career preparation.
Willett says she is very proud of how the UA team handled the experience.
"They joined me in a professional capacity as colleagues and authors," notes Willett. "We were invited to demonstrate how EMHS majors can contribute to national level events. This was a pilot test so there was a lot on the line. Our goal was to open the doors for an NTTX student partnership, and both FEMA and DHS representatives were amazed.
"The students contributed in a far greater capacity than expected, and due to their subject matter expertise, added a fresh set of recommendations for NTTX future events," sais Willett. "Our group accomplished something notable on a national level, and it was a great experience for all of us."