The University of Akron Shared Amazon Business Account
The University of Akron, Department of Purchasing, has obtained a Shared Amazon Business Account punchout catalog that is accessed via ESM easyPurchase. The University's Amazon Shared Business account provides:
Free two-day shipping, with no minimum order, on more than 30 million eligible items marked with the Prime logo
Ever-expanding product selection and competitive contract pricing
Quantity discounts on select items
Enhanced search and browse functionality
Access to business-specific customer support
Access to shop on The University of Akron Shared Amazon Business Account is open to faculty and staff and all purchases will be completed using their individual University issued Pcard. The University of Akron Shared Amazon Business Account is for business purposes only. Personal purchases and Prime subscriptions are not permitted.
The ESM easyPurchase program is a spend management suite which provides a cost savings through online ordering from contracted supplier catalogs. Once you are set up in ESM you will have over 20 punchout catalogs (see below) to procure office, lab, scientific and medical supplies, furniture, electronics, and MRO (maintenance repair operations) items utilizing your UA Pcard. Pcard restrictions still apply for purchases within ESM; the restrictions may be reviewed beginning on page 2 of the Procurement Card Policy and Procedure Manual which you may access here.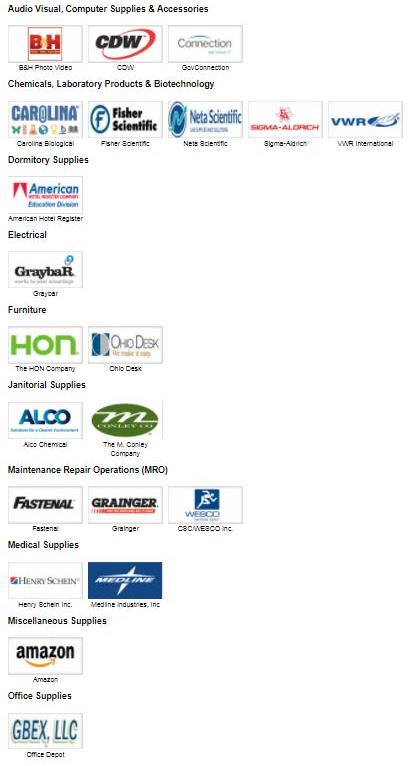 The ESM program overview and application for access is on the Department of Purchasing website, scroll down the page to the ESM easyPurchase Program Information, you may access the page here. If you need assistance or have questions please contact the Department of Purchasing at ext 7340 or purchasing@uakron.edu.
Requesting Sales Tax Reimbursement for Third Party Sellers
3rd Party sellers (vendors) are not required to enroll in the Amazon Tax Exemption Program and are not able to see account information, such as tax exemption, on customer accounts.
In the event your order has been charged sales tax and your account reflects tax exemption, you can contact the seller (vendor) directly and request sales tax reimbursement.
Tax reimbursement will be credited to your account and can take to 24-48 hours to process. If you are unable to get in contact with a vendor or see that sales tax has not been reimbursed (after 3 business days), contact Amazon's dedicated business-customer service: (866) 486-2360 or email the ATEP team (tax-exempt@amazon.com).
Prime Subscriptions
Prime Subscriptions are not permitted. If you currently have a Prime subscription you are permitted to allow it to expire. Do not purchase or renew Prime subscriptions. If a Prime subscription is purchased/renewed please contact Amazon for a refund at 866-486-2360; they should be able to provide a full or pro-rated refund based on when the subscription was purchased/renewed.
CONTACT INFORMATION
Customer Advisor – James Herbert: jhherbert@amazon.com
Senior Customer Advisor – Education
Amazon.com | 31 St. James Avenue, Boston 02116
O: (617) 577-4782