Daily health checks and contact tracing
Students and employees must perform daily health checks before coming to campus.
Daily symptom check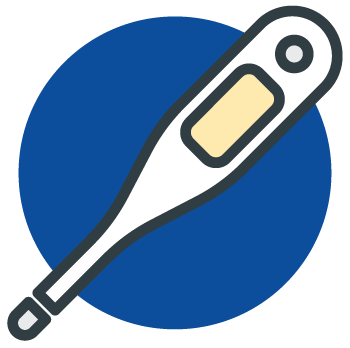 Before you leave your home for campus, you should complete a symptom check, including temperature with a personal thermometer.
As an additional service, touchless temperature scanning kiosks are available across campus. If your temperature is high, information at the kiosk will guide you.
If students fall ill, Student Health Services will perform COVID-19 testing for people exhibiting symptoms at the discretion of the campus medical provider. Students will need a scheduled appointment with Health Services.
All students and employees will be asked to carefully monitor their health and self-quarantine when they feel ill or after extensive travel. If you travel from a state reporting 15% or higher positive test rates for COVID-19, self-quarantine is required.
Contact tracing
Updated February 2021
We are expanding our contact tracing. If the University becomes aware that you or a contact of yours tested positive for COVID, this is what will occur.
Staff who work for The University of Akron Contact Tracing Collaborative will use calls, texts and email to make notifications.
Calls will come from a 330-473-4437 number with the caller ID of University of Akron Contact Tracing. Depending on carrier/app used, it can come up with a variety of caller-ID verbiage. Please ensure your voicemail is set-up and you pay attention to messages from this number.
Email will be sent from the address of ___@GattiHR.com. If the collaborative cannot reach a person by phone, contact tracers will send an email to follow up. The subject line will likely read, "Follow-up - University of Akron Contact Tracing Collaborative."
Check-in communication: Those who have been instructed to quarantine or isolate through the contact tracing process will receive either a phone call or daily check-in email. The subject line will be REMINDER – Action Required: COVID-19 Check-in form for x/xx/2021.
You may get contacted twice and you should respond to both. Here's why: The collaborative shares information with Summit County Public Health, but it stops tracing when contacts are not affiliated with UA. The public health department will also contact cases for a similar interview that will be more extensive. Please respond to both inquiries.
If you are uncertain about a communication you receive and wish to verify the message, please email contacttracing@uakron.edu. We'll be glad to help you.
Thank you for doing your part to keep our campus healthy.