Daily health checks and contact tracing
Students and employees must perform daily health checks before coming to campus.
Daily symptom check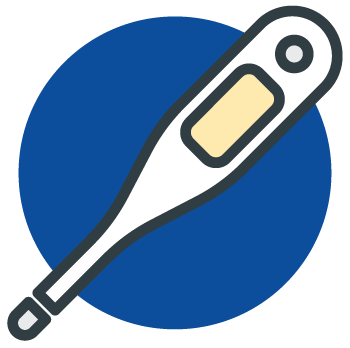 Before you leave your home for campus, you should complete a symptom check, including temperature with a personal thermometer.
As an additional service, touchless temperature scanning kiosks are available across campus. If your temperature is high, information at the kiosk will guide you.
If students fall ill, Student Health Services will perform COVID-19 testing for people exhibiting symptoms at the discretion of the campus medical provider. Students will need a scheduled appointment with Health Services.
All students and employees will be asked to carefully monitor their health and self-quarantine when they feel ill or after extensive travel. If you travel from a state reporting 15% or higher positive test rates for COVID-19, self-quarantine is required.
Contact tracing
With local health departments, the University is developing teams of contact tracers to support county operations. This will allow us to respond quickly and appropriately, inform potential contacts and guide them on the next steps to limit the spread of COVID-19.