Residence halls and dining
Updated Feb. 5, 2021
Residence halls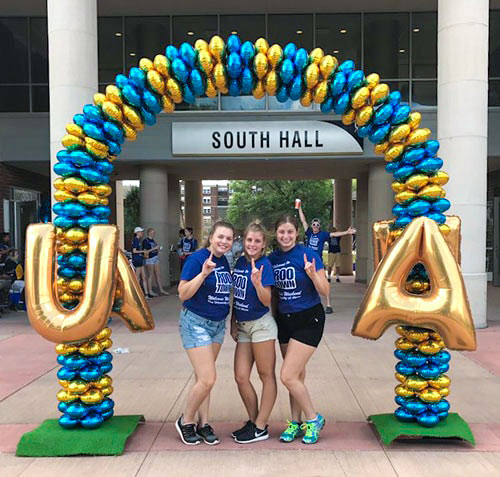 As previously announced, COVID-19 testing will be required for those living in residence halls starting this spring semester.
In response to improving campus conditions, Residence Life and Housing is again allowing residence hall students to sign in other residence hall students as guests.
Specifically, the guest policy will be as follows:
Only other UA residence hall students are permitted as guests in your residence hall room, and the limitation of one guest per resident remains. For instance, if you live in South, your friend from Bulger may visit your room, but your friend who lives off campus may not.
We will continue to monitor conditions and will adjust our approach as necessary to keeping our residence halls safe.
If you have any questions, please email reslife@uakron.edu.
Testing
Throughout the semester, weekly random screening testing will take place for students living on campus, registered for in-person classes, athletes and UA employees.
For the spring 2021 semester, the University has determined that all residential students will be subject to weekly surveillance COVID-19 testing that will help keep our campus as safe as possible this semester. Resident students have been selected due to higher risk of exposure associated with congregate living and communal dining.
Student athletes were tested on arrival for spring by the Department of Athletics. Weekly ongoing testing will include at least 150 athletes and staff weekly.
CVS will provide on-site testing (located in the Honors Commons Room) from Jan. 19 through April 9.
Students will be randomly selected and notified via their University email.
---
RELATED:
---
Quarantine
Quarantine is required for resident students who enter Ohio from a state with a high positive test rate for COVID-19. See details.
Face coverings
Face coverings are required in all common areas, including hallways, lounges, bathrooms and kitchens. Face coverings are not required in individual private bedrooms. Face covering guidelines for campus.
Questions?
We are happy to answer your questions. Write to reslife@uakron.edu.
---
Dining Services
The University of Akron and Dining Services welcomes you back to campus for the spring semester.
As you know, adjustments were made to the dining program, aligning operations with the current campus footprint due to the COVID-19 pandemic. One adjustment includes the closure of Union Market for the spring semester.
Before a dining location is closed on campus, the University and Dining Services review the potential impact to ensure the appropriate availability of dining locations, meal plan and swipe options, and hours of operation are available.
It is for that reason, that the following enhancements were made to the dining program for the spring semester:
Expanded hours at Panda Express with a meal-swipe option available for lunch and dinner. The meal-swipe option includes any entrée bowl with a medium fountain beverage.
Chick-fil-A now offers meal-swipe options Monday – Saturday. Breakfast meal-swipe options are served Monday – Friday and include chicken minis or any breakfast biscuit sandwich with hash browns and choice of a medium fountain beverage or small coffee. Lunch and dinner meal-swipe options are available every day, and include the choice of an Original CFA Sandwich, or eight-count nuggets with waffle fries and medium fountain beverage.
Freshens' hours are also expanded, breakfast crepes and savory crepes have been reintroduced on the meal exchange menu. Freshens meal-swipe options include any crepe, any rice bowl, any salad or any regular smoothie.
Sushi is also available at Freshens for the spring semester.
Starbucks will now offer breakfast meal-swipe option combos starting on Monday, Jan. 25.
A variety of meal-swipe options have been added to the Grab n Go menu at all on-campus convenience stores and Freshens and will be available Jan. 25.
Auntie Anne's will now be open Monday – Friday from noon to 5 p.m. beginning on Tuesday, Jan. 19.
Rob's Café will be introducing Union Market Favorites to the spring menu. Look for them at various stations.
Four theme meals for the spring semester are planned, pending COVID-19 restriction guidelines.
To view Dining Services' hours of operation and meal exchange menu for the spring semester, please visit Campus Dish.
---
For more information about fall meal plans and hours of operations, please visit the dining website.
---