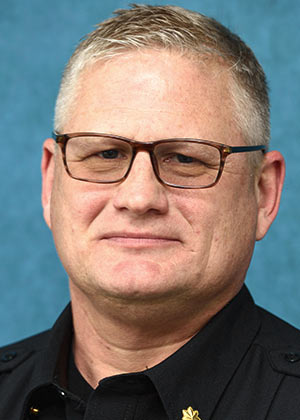 Police Chief Dale Gooding
This information is provided as part of The University of Akron's commitment to safety and security on campus and in compliance with the Jeanne Clery Disclosure of Campus Security Policy and Crime Statistics Act (the "Clery Act") and The Higher Education Act: Fire Safety Report. This report also contains information concerning the University's efforts to prevent the illicit use of drugs and the misuse or abuse of alcohol by students and employees, consistent with the Drug Free Schools and Communities Act Amendments of 1989 (Public Law 101-226.)
Safety: A shared responsibility
Your safety is our priority. It must also be your priority. As a university, we work very hard to prevent crime, fire, accidents and illness associated with drug and alcohol abuse, but nothing we do is as important as what you do - and, in some cases, don't do. The University of Akron Police Department has primary responsibility for crime prevention and law enforcement on campus. Other areas, such as the Division of Student Affairs, and the Offices of Transportation and Parking, Environmental Health and Safety and many others also contribute to making The University of Akron a safer place to study, work and live.
This report contains valuable information about how members of the University community can promote and practice safety on or off campus.  Paying special attention to the following safety tips and programs will greatly reduce the chances of becoming a victim of crime, getting injured or losing valuables.  Working together we can make campus and the surrounding area a safe place to study, work and live. 
Dale E. Gooding Jr.
Assistant Vice President - Campus Safety and Chief of Police
---
EMERGENCY NUMBERS
Consider programming these numbers into your cell phone.
University of Akron Police Department
Campus emergency using cell phone 330-972-2911
On-campus Emergency using campus phone 9-1-1
Non-Emergency 330-972-7123
Akron Police
Emergency 9-1-1
Non-emergency 330-375-2181
Akron Fire
Emergency 9-1-1
Non-emergency 330-375-2211
Lakewood Police Department
Emergency 9-1-1
Non-emergency 216-521-6773
About The University of Akron Police Department
Campus law enforcement is primarily the responsibility of The University of Akron Police Department (UAPD.) The University's full-time police officers are designated by statute as the law enforcement officers of the university and are commissioned by the State of Ohio with full law enforcement authority identical to that of a municipal police officer or sheriff's deputies (Ohio Revised Code §3345.04.)  It is the mission of the University of Akron Police Department to protect, serve, and provide safety for a diverse community in order to promote student success. The University of Akron Police Department strives for excellence and legitimacy in pursuit of its mission.
UAPD officers meet or exceed training standards of the Ohio Peace Officers Training Council and receive ongoing in-service and specialized training, including training in victim based sexual assault investigations. UAPD enforces laws of the State of Ohio and the City of Akron and is responsible for public safety services such as crime prevention, medical emergencies, fire emergencies and traffic accidents. UAPD is empowered investigative authority on reasonable suspicion of crime, to search and arrest as authorized by law and to use reasonable and necessary force to enforce all laws and protect property on all University property and where authorized through agreement with local law enforcement. The UAPD also has the authority to address and refer students for suspected violations of the Code of Student Conduct.
UAPD works closely with other law enforcement agencies and law enforcement information is shared through personal contacts and technological interaction. In addition, UAPD and the City of Akron Police Department share a common records system and UAPD reports are exchanged on an as-needed basis among other police agencies, so that all agencies share pertinent information.
The Akron Post of the Ohio State Highway Patrol (OSHP) is located on the University's campus.  Owned by the University and leased to OSHP, this arrangement reflects a unique partnership that provides benefits to the campus, city, and county in terms of safety and protection for the entire community.
In addition, the University maintains mutual aid agreements with several law enforcement agencies, including the cities of Akron and Orrville, and UAPD may enforce the law as provided by these mutual aid compacts. Copies of these mutual aid agreements:
UAPD provides law enforcement services to the Akron campus 24-hours-a-day, 7 days a week. Law enforcement services are provided to the University's other campuses 24-hours-a-day, 7 days a week, through a combination of UAPD and local law enforcement agencies. Response areas include all parking lots and residence halls (including fraternity and sorority houses).  UAPD has established a strong working relationship with the City of Akron Police Department and through its' agreement with the City of Akron, UAPD has the authority to engage in patrol, crime interdiction and joint crime prevention efforts in the neighborhoods near to the Akron campus.
UAPD makes routine audits of the city neighborhoods near campus to report malfunctioning streetlights, missing or damaged street signs, graffiti, and other nuisance issues to the proper agencies. 
UAPD instituted a shift realignment in January 2018 to align coverage in the Exchange Street Corridor with peak pedestrian periods during the night.  The shift works with the City of Akron Police to provide directed vehicle and foot patrols and adjusts to the day of week and seasonal variables.   
The UAPD police station is in the Physical Facilities Operations Center at the corner of Forge and Hill Streets. (GPS location of 146 Hill Street, Akron, OH 44325).  UAPD is staffed 24-hours every day of the year, to receive reports and investigate crimes. Emergency telephone service, 2-9-1-1, is available from all campus phones and over 480 emergency phones located throughout campus, including over 150 "Blue Light" phones. Walk-in service is available 24/7. Non-emergency phone contact is also always available by calling 330-972-2911. Questions may also be directed to UAPD through electronic mail at UAPD@uakron.edu.
The University of Akron's patrol zone is in green. The University is in orange.
Off-Campus Patrol
The University of Akron utilizes the Block-by-Block Off-Campus Patrol service to provide unarmed safety and patrol services in the Exchange Street corridor. The corridor is bound by East Exchange Street to the north, Power Street to the south, Grant Street and Sherman Street to the west and, Goodkirk Street and Brown Street to the East. The patrol also will provide an escort across the bridge on East Exchange St. to the Downtown Akron Partnership special improvement district at South Broadway. The following map indicates the patrol area. Block-by-Block works the area south of campus seven days a week between 7:30 p.m. and 4 a.m. and has direct communication with UAPD dispatchers if a student requests an off-campus escort in the patrol zone. Its bicycle patrol assists with off-campus outreach and relations and reporting safety hazards.
Off-Campus Patrol completes routine weekly reports to the City of Akron Nuisance Compliance Division for violations of the City's Nuisance Codes including high grass and weeds, trash and debris, junk motor vehicles, graffiti, sidewalk obstructions, and some exterior housing code violations. The Ambassadors also identify malfunctioning streetlights, help monitor the city park in their patrol zone, and pick up glass bottles on the sidewalks.  The UA mobile app is an additional resource available to report nuisance complaints.
Criminal Activity Off Campus
The City of Akron has primary law enforcement responsibility for the off-campus areas adjacent to the University's Akron campus. The City of Orrville has primary law enforcement responsibility for the off- campus areas adjacent to the Wayne campus. The Cities of Akron and Orville and the University have mutual aid agreements that allow UAPD to assist the cities with off-campus incidents.
The University, through its relationships with the cities of Akron and Orrville police departments, and through its common records system with the City of Akron, is able to monitor and record non-campus (as defined by Clery regulations in Appendix B) and off-campus criminal activity by students, including criminal activity at non-campus locations of recognized student organizations. The University also has the authority to address non-campus and off-campus conduct in accordance with its Code of Student Conduct.
The Ohio State Highway Patrol leases a post building on campus. Because of their proximity to campus, the University has requested assistance in patrolling adjacent campus areas to promote safety. 
Campus Safety Programming
Summary of Community Policing/Crime Prevention Program
The following is an overview of safety programs offered by the University and its Police Department. Programs are available throughout the academic year, which are intended to inform to students and employees about personal safety, community safety and crime prevention.
The specific time and location for each program is announced through various campus media throughout the year. Programs can also be scheduled individually by contacting UAPD directly at 330- 972-2911.  In addition, UAPD frequently provides informational tables at campus-wide events and safety fairs, which are staffed by UAPD officers, who are available to answer questions.
| | |
| --- | --- |
| Event | Description |
| Akron Experience | UAPD participates in the "Akron Experience" curriculum by providing instruction on general campus safety or ALiCE (instructor's choice) to each of the Akron Experience classes each semester. |
| Alcohol Awareness/ "Beer Goggle" | This program discusses the law, culture and consequences of consuming alcohol. There also are activities to show the effects of alcohol on motor skills while riding a tricycle and wearing "beer goggles." |
| ALiCE | This program teaches the community about the options and mental mindset they can have during a crisis on campus. ALiCE is an acronym which stands for Alert, Lockdown, Inform, Counter, Evacuate. The program lasts forty-five minutes to one hour.  UA's AliCE program was selected for the 2018 Best Practice in Educational Activities Award, by NASPA Student Affairs Administrators in Higher Education, Campus Safety and Violence Prevention Knowledge Community. |
| Early College Orientation | This campus safety lecture is provided to Akron Public School students participating in the Early College Program. |
| Female Self Defense Course | This program is a modified version of the program P.R.O.T.E.C.T: (Personal Response Option and Tactically Effective Counter Techniques). The program teaches easy to learn techniques for safety and self-defense. |
| International New Student Orientation | This program provides international students information about safety on and off campus. The program also explains law enforcement and driving responsibilities. |
| Lockdown Drills | This state-mandated program is presented to the Early College Program. |
| Mental Health and Wellness Program | This program addresses mental health issues on campus and raises awareness about available resources and inspiring future mental health advocacy initiatives. The program, sponsored by the Women's Resource Center, the Multicultural Center and the Counseling Center, is open to all students, and employees. |
| New Faculty Orientation | UAPD provides an overview of the police department, including services and personal safety tips.  Orientation also includes sexual harassment and Title IX training. |
| New Student Orientation | This program is provided to parents who participate in the orientation process at the University. UAPD provides a department overview, safety tips for property and person; tips for protecting property by marking and engraving those items. |
| Office Safety | This program discusses how to arrange your office to allow for safety, including: how to deescalate an agitated person; how to keep valuables safe; and how to describe a suspicious person. |
| Sexual Assault and Awareness Program | This program is included in the alcohol awareness programs. Issues related to consent and acquaintance rape are discussed. |
| Sexual Assault and Violence Prevention Workshop | This workshop, sponsored by several campus organizations, is designed to equip women with some practical tools to help them effectively reduce the risk of sexual assault and to address some of the trauma from being sexually assaulted or experiencing an attempted sexual assault. It is typically led by a counselor or faculty member interested in gender-based violence prevention. |
| UAPD Safety Programs | These programs give participants an overview of UAPD and safety tips for on and off campus living and personal safety tips, including how to identify a suspicious person, location and use of campus safety phones and the availability of the campus escort. |
| Coffee with a Cop | Near the beginning of the fall and spring semesters UAPD provides coffee at various locations across campus including the Jean Hower Taber Student Union and Bierce Library. The informal welcome table allows students and employees to meet UAPD and officers from other agencies and have questions addressed.  |
| Landlord Mingles | UAPD participated in landlord mingles whereas local landlords are invited quarterly to get together to discuss off-campus problems and solutions for safe off-campus living. |
Summary of Sexual Assault and Interpersonal Violence Education and Prevention Programming
The University of Akron strives to develop and maintain a campus culture that is safe for, and respectful of all its community members. To achieve this goal, the University offers a combination of primary prevention and awareness programs and ongoing prevention and awareness campaigns that are designed to create awareness of, and prevent dating violence, domestic violence, sexual assault and stalking.  Primary prevention programming includes programs, initiatives, and strategies that are intended to prevent dating violence, domestic violence, sexual assault and stalking before it occurs.  The programming, which is informed by research and assessed for effectiveness, is intended to promote positive and healthy behaviors that will: foster relationships that are mutually respectful; encourage safe bystander intervention and seek to promote healthy and safe behavioral norms.  Ongoing campaigns include programming and strategies that are sustained over time and focused on understanding topics related to dating violence, domestic violence, sexual assault and stalking. Programming is developed for various audiences and available to the campus community throughout the year.
The University uses many forms of media to disseminate its policies to students. The Code of Student Conduct (which incorporates the University's Sexual Harassment Policy) and a description of the Student Conduct process is on the Department of Student Conduct and Community Standards ("SCCS") Website: www.uakron.edu/studentconduct.  Information concerning the Code of Student Conduct and SCCS also is in the New Student Orientation Handbook and the Department of Residence Life and Housing Handbook.  SCCS also offers numerous presentations throughout the year that explain: The Code of Student Conduct, services offered by SCCS; how to report a conduct violation; and an overview of the conduct process.
In addition to the primary education programs identified above, the University, as well as its constituent student and employee organizations, offers various safety and sexual assault/sexual harassment training and programming for student and employee audiences throughout the year. Information regarding ongoing prevention and awareness training and programming is communicated to students and employees through informational postings, webpage announcements and electronic newsletters that the University sends to students (through Zipmail) and employees (through the Digest.) Student organizations also may use the Zipmail system to share information with University students. A description of the programming offered during 2019 is available in the attached Appendix E.