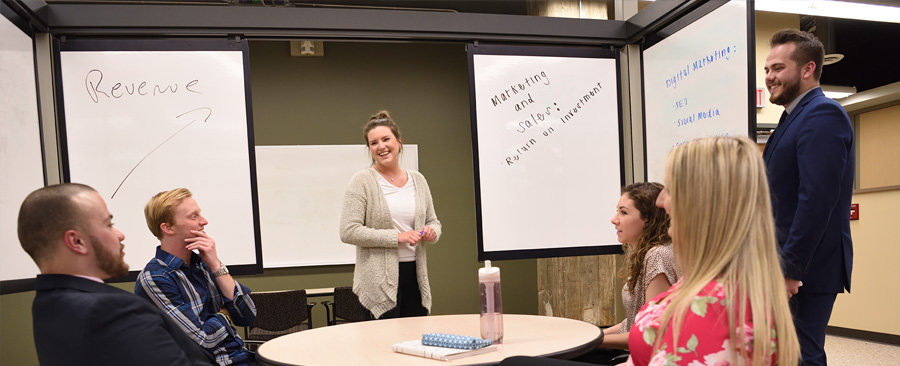 ORGANIZATIONAL SUPERVISION
Organizational supervision is a unique program designed to provide students with the leadership skills needed to influence and motivate employees in different types of organizations (e.g., business, non-profit, government, healthcare, education). The Bachelor of Organizational Supervision degree is designed for students who already hold an associate degree or who have completed 60+ credit hours (i.e., are at least junior standing).
WHAT IS ORGANIZATIONAL SUPERVISION?
Organizational supervision is a communication-based program that focuses on how leaders can employ persuasive techniques to influence, motivate, and guide individuals and teams to promote organizational success. Students in the organizational supervision program develop supervisory and leadership skills needed to help their organizations face modern challenges, such as globalization, implementation of new technologies, and changing market conditions.
IS THIS DEGREE RIGHT FOR ME?
This bachelor's degree is the next step for people who:
Want a degree that teaches leadership and supervisory skills.
Want a degree that applies to a variety of industries.
Need a bachelor's degree to advance their career.
Need flexible course offerings.
WHY CHOOSE THE UNIVERSITY OF AKRON?
Choose a Program Tailored to Your Interests and Career Goals
The Organizational Supervision Program includes 18 credit hours of core courses and 15 credit hours of elective courses. The curriculum provides students with fundamental supervisory knowledge and skills in the core courses and then allows students to select from a variety of elective courses to focus on a specialty area that aligns with their unique career goals.
Experiential Opportunities
The School of Communication provides a variety of options for students to get hands-on experience both in and outside the classroom. Our courses often partner with community clients so our students can complete real-world projects for local organizations. Organizational Supervision students can also work with the award-winning student television and radio stations and student newspaper housed in the School of Communication to get experience in communication fields. The School of Communication also has a campus chapter of Public Relations Student Society of America (PRSSA) for students to learn more about the field and network.
Internship Program
Students can earn 3 credit hours while gaining hands-on leadership experience in a real workplace. Internships are available for nearly any type of organization where the student can apply concepts and skills from their coursework.
Example Elective Courses for Organizational Supervision Majors:
Students interested in management and customer relations can take elective courses in strategic social media, corporate social responsibility, and leading project teams to increase the knowledge needed to reach their customer base and collaborate effectively.
Students interested in working in supervisory positions in healthcare can take elective courses in health communication, training, and operations and assessment to hone the skills needed for their field.
Students interested in human resources can take elective courses in human resources development, training, and conflict and communication to advance skills needed in the HR field.
Convenience and Flexibility
The Organizational Supervision program can be completed in as little as two years (for students who hold an associate degree or are in junior standing) and is offered 100% online.
ORGANIZATIONAL SUPERVISION COURSES
The Organizational Supervision program requires students to complete six core courses (18 credit hours) focusing on leadership and supervisory communication. The Organizational Supervision core courses focus on teaching students how to lead project teams, communicate effectively in organizations, resolve conflict, implement ethical decision-making practices, effectively address human resources issues, and analyze data to apply problem-solving to today's industry challenges.
Organizational Supervision Core:
COMM:330 Principles of Organizational Supervision
COMM:331 Information Design
COMM:334 Leadership Principles & Practices or COMM:459: Leadership and Communication
COMM:325 Intercultural Communication
COMM:324 Interpersonal Communication
COMM:435 Organizational Supervision
Alongside the Organizational Supervision Core Courses, students are required to take five elective courses (15 credit hours) that align with their individual career interests and goals. Students have a wide variety of electives available to them so that they are able use these courses as an opportunity to specialize in a particular area or field that is relevant to their unique needs.
CAREER PROSPECTS
The Bachelor of Organizational Supervision degree provides graduates with the skills needed to explore a range of career paths and industries that have projected growth. Some common career paths Organizational Supervision graduates enter include:
Business Analyst
Project Manager/Coordinator
Customer Relations Manager
Business Management Consultant
Business Executive
Non-profit Administrator
Sales or Marketing Manager
Business Development Manager
Office Manager
Human Resources Representative
Employee and Labor Relations Administrator
Retail Manager
Entrepreneur/Small Business Owner
Healthcare Service Coordinator
Insurance Agent
While some enter the nonprofit sector, we have many graduates who are working in the private sector for sports organizations, health organizations, government agencies, the military, entertainment organizations, educational institutions and private corporations.
WHERE RECENT GRADUATES ARE WORKING
PNC Bank
The Cleveland Clinic
The University of Akron
Sherwin Williams
---
CONTACT INFO
The School of Communication - Kolbe Hall 108 | Phone: 330-972-7600 | Fax: 330-972-8045 | Email
---
RELATED: