ZTV, student-run television
ZTV is a student-run television station whose members gain experience in the production of media content.
Students learn valuable skills in a professional environment, including: writing for television, producing, video-shooting techniques, lighting, video-editing, and more. In addition to that, students have the opportunity of working in the promotion of content using web and social media channels.
The programming produced in ZTV caters to a wide range of interests, such as: science, sports, news, music and arts, sketch comedy, geek culture, and action-adventure.
ZTV is a co-curricular program in the School of Communication. Students can earn one credit hour for each semester they spend at the station. Up to three of these credits can be used towards the elective core. This program is open to all students at The University of Akron, regardless of their major or level of experience. All University of Akron students with a GPA of 2.5 or higher are welcome to apply.
---
WHAT CAN I DO IN ZTV?
Students can work in a variety of roles, and in most cases, students take on multiple jobs:
writers
hosts
reporters
production crew
director
producer
Producers and directors are paid positions that students formally apply for. Members who are hired as a producer or as a director would be in charge of developing episodes for a show and managing a team.
---
WHAT ARE THE BENEFITS OF JOINING?
In addition to learning valuable skills in production, you will acquire other valuable skills:
professionalism
time management
communication
teamwork
creativity
and more
---
GET INVOLVED!
Applications are available the first two weeks of Fall and Spring semesters. All you have to do is go to the third floor of Kolbe Hall and pick up an application.
Fill out your application and make sure you meet the criteria: have a 2.5 GPA or higher and be enrolled in at least 6 (six) credit hours at The University of Akron.
Turn in your application and sign up for an interview.
Attend formal training sessions.
---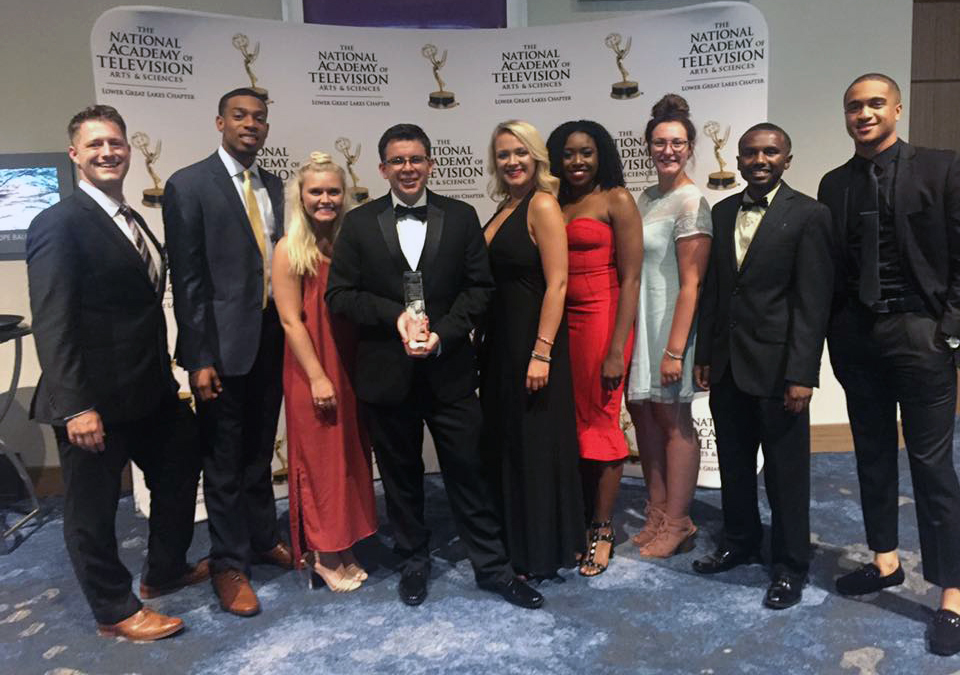 "ZTV: Lights. Camera. Akron." was awarded an Emmy in the newscast and information category in 2017. Juan E. Contreras, center, a professor of practice and the general manager for ZTV, holds the Emmy.
POINTS OF PRIDE
The quality standards held at ZTV has led to:
Five Emmy Awards
22 Emmy Nominations in the student category from the Lower Great Lakes Chapter of the National Academy of Television Arts and Sciences
Telly Awards
Communicator Awards
Signature Station of the year from Broadcast Education Association
---
ALUMNI SPOTLIGHT
Many ZTV alumni work in different sectors of the media industry. Former members have landed jobs in production and as reporters in multiple affiliates around the country, including: