Naomi White, Doctoral Candidate, MSW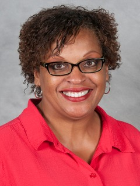 ---
Biography
Professor Naomi White joined the social work faculty in 2008. Prior to her arrival to the University of Akron, she practiced as a licensed clinical social worker and adjunct faculty in New York City. During this segment of her career, her field of practice included child welfare, juvenile justice, and mental health.
She taught undergraduate and graduate students within the Schools of Social Work at New York University, Hunter, and Lehman Colleges. She also worked as the Program/Training Director for The Council on Child Caring Agencies (COFCCA)- a state-wide membership organization responsible for contracted child welfare, juvenile justice, and special education services in New York State.
Her current roles include Professor of Instruction and Field Coordinator for The University of Akron School of Social Work.


PROFESSIONAL INTERESTS
Field Education [Field Placement Disruptions | Field Success]
Instructional Design [Learning & Instruction]
Diversity of Thought
RECENT PRESENTATIONS
INTERNATIONAL
Co-Presenter: Addressing Student Readiness for Field Education: A model of proactive advising. 33rd BPD Annual Conference. Promoting Excellent in Undergraduate Social Work through Education and Leadership, Dallas, TX, April 2016.

Presenter/Presentation: Web Accessibility: Safeguarding Schools of Social Work Websites, Council on Social Work Education (CSWE) 61st Annual Program Meeting |Social Work on the Frontiers of Change, Denver, CO, Oct 2015.
Co-Presenter/Roundtable: Increasing Field Education Scholarship: Are Tenure-Track Field Coordinators the Solution?; Co-Presenter/Poster Presentation: Social Work Development of Campus-Wide Pantry: Lessons Learned. Council on Social Work Education (CSWE) 60th Annual Program Meeting| Advancing Social Work Education, Tampa, FL, Oct 2014.

Co-Presenter/Presentation: It's What We Do: The Relationship and Student Success. 6th Annual Mentoring Conference: Impact and Effectiveness of Developmental Relationships, Albuquerque, NM, Nov 2013.

Co-Presenter/Presentation: Cultivating the Development of the Professional Self When a Field Placement Disruption is Inevitable—Workshop. The Ninth International Interdisciplinary Conference on Clinical Supervision Adelphi University, Garden City, NY, June 2013.

NATIONAL
Presenter/Presentation: Diversity of Thought-A no-brainer for the social work field or is it? An intentional and uncomfortable conversation-Workshop. NASW Ohio Chapter 2014 Conference: Identity, Belonging, Collaborating: Social Work's Role in an Increasing Diverse World, Columbus, Ohio, Nov 2014.
Presenter: The S.W.A.P. (Social Workers Appreciating Peers) Pantry: Teaching Service Within to Practice Service Out—Webinar. Wake Up To Social Work: NASW OHIO Chapter Professional Development Series, Columbus, OH, June 2013.
Collaborative Poster Presentation: Students Helping Students: the Impact of Social Work on Student Wellness—Poster Presentation. THE INAUGURAL Building Healthy Academic Communities National Summit, Columbus, OH, April 2013.

REGIONAL
Presenter: Diversity of Thought The University of Akron-- Rethinking Race Face 2 Face Conversations, Akron, OH, February 2015
Co-Presenter: Worker Safety—Workshop, Invited. Summit County Elder Abuse Prevention Coalition–16th Annual Elder Abuse Prevention Conference, Akron, OH, Sept 2013.
Presenter: Life in the Classroom—Invited. The University of Akron–New Roo Weekend, Akron, OH, Aug 2013.
Presenter: Does the Classroom Need to be a War Zone? Learning the Rules–Spoken and Unspoken to Cultivate a Learning Environment that Works—Workshop. Sixth Annual BLACK MALE SUMMIT, Akron, OH, April 2013.

Presenter: Magnifying Glass look into Stress and Crisis–Presentation, Invited. Akron Summit Community Action, Inc. (ASCA), Akron, OH, Mar 2013.
Presenter: African-Americans in the Classroom: Are There Unspoken Rules toward Academic Success?; Race and Christianity: Are they mutually exclusive? The University of Akron--Rethinking RACE Face 2 Face Conversations, Akron, OH, Feb 2013.

---
Publications
Zhao, B., & White, N. (2015). Service learning for success--Three cases at the University of Akron. International Journal for Innovation-Education and Research, 3(5).
White, N., Morales, S., & Wright, D. (Spring, 2014). Field Placements: Are our students with disabilities the pearls of the Schools of Social Work? Field Educator, Vol. 3.3. Retrieved from http://fieldeducator.simmons.edu/
White, N., Spence, M., Thornton, M., & Thomas, B. It's What We Do: The Relationship and Student Success. 6th Annual Mentoring Conference: Impact and Effectiveness of Developmental Relationships, Albuquerque, NM, October 29- November 1, 2013.
White, N. (Spring 2013). Home Visiting in the Internship. E-Field Educator, Vol. 2.3 Retrieved from http://fieldeducator.simmons.edu/
White, N., Spence, M.A., & McCarragher, T. (Fall 2011). Field Placement Disruptions: The CIA Approach. E-Field Educator, Vol. 1.1. Retrieved from http://fieldeducator.simmons.edu/article/field-placement-disruptions-the-cia-approach/#more-345, http://fieldeducator.simmons.edu/
---
Education
M.S. Columbia University School of Social Work
B.A.S.W. University of Pittsburgh School of Social Work
---
Courses
7750:401 Social Work Practice I
7750:402 Social Work Practice II
7750:405 Social Work Practice I Skills Lab
7750: 421 Intro to Field Experience Seminar I
7750:422 Field Experience Seminar II
7750:427 Human Behvior & Social Environment I- online
7750:445 Social Policy Analysis
7750:480|693 Home Visits: Safety
7750: 480|693 Home Visits: Community
7750: 480|693 Home Visits: Effective Assessments
7750:480|693 Working with Challenging Clients
7750:493 Field Agency I
7750:494 Field Agency II
7750: 601|2 Foundation Practice
7750:603|4 Advanced Field Practicum
---