Sociology is the study of society and social frameworks within which we live our lives. It is a study of social life at every level, from two-person relationships to the rise and fall of nations and civilizations in an extended examination of the ways societies work— or fail to work.
PROSPECTIVE STUDENTS
What is Sociology?
Sociology is the science of social behavior, human connection, and social institutions.
In our sociology program at UA you will learn:
How to see and understand the world with greater clarity, using cutting edge social science methodology.
How social institutions like, healthcare, law, family, and education impact our lives directly and indirectly.
The tools necessary to address the systems of inequality and how to create solutions.
Department of Sociology Mission and Vision Statement:
The Department of Sociology provides all students with the tools to engage, and the skills to solve, real-world problems including issues of health and well-being, social justice and inequalities. We collaborate across campus and with community members and organizations to develop students with strong analytic and communication skills who can think critically and act creatively to address social problems. By ensuring that all students apply their learning through hands-on research projects and a range of experiential learning opportunities, we graduate informed students who are prepared to work in areas designed to address systemic problems facing our local, regional and global communities and organizations.
Undergraduate degrees
BA in Sociology – with multiple focus areas
Minor in Sociology – completes all general requirements
Certificate in Research Methods for the Social Sciences
Certificate in Conflict Transformation and Social Entrepreneurship Certificate
See the degree details
Sociology careers
When you learn the tools necessary to make a real impact and be a positive force in our complex world, you will have a dynamic and rewarding career.
What can you do with a Sociology degree
STUDENT TESTIMONIALS
Our graduates share how their sociology education propels them forward professionally and why they highly recommend Sociology at The University of Akron to you.
WHY SOCIOLOGY AT UA?
Dedicated faculty
Our faculty & staff are invested in you now and beyond UA. The department is a welcoming environment for all, where we respect and celebrate our diversity both in people and in subject matter.
Teaching, hands-on experience & networking
As part of our curriculum, you will participate in research and unique courses. Plus, our proximity to agencies and businesses in Akron provide ample opportunities to intern and network in various fields.
Research
We have four areas of concentration in our department:
Medical sociology and mental health
Social inequalities
Social psychology
Criminology and deviance
DEPARTMENT

HAPPENINGS
News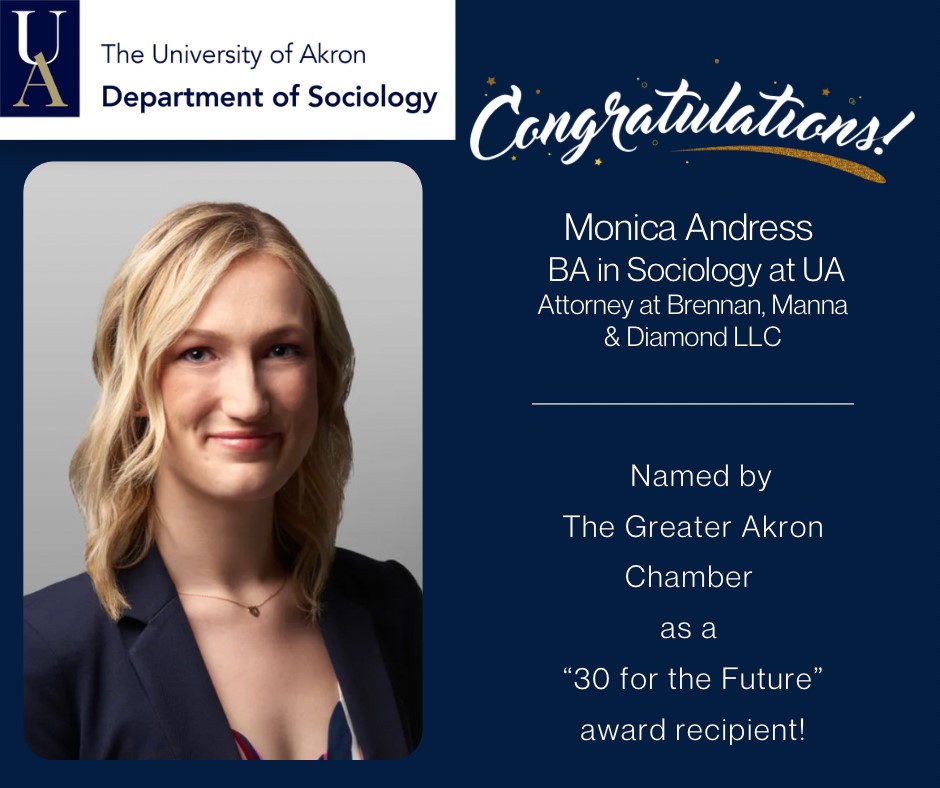 Congratulations to one of our sociology graduates: Monica B. Andress! She is making a difference in our region. We are proud of you, Monica! From the Greater Akron Chamber: "A region's strength lies in its leadership across generations and in Greater Akron this is no different. Please join us as we celebrate and honor thirty young professionals (ages 25-39) who are recognized as trendsetters in their industries, leaders in their organizations and in the community, and catalysts for growth and impact." Read more here: https://www.beaconjournal.com/story/news/2022/09/12/greater-akron-chamber-reveals-30-the-future-award-winners/65550655007/
4/30/2021
The Department of Sociology continued its long tradition of recognizing student achievement and excellence.
Congratulations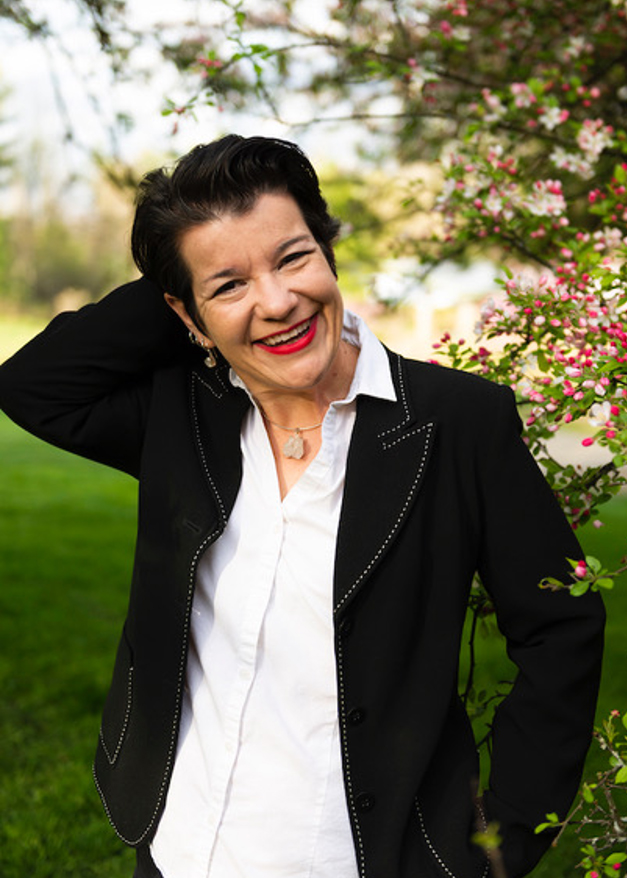 Dr. Jauk-Ajamie has been selected as the winner of the university-wide "Outstanding Teacher" award.
This also marks the second year in a row a Sociology faculty member has won this prestigious award.
One of her nominating letters noted: "Professor Jauk-Ajamie is a hard worker and puts a lot of effort and care for students into her classes.
Dr. Jauk-Ajamie discussing her teaching philosophy...
"I would say I love to "infect" students with experiential and service-learning and I strive to see students holistically as beings with lives and bodies, and not only brains on sticks. Many of our students work, have care responsibilities, and are engaged in their communities. I try to be sensitive to that and find ways to acknowledge this work in assignments where they can pull in and make sense of their life-worlds if they wish. That means that usually I offer more creative assignments besides standard evaluations and follow an "ethics of care" for all classroom participants. It is more important to me that they leave the classroom with new questions and a new lens on the social world (and their own lives) than regurgitating markers of knowledge."
---
Events