Baffour Takyi, Ph.D.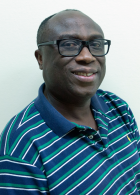 ---
Biography
Ph.D. Sociology/Social Demography (1993) and
M.A. (1986) State University of New York at Albany (SUNY)
B.A. Sociology (1978), University of Ghana, Legon
---
Research
Professor Takyi's specialty areas include demographic and health outcomes in Africa, family dynamics, maternal and child health, religion and reproductive outcomes, the intersection of gender and power on fertility decision making, and the experiences of Africans and other black immigrants within the United States.
Publications
Takyi, Baffour K (forthcoming). "Secular Africa? Religion and the Secularization Debate in Contemporary Africa." New York, NY: The Oxford Handbook of Secularism.
Takyi, Baffour K (forthcoming). "Interrogating the Study of the African Diaspora: Contemporary African Immigrants and the Creation of the Neo-Diaspora." In New Frontiers in the Study of the Global African Diaspora. Lansing, Michigan: Michigan State University Press.
Xi, Juan, Baffour K. Takyi and Enock Lamptey. 2015. "Are Recent Immigrants Larger than Earlier Ones at Their Arrival? Cohort Variation in Initial BMI among US Immigrants 1989-2011." Journal of Immigrant and Minority Health 17 (6): 1854-1862.
Gyimah, Obeng Stephen, Jones Adjei, and Baffour K. Takyi. 2012. "Religion, Contraception and Method Choices of Married Women in Ghana." Journal of Religion and Health 51:1359–1374.
Pokimica, Jelena, Isaac Addai, and Baffour K. Takyi. 2012. "Religion and Subjective Well-Being in Ghana." Social Indicators Research 106:61-79.
---
Education
State University of New York at Albany (SUNY) -- Social Demography, Sociology of Health, Family Dynamics, Gender and Reproductive Behavior, International Migration and Developing African Nations
---