Bachelor of Arts in Speech-Language Pathology and Audiology
Academic Information Session
Contact Person: Jenna Day
Phone: (330) 972-6163
E-mail: jab71@uakron.edu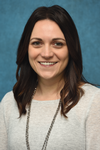 ---
Program Overview
BA Curriculum Guide (Degree Requirements)
BAT Curriculum Guide (Degree Requirements)
NEW Accelerated Degree Pathway
The School of Speech-Language Pathology and Audiology offers an undergraduate (preprofessional) and graduate program of academic and clinical training in speech-language pathology and audiology.
About the field
Audiologists are hearing care specialists for evaluation and treatment of individuals with hearing and balance disorders. Scope of practice includes conducting hearing assessments, selecting and fitting hearing aids/assistive listening devices, programming cochlear implants, testing balance, and counseling regarding hearing loss.
Speech-language pathologists work with children and adults with language, voice, fluency, articulatory and phonologic, cognitive and swallowing disorders. They provide assessment and treatment for these disorders as well as working in prevention of them.
Course work focuses on the evaluation and treatment of the many disordered communication processes. Students who qualify academically may also take the elective course: 7700:446 Observation and Clinical Techniques. This course includes accumulation of a minimum of 25 hours of supervised observation, as required for graduate study by the American Speech-Language-Hearing Association. The preprofessional undergraduate program prepares students to pursue a master's degree, which is required for employment and licensure as a speech-language pathologist. A doctoral degree (Au.D.) is required for licensure as an audiologist.
Typical work settings for speech-language pathologists and audiologists include: schools, hospitals, clinics, private practice, physicians' offices, industry and universities.
Program Requirements
Completion of the General Education requirements (42 credits)*
Core coursework in speech-language pathology and audiology (42 credits)
Students choose between a Bachelor of Arts degree (BA) which has a foreign language requirement (Spanish, German, French, Italian, or American Sign Language) and a Bachelor of Arts - Tagged degree (BAT) for the non-foreign language option
Electives and Extra Courses - 28-30 credits
Students are advised to select certificate programs and minors that apply to the fields of audiology and speech-language pathology
Coursework in human anatomy and physiology, physics or chemistry, psychology or sociology, and statistics are required to fulfill American Speech-Language-Hearing Association standards.
---
Advising Appointment for Current UA Students
Current University of Akron students may schedule an advising appointment with the College of Health Professions by visiting the online advising scheduling system here.
---
Applying to Grad School?
---
Undergraduate Mission Statement:
The undergraduate program in speech-language pathology and audiology at The University of Akron provides instruction in the basic components of the discipline in order to prepare the student to apply to a graduate program.