Scholarship
Founded on the ideals of higher learning, our fraternities and sororities pride themselves on academic success. As a community, we consistently achieve a Fraternity and Sorority Community GPA that is above the All Undergraduate GPA. In addition, the All Sorority GPA and All Fraternity GPA have been above the All Women's Average and All Men's Average GPA.
Our chapters and governing councils provide programming, resources, and support for members, in order to help them succeed academically. Scholarship is the first priority for all fraternities and sororities at UA. Chapters commit to enhancing the academic experience by offering a wide range of support and assistance to their members including inter/national and local scholarships, incentives and awards, time management and study skills workshops, and tutoring and mentoring programs. Each fraternity and sorority has a GPA requirement to join and maintains standards that each member is expected to achieve.
Fact: Our fraternity and sorority students consistently obtain a higher grade point average than non-affiliated students.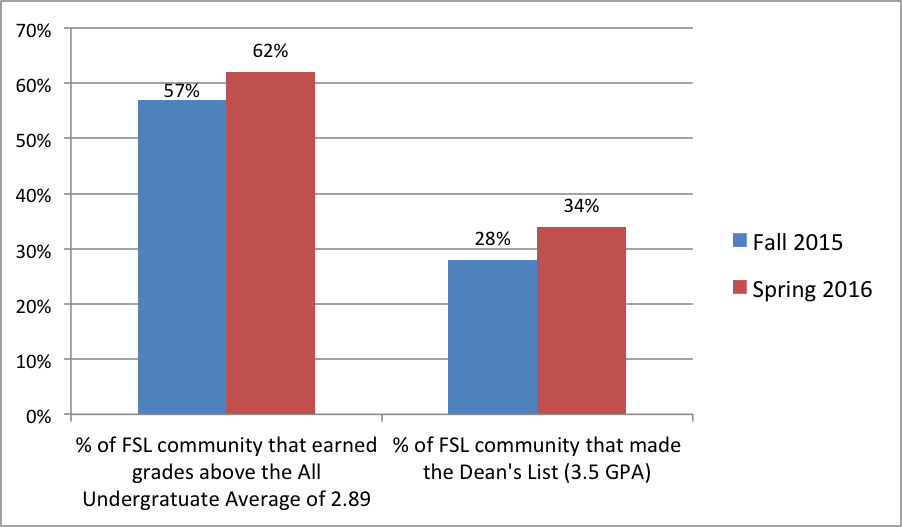 Did you know?: PHC, NPHC, and IFC sponsor "CramJam" during finals week each semester. This program is open to all UA students. Students study for 45 minutes and then get a 15 minute break. During each break, free food is provided and students have a chance to win prizes. After 15 minutes of socializing and relaxing, students get back to studying until the next break!
UA's Fraternity and Sorority Community Grade, Service and Philanthropy Reports: