Computer for a dollar program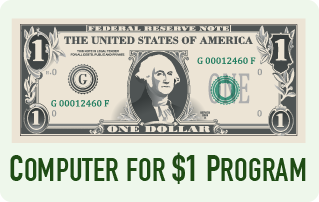 Are you:
without a home computer,
degree seeking and enrolled with a minimum of six credit hours for fall semester,
in good academic standing (2.0 or higher GPA including developmental classes), and
eligible for all or part of the Pell Grant?
If so, please write a complete one-page essay on how owning a computer would help you academically.
Submit the essay along with your email address, student ID number, phone number and home address to the Adult Focus office in Polsky Building 467 or send a Word document as an attachment to adultfocus@uakron.edu. Applications taken starting October 23 through November 20. No essays will be accepted after this date. All contact information must be present on essay for consideration.
Eligible students will be contacted by November 20. If you are applying as a first-semester freshman, your application will be held for consideration until grades are posted at the end of fall semester. It is your responsibility to contact Adult Focus with your final grades for the semester.
These are desktop computers. If you have received a computer from this program previously, you are ineligible.