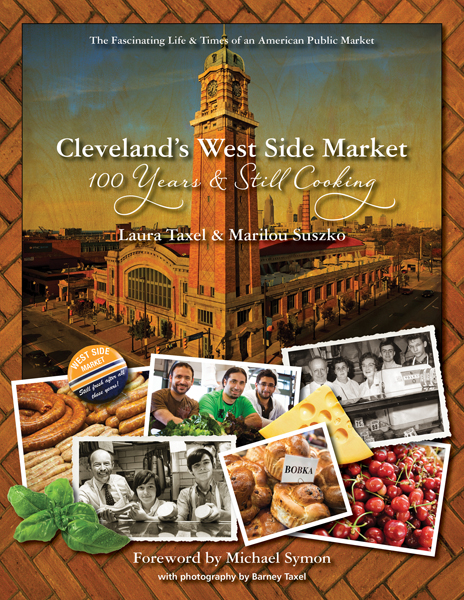 Thanks for the memories!
It was delightfully obvious that everyone who submitted essays for the West Side Market Holiday Contest holds a special place in their hearts (and holidays) for this famous Cleveland landmark.
Each memory or story was unique and special and Marilou Suszko and Laura Taxel, authors of Cleveland's West Side Market: 100 Years & Still Cooking, The University of Akron Press, and Mimi Vanderhaven thank all those who shared their stories and here we'll share the winning essays. It is our hope that sharing these fond memories is inspiration to visit the West Side Market. Enjoy!
To order the book click here
---
First Place Winner: Joe DeLuca, Parma Heights
My memories of the West Side Market go back to when I was a young boy between 5 and 12 years old during the Depression. People did not have cash for extras; they were very careful on what they spent, especially for the holidays. My dad's two-door sedan, a Model A-Ford, was very cramped for Mom, Auntie, Sis, Grandma and me—let alone the 16 bags of meats and vegetables we had to bring home for three families.
Each Saturday morning, my job was to stand next to the wiener stand and WATCH all of our bags to protect them from thievery. Big Deal! What could a young boy do if someone wanted to steal the bags? They did not have shopping carts back then—those would not come along until the brand new "Supermarkets."
Instead, my family packed each of their round-handled, cotton-lined, vinyl bags, with wonderful goodies. As I stood guard each week, the kind meat man would give me a "Good Wiener" to eat (the tied-kind). I still love to eat those wieners raw, (it was really smoked and not purely raw). To this day, I love the taste of that type of wiener that "snaps" when you bite into it. The food workers yelled out the price of their products so loud you couldn't hear one from the other and the fruit and vegetable stands always seemed so high in the air. As I grew, the stands became shorter and shorter.
My family shopped for the Italian traditional Seven Fishes for our Christmas Eve meal. (Anchovies, Squid, Smelts, Baccala (salted codfish that is hard as a rock, which is soaked in water for 3 days—very salty), Clams/ Mussels, and Eel.) When we got home, my job was to gut out the eel, scrape its dark black skin until it looked pure white, baking it in the oven with dry Italian parsley, garlic salt, oregano, black pepper and salt. My father loved the Eel; I think he was the only one who ate it. As I waited for my family to buy nuts, fruits, vegetables, chestnuts, roasted chic-peas, Italian sausage, and thin spaghetti for anchovy sauce, I would stare at the sorrowful faces of the pigs, sheep and fish heads in the cases. I vowed that when I was the head of my family someday we would NOT have all fish on the menu for Christmas Eve. When my family was done shopping, my father would pull the Model A up to where I was standing so I could help load the groceries. We were happily on our way to Christmas Eve for the holiday excitement!
I have been the head of my family now for 38 years. My wife Rosemarie and I have 8 children, 19 grandchildren, and 6 great-grandchildren—a total of 51 people at my table. We meet for Mass and go home to a wonderful feast, inspired by those meals prepared by my family all of those years ago—minus a few fish!
---
Second Place Winner: Toni Schlabach, Sugarcreek
For me every visit to the Cleveland West Side Market is a "holiday" and evokes a treasured experience. While growing up in Parma my mother would share stories of the Market but sad to say I never visited the Market until my 30s when I now lived one and half hours away in Sugarcreek.
I will never forget my first visit to the Market about 15 years ago. I was in awe of the wonderland before me—the stunning architecture of the building, the aromas of the fresh fruits and vegetables, fragrant flowers, freshly baked goods, various confections wafting their sweetness through the air, the variety of meats, poultry and seafood, the diversity of cheese and spices, the utopia of ethnicity, the buzz of excitement. I enjoy watching people make their purchases and wondering, "What are they making for dinner tonight?"
My jaunts to the Market are well-planned adventures, a day I so eagerly anticipate that I can barely sleep the night before. I make my list, check it twice, and know it is bound to change when I get a look at all the "goodies" in "wonderland" but also keeping in mind, "What am I going to get at the Market for lunch?" That is a very critical decision!
The morning of my trip I strategically pack the car with coolers, shopping bags and all the essentials required for a successful excursion. A large cup of coffee with an additional thermos keeps me company on my one and half hour journey north. As I pass the Rockside Road interchange on I77 my heart starts to pound with anticipation and I find myself stepping on the gas pedal a little harder. As I approach the Market, see the majestic tower, I can barely contain myself. When I pull in the parking lot I am like a child getting ready to enter the amusement park brimming with a smile and heart pounding. I can't wait to see all the vendors that I have befriended and walk the Market peering into display cases with sometimes my nose pressed against the glass. As I make my purchases, dinner over the next few days has evolved numerous times, but the end result is always the same—magical memories and fabulous food! Perhaps it's tasting something new or enjoying an old childhood favorite treat. The wonderland of the West Side Market for me creates a haven of enchanting memories with each cherished visit knowing that my mother and grandparents patronized this Cleveland iconic cultural mecca. I'm walking in the steps they took many times over and I think to myself, "It's nice to come home."
---
Third Place Winner: Whitney Eakin, Brecksville
A series of wonderful memories often reflect a great tradition. A great tradition builds great memories. For me, the West Side Market holds great memories of a wonderful tradition.
Since I was just a little kid, the West Side Market has been our Christmas Eve destination. Although not two visits were ever the same, my grandfather always tasked us with picking out of favorite foods for the family gathering later that evening. We never had a list, just the expectation of buying food to share with the whole family. My most vivid memories are of walking the aisles, being able to sample all the variety with my eyes and taking in the sounds and smells of the market.
As a little kid, the candy shop was my destination. I think I stood there for hours looking at all the choices, but in the end I would buy the jelly filled berries for the family to share, a handful of red and a handful of blue that would be neatly arranged in a bowl on the counter at home. I think that people ate them to be nice.
As I got older, the cheese shops worked their way into the tradition for me. At first I just liked the little red, individually wrapped cheese. As I got older, and listened as the people around me placed their orders, I would simply order some of what the person ahead of me bought. Sometimes I made good choices and sometime not.
As an adult, I have finally embraced the noise, the pace and the flow of buying at the market. The produce stands are our last stop, and I take in all the colors and smells from the fresh fruit and veggies. A pomegranate, a few oranges, an apple and some grapes are a fitting finish to our visit. All tucked neatly in our wooden market basket and ready for our holiday table after our trip home.
My grandfather, who started this tradition so many years ago, can't join us anymore. My father has taken his place and tasks my children with that same wonderful thing, to find their favorite foods to share with the entire family. Every year, after our meal, the dishes cleaned and the leftovers put away, what remains is the great memories in our great family tradition.