Go back to previous search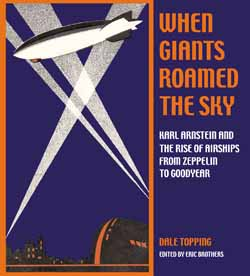 When Giants Roamed the Sky
Karl Arnstein and the Rise of Airships from Zeppelin to Goodyear
by Dale Topping, Edited by Eric Brothers
Pages: 276; Size: 9" x 10"
Series: Ohio History and Culture -- series
Imprint: University of Akron Press

ISBN: 978-1-884836-69-5
Jacketed Hardcover, Price: $34.95


ISBN: 978-1-884836-70-1
Paperback, Price: $49.95


Karl Arnstein's life was defined by the world wars which shattered Europe. But for these cataclysmic events, his life's work might have been far different.
From Zeppelin in Germany to Goodyear in Akron, Ohio, Arnstein participated in the design and development of more airships than any other engineer. He could have been a philosopher or mathematician, but a desire to be practical attracted Arnstein to civil engineering. This knowledge spared him from the horrors of trench warfare, and a favorable impression he made on airship pioneer Count Zeppelin unexpectedly took him from the front to an aircraft factory in Friedrichshafen, Germany. Here Arnstein adapted his analysis of utilitarian structures fixed firmly to the ground to examination of flying structures, the Zeppelins.
And it is not just for his contributions to Zeppelin design that Arnstein should be remembered. His story is in many ways the story of airship building in the early decades of the twentieth century. And his legacy endures in the Goodyear blimps which are the tire company's corporate icons and symbols of Akron's important airship heritage.
Appendices include a listing of Karl Arnstein's patents, a list of selected writings by Karl Arnstein, and statistics on Luftschiff Bau-Zeppelin airships and U.S. Navy rigid airships.
The author combined the information gathered during the course of his own long conversations with Karl Arnstein with a deep knowledge of rigid airship history. The result is a study of key engineering career that will certainly be of interest to scholars of Lighter-Than-Air flight, and will also be of value to students of the broader history of technology, business, and government relations in the 20th century.
—Thomas Crouch, PhD, Smithsonian Institution, National Air and Space Museum
---
About the authors
 Go back to previous search