Go back to previous search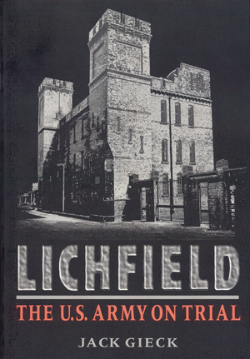 Lichfield
The U. S. Army on Trial
by Jack Gieck
Pages: 277; Size: 6" x 9"
Series: Law, Politics, and Society -- series
Imprint: University of Akron Press

ISBN: 978-1-884836-26-8
Jacketed Hardcover, Price: $42.95


ISBN: 978-1-884836-27-5
Paperback, Price: $24.95


As a young officer, Jack Gieck attended sessions of a military trial that could rival in dramatic intensity such films as A Few Good Men. Years later, still fascinated by this clash of strong personalities, these courtroom intrigues, he began the extensive research that led to this book. Lichfield: The U.S. Army on Trial chronicles a series of courts-martial held at the end of World War II, precipitated by events at an infamous U.S. Army replacement depot near Lichfield, England, which the Army newspaper The Stars and Stripes characterized as "a concentration camp run by Americans for American soldiers."
Commandant of the facility was Regular Army Colonel James A. Kilian, who seemed dedicated to making his guardhouse a poor alternative to serving in combat. His nemesis in the courtroom, and in the book, was flamboyant Air Force Captain Earl Carroll, the assistant trial judge advocate. Carroll's convictions about the military justice system, expressed to the author decades later, make Dwight Eisenhower's warnings about the "military-industrial complex" sound tame.
The book details the schemes and confrontations of the two adversaries as the trials lurch on, with witnesses voluntarily returning to the stand to purge themselves of perjury, and with a conspiracy brewing to create a mistrial. In its vivid portrayal of these events, the book becomes a study of the moral obligation of military personnel in time of war, an examination of the Nürnberg defense, and an inquiry into a soldier's right to refuse an unlawful order.
If you like courtroom drama, you will definitely enjoy this book, and if you have an interest in military law this book is a must read.
—GI Journal
Gieck presents chilling testimony (including blatant perjury, some of it later recanted) and quotes transcripts of the proceedings sufficient to make one wonder if the term ""military justice"" might be an oxymoron.
—Stone and Stone Second World War Books
---
About the author
 Go back to previous search