Go back to previous search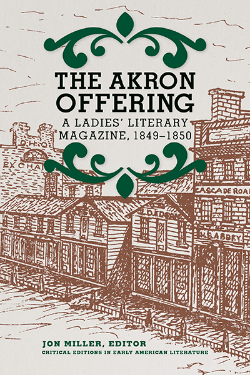 The Akron Offering
A Ladies' Literary Magazine, 1849–1850
A Critical Edition, Complete and Annotated
Edited by Jon Miller
Pages: 466; Size: 6 x 9
Series: Critical Editions in Early American Literature -- series
Imprint: None

ISBN: 978-1-935603-53-5
Paperback, Price: $39.95


ISBN: 978-1-937378-24-0
ePDF, Price: $16.99


ISBN: 978-1-937378-92-9
ePub, Price: $16.99


To purchase a discounted paperback for $18.49 use code: AKRON1849 at checkout.
"I am not ambitious, I seek only to please for the present moment, leaving the glory of posthumous fame, to the thousand little celebrities of the day," writes Lizzie, one of the regular contributors to The Akron Offering, a literary magazine of mid-nineteenth century Northeast Ohio. "I feel perfectly willing to let Posterity take care of itself," she continues. "If I succeed in beguiling one sorrowing heart from its cares, even for a few moments, I shall count myself far happier than those, whose names are recorded upon the register of fame."
Posterity gazes back at Lizzie and many more like-minded contributors in this complete edition of creative writings by and for the women of Akron, Ohio, then a booming canal town on the verge of even greater prosperity. By turns religious, comic, romantic, and political, this extraordinary collection of early midwestern creative literature expresses a wide range of sometimes contradictory opinions on both the important questions of its day and the important questions of today: historical events such as the California Gold Rush and the 1848 revolutions in Europe are considered alongside more timeless contemplations on truth, justice, and beauty. Comprehensively annotated and explained, this unprecedented critical edition of the complete run of an antebellum literary magazine has much to offer those interested in the histories of Akron, of Ohio, of the American Midwest, and of American literature.


---
About the author
 Go back to previous search