Go back to previous search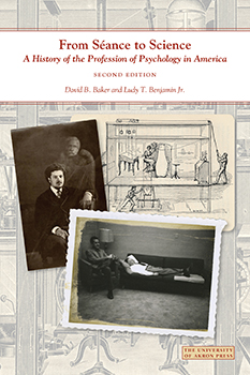 From Séance to Science
A History of the Profession of Psychology in America
by David Baker, Ludy T. Benjamin Jr.
Pages: 315; Size: 6 x 9
Series: Center for the History of Psychology Series -- series
Imprint: None

ISBN: 978-1-937378-42-4
Paperback, Price: $21.95


ISBN: 978-1-937378-43-1
ePDF, Price: $13.99


ISBN: 978-1-937378-44-8
ePub, Price: $13.99


This book is intended to round out the picture of American psychology's past, adding the history of psychological practice to the story of psychological science. Written by two well-recognized authorities in the field, this book covers the profession and practice of psychology in America from the late nineteenth century to the present. From Séance to Science tells the story of psychologists who sought and seek to apply the knowledge of their science to the practical problems of the world, whether those problems lay in businesses, schools, families, or in the thoughts, emotions, and behaviors of individuals. Engagingly written and full of interesting examples, this book includes figures and photos from the Archives of the History of American Psychology. This is the story of individuals, trained in psychology, who function as school psychologists, counseling psychologists, clinical psychologists, and industrial psychologists. These are psychology's practitioners, meaning that they take the knowledge base of psychology and use it for practical purposes outside of the classroom and outside of the laboratory.
---
About the authors
 Go back to previous search