The Parking Services department would like to welcome all new and returning students for the beginning of another great year! We've been hard at work acquiring and preparing additional parking, and the good news is that there will be more spaces available this year than there were last year. We have also redesigned and repaved several lots to maximize efficiency and improve your parking experience.

First things first

If you have not yet received a parking permit, doing so will be easier than last fall. The Parking Office will have extended hours, and the department will have a table just outside the Union Market in the Student Union.

Parking Office Hours [Parking Services is located on Buchtel Avenue in the North Campus Parking Deck (see on map)]
Saturday, Aug. 22 and Sunday, Aug. 23, 10:00 a.m. – 3:00 p.m.
Monday, Aug. 24 through Thursday, Aug. 27, 8:00 a.m. – 7:00 p.m.
Friday, Aug. 28, 8:00 a.m. – 5:00 p.m.
Table at the Student Union
Saturday, Aug. 22 and Sunday, Aug. 23,10:00 a.m. – 3:00 p.m.
Monday, Aug. 24 through Thursday, Aug. 27, 10:00 a.m. – 3:00 p.m.
Parking Map (with suggestions based on arrival time)
The map that you love is back, and better than ever. We've updated it with recent parking additions, and included estimated walking times from each lot, to help you better plan your parking strategy. Follow this map's suggestions for faster parking, and walk or ride the Roo Express from there. Remember: plan ahead, arrive early, park once, and then walk or ride until you are ready to leave.
Roo Express Shuttle Service
The Roo Express has a new schedule for the fall semester. We have tweaked our routes to offer expanded coverage and more frequent stops. We have combined the West and Northwest routes from last year into a single route that will better serve students traveling between central campus, Quaker Square, and west campus. The bus now runs more frequently and makes more stops to help you get from place to place! The North, East, and South routes have all undergone changes to help serve the campus better. Routes run from 7:30 a.m. to 11:00 p.m. on weekdays and the North and West routes run from 10:00 a.m. to midnight on weekends. In addition to these campus routes two Downtown Routes run between central campus and downtown from 8:00 p.m. to 2:15 a.m. on Thursdays, Fridays and Saturdays.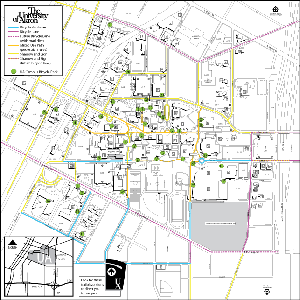 Biking around campus has never been easier. Bike racks have been placed at various locations around campus to encourage bikers to travel anywhere via bicycle. Sharrows (arrows alerting motorists to the presence of bicyclists) have been placed on roadways where biking is encouraged. Every Roo Express bus has been equipped with external bicycle racks, so biking won't stop you from riding the Roo Express! Visit our biking page for more information on biking on and around campus.
Traffic
Traffic may be heavy on Carroll Street near the Student Union and on Buchtel Avenue during peak times (9 a.m. to 3 p.m.). If you must use these streets during peak times, anticipate the traffic and plan accordingly by allotting more time to get to your destination.
Visit our website at www.uakron.edu/parking for more information. You can also call us at 330.972.7213, or send an email to parking@uakron.edu or rooexpress@uakron.edu. If you are coming to the Parking Office, we are located in the North Campus Parking Deck on Buchtel Ave. – just look for our door from the Buchtel Avenue sidewalk.