A UA ROO-mance Story: The Muntin Family Legacy
03/11/2022
As part of the Division of Advancement's Actions and Key Results (AKR) initiatives, each month, the departments of Development and Alumni Relations will feature a story on members of the campus community, including alumni and friends, whose support impacts The University of Akron and its students.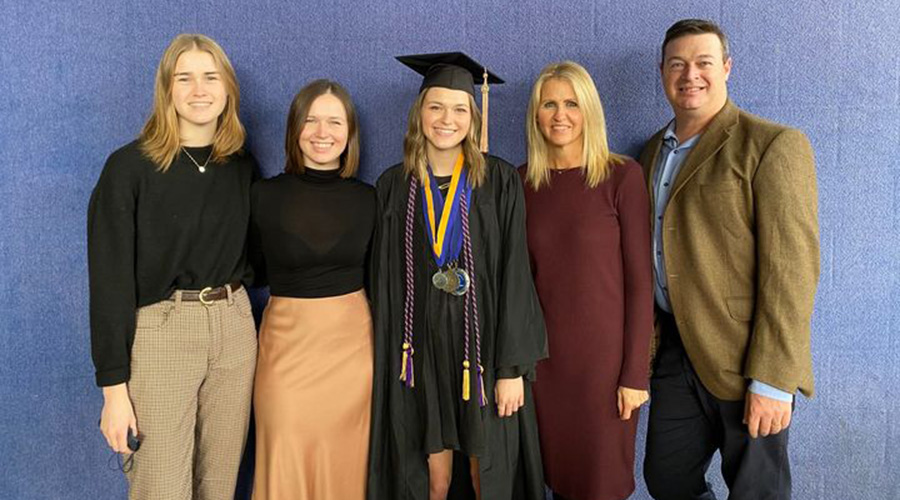 Lexi '25 (left), Allison '20, Anna '21, Jana (Burkey '93) and Brad Muntin '96.
ROO-mance
noun
a love story from a couple that met at The University of Akron
Jana (Burkey '93) and Brad Muntin, '96 met as University of Akron students in the early 1990s. Allyn Street neighbors, in an area just south of campus, their life of books and study grew to include friendship and later, love. The couple, now Smithville residents, remembers their first date was a musical at E.J. Thomas Performing Arts Hall.
Brad, a Michigan native, studied communications and was a four-year member of the men's golf team. After graduating, he began a successful Northeast Ohio career as a director in procurement. Jana, a Northeast Ohio native, said UA's close proximity to home was a strong attraction for her. A student in what was then the College of Education, she graduated with a degree in elementary education and worked as a middle school teacher, and later, as a substitute instructor for more than 20 years while raising their three daughters, Allison, Anna and Lexi.
Not only did campus prove to be a foundational touchstone for the Muntins, but it continues as a theme in their family's lives together; all three of their children decided to attend UA. Allison and Anna graduated from the College of Business in 2020 and 2021 respectively, and their youngest, Lexi, is in her first year on campus, majoring in geology.
Brad and Jana appreciate the opportunities that have been made available to their family over the years. Their daughters have been fortunate to receive scholarships, helping to make their education affordable.
Allison and Anna also worked various internships as students, earning money and gaining valuable experience. Each young woman also took advantage of study abroad opportunities, spending a semester studying in France and traveling through Europe. Jana and Brad are confident their youngest daughter's experience will be equally academically rewarding. It's why they find immense value in giving back to their alma mater. The Muntin's, donors to UA, have expressed a measure of their gratitude through a sponsorship to a golf invitational.
"Our family will be forever connected to The University of Akron and will always have fond memories of our time there as students, and as parents of students. Go Zips!" – Jana (Burkey '93) Muntin
Annually, the Office of Alumni Relations hosts an event for prospective legacy students and families considering The University of Akron. Will your child or grandchild continue your family tradition and "legacy" as a student at UA? If so, you're invited to the University of Akron's Second Annual Legacy Breakfast on Saturday, March 19, from 9 a.m. ­to 12 p.m. Join other legacy families as we relive favorite memories and begin the journey of creating new ones. Prospective students who attend receive a $100 UA Barnes & Noble book scholarship, active upon enrollment. RSVP here.
---
Media contact: Cristine Boyd, 330-972-6476 or cboyd@uakron.edu
Share