Akron alumni couple shares lifelong joy of music
05/30/2023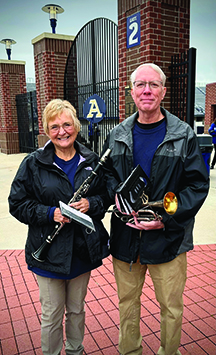 University of Akron (UA) alumni Dave '71, '75 and Patricia '71 (Pogorzelski) Grutzmacher have shared a life together, framed by their lasting commitment to each other and buoyed by their love of music, a comforting background accompaniment.
Both Akron natives — Dave, a Kenmore High School graduate and Patricia, an Akron North High School alumna — the two met as freshmen in The University of Akron Marching Band.
Pat recalls their 1967 meeting like it was yesterday, calling it a wonderful time when it seemed everything was new. "The band had gained a new director in Richard Jacoboice; we had new music, new uniforms."
The harmony between the Kenmore trumpet player and the clarinetist and oboist from Akron North would be the start of a lasting duet that has played throughout their more than 48 years of marriage. The Grutzmachers have continued their connection to the band as enthusiastic alumni band participants for several years, performing with Ohio's Pride every UA Homecoming.
Both first-generation college students, the Grutzmachers marvel at the life they have seen together. Dave holds two UA degrees, a Bachelor of Science in Chemistry and a Master of Business Administration. He worked in chemical engineering with BF Goodrich, Uniroyal, Michelin and ProQuip, retiring in 2022. Patricia earned a Bachelor of Science in Music Education. Two years later she earned a master's degree from The Ohio State University and went on to teach music in Wooster Public Schools and served as assistant band director at the high school. She continued her education at Kent State University and then spent 38 years as a music professor at Kent's Stark branch, and later at Kent's main campus, where she was also coordinator of music education, before retiring in 2016.
Music has always served as a connector for the couple. As UA seniors, Dave assisted in Patricia's senior oboe recital, playing the trumpet. When Patricia founded a college/ concert community band in 1996, she wanted Dave to play in it. "But I made him audition," says Patricia, who was awarded the Outstanding Music Educator Alumni Award by the UA music department in 2009.
While always special, Homecoming had an additional meaning for the couple last year. In May 2022, Dave suffered a stroke that required surgery, and they didn't know if alumni band participation would be possible.
"Homecoming is always special, but it was especially so [in 2022]. To be able to perform together, to rehearse with the other alumni band members and join in with the current college students, it was tremendously special," Dave says.
The Grutzmachers are thankful for UA's contributions to their lives and for the sound footing it gave them to advance in life.
"We have gained so much from Akron," Patricia says. "The liberal arts education we received in various disciplines — including history, math, English, the sciences, the arts — all of our studies set us up for success in our careers."
---
Want to perform with Ohio's Pride at Homecoming 2023? Reach out to uabands@uakron.edu.
Share