Akron Law to guarantee admission for qualified Ohioans
10/11/2023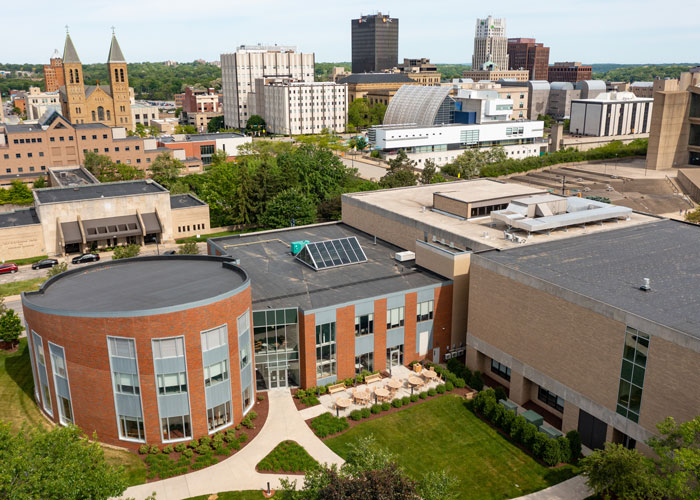 The School of Law (foreground) is located just a short walk from the courthouses and law firm offices in downtown Akron.
Consistent with its commitment to Ohio's students, the University of Akron School of Law today announced the Akron Law Ohio Guarantee. Under this program, the School of Law will offer automatic admission to the Juris Doctor (J.D.) program for any Ohio resident who meets or exceeds an LSAT score of 151 and a GPA of 3.4. Applicants will still need to submit an application through the Law School Admission Council and satisfy the character and fitness standards required of all students admitted to Akron Law.
"We appreciate that the law school admissions process can be stressful for applicants," said Barbara DiGiacomo, associate dean for administration and enrollment management. "The new Akron Law Ohio Guarantee will provide clarity and certainty for many. We know, based on long experience, that the LSAT and GPA are reliable predictors of success in law school. We believe that the Akron Law Ohio Guarantee will alleviate some of the stress of applying to law schools for Ohio students, who will know they have a seat at Akron Law."
The Akron Law Ohio Guarantee makes Akron Law an even more attractive option for Ohio residents, but it doesn't lessen the strong attraction for non-Ohio residents, DiGiacomo noted.
"Unlike most public law schools, Akron Law's full-time tuition and fees of just over $25,000 are virtually the same for state residents and non-residents alike," she said. "The cost includes comprehensive academic and bar-prep support services."
Akron Law is also exceptional in offering a fall, spring or summer start and both day and evening part-time programs. In addition, the evening option is a blended online J.D. program that allows part-time students, in the first two years of their four-year program, to attend classes in person just two nights per week and complete the rest of their coursework online.
Other reasons to consider the University of Akron School of Law include:
96% of students in the most recent incoming class received scholarships.
100% of students in good standing keep their scholarships after the first year.
97% employment rate for 2022 J.D. recipients within 10 months of graduation.
---
To learn more, visit www.uakron.edu/law/admissions
Contact Admissions at lawadmissions@uakron.edu or 1-800-425-7668
Share