An aspiring engineer who's more than her major
09/27/2023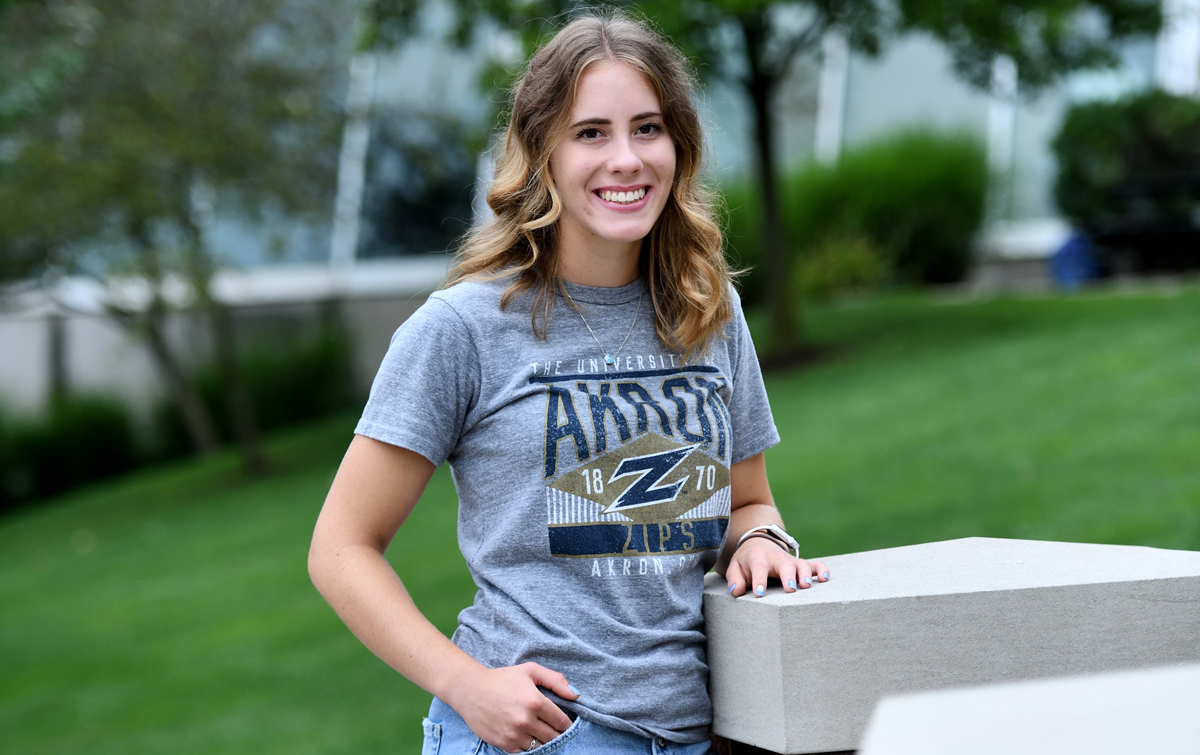 Passion meets possibility at The University of Akron (UA), and for second-year student Ellie Riekert, that means getting an early start on her desire to improve the quality of life of others.
"It is my dream to help people live happier and more fulfilling lives," said Riekert, who's majoring in biomedical engineering. "I hope to improve the medical resources available to others, especially for the elderly – they hold a special place in my heart.
At UA, Ellie is more than her major by not just learning how to apply complex engineering principles into health care, but by engaging in real-world applications. She's a member of the College of Engineering and Polymer Science's Medical Device Design Team that collaborates with Summit Developmental Disabilities to adapt things like fishing poles, tricycle pedals and motorized cars for individuals with physical disabilities.
The Pickerington, Ohio native is also a Student Ambassador for UA and a member of Campus Focus. She's also a scholar in UA's Drs. Gary B. and Pamela S. Williams Honors College where she is on the Dean's Team and Honors Advisory Board. The Williams Honors College challenges and motivates high-achieving students inside and outside the classroom to promote excellence on campus, in the Akron community and throughout the country and world.
"My involvement at UA has significantly improved my college experience," said Riekert. "Going to regular meetings encouraged me to build a consistent schedule, where I prioritized time management of schoolwork while still having time for clubs and a personal life. Being involved has inspired me to be the best version of myself. Because of my involvement, I have a greater sense of belonging at Akron as well as pride for my school."
In the Williams Honors College, the Honors Distribution program requires students to complete courses in several disciplines; likewise, the college's Honors Colloquia courses bring together honors students from various majors to discuss timely topics in the natural sciences, social sciences and humanities.
More so, Honors students are not required to take some of the general education classes as other students, offering them opportunities to further explore their interests and potentially join any of UA's more than 300 student organizations.
"Because of the Williams Honors College, I have met so many excellent people who have supported me and pushed me to grow," said Riekert. "The Williams Honors College makes UA feel like a home and has provides so many opportunities to get involved in and out of my comfort zone."
Joining a student organization, even as a freshman, only leads to great things, like it did for Riekert as an Emerging Leader, a program for first-year students that builds leadership and civic engagement skills.
"As a part of Emerging Leaders, I was significantly involved walking into college," recalled Riekert. "After an amazing training week, I realized how fun being a part of a community was. I wanted to better the campus and connect with more people, so I joined clubs similar to ones I had enjoyed in high school. I have met people who are passionate about similar things to me, but also people to laugh with, study with and enjoy life with."
Learn more about some of Ellie's involvement!
Share