Biomedical engineering simulation project earns top three honors at American Academy of Otolaryngology event
09/29/2023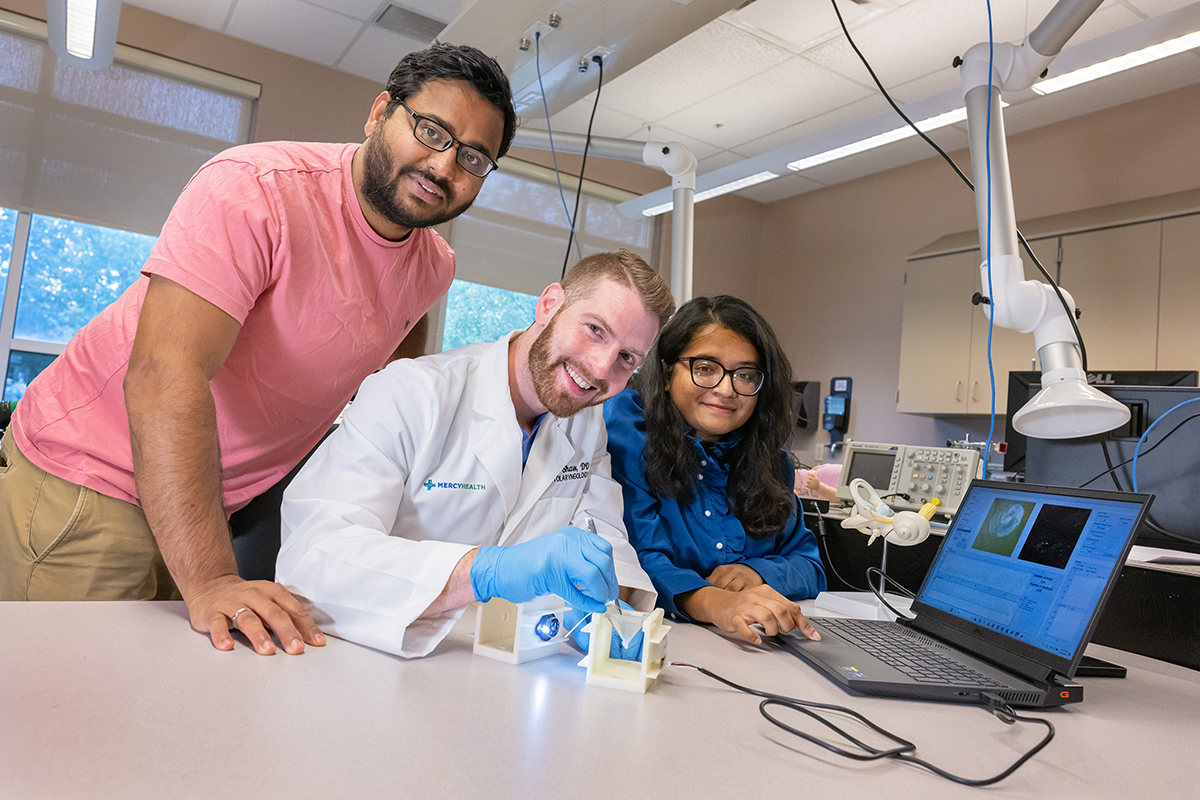 From left to right: Ishwor Gautam, Avi Shaw and Shahba Tasmiya Mouna presenting their simulation project titled "A Smart Cochlear 3D-Printed Model with Custom Software to Train Otolaryngologists" at The University of Akron.
A simulation project developed by graduate students at The University of Akron (UA) in collaboration with medical residents at Mercy Health has been selected as one of the top three finalists at the American Academy of Otolaryngology annual meeting, set to take place in Nashville in October 2023.
Under the guidance of Dr. Ajay Mahajan, an engineering professor at UA, and Dr. Anita Jeyakumar, an Otology surgeon at Mercy Health in Youngstown, Ohio, these students have created a 3D-printed cochlear model designed to help train ENT surgeons.
The innovative simulation project, titled "A Smart Cochlear 3D-Printed Model with Custom Software to Train Otolaryngologists," integrates a 3D-printed cochlear structure with a camera, allowing surgeons to gain hands-on experience in implant surgery. What sets this project apart is its ability to provide real-time visual feedback during the delicate procedure of inserting the implant electrode and practice on this product promises to significantly improve patient outcomes.
"Training future surgeons in an in vitro setting prior to operating on patients is the foundation of safer surgical training," said Jeyakumar. "The collaboration between our programs has enabled us to take a thoughtful and stepwise approach towards creating an innovative but realistic training model that surgical trainees and young surgeons could benefit from, which will translate into better patient outcomes in the future."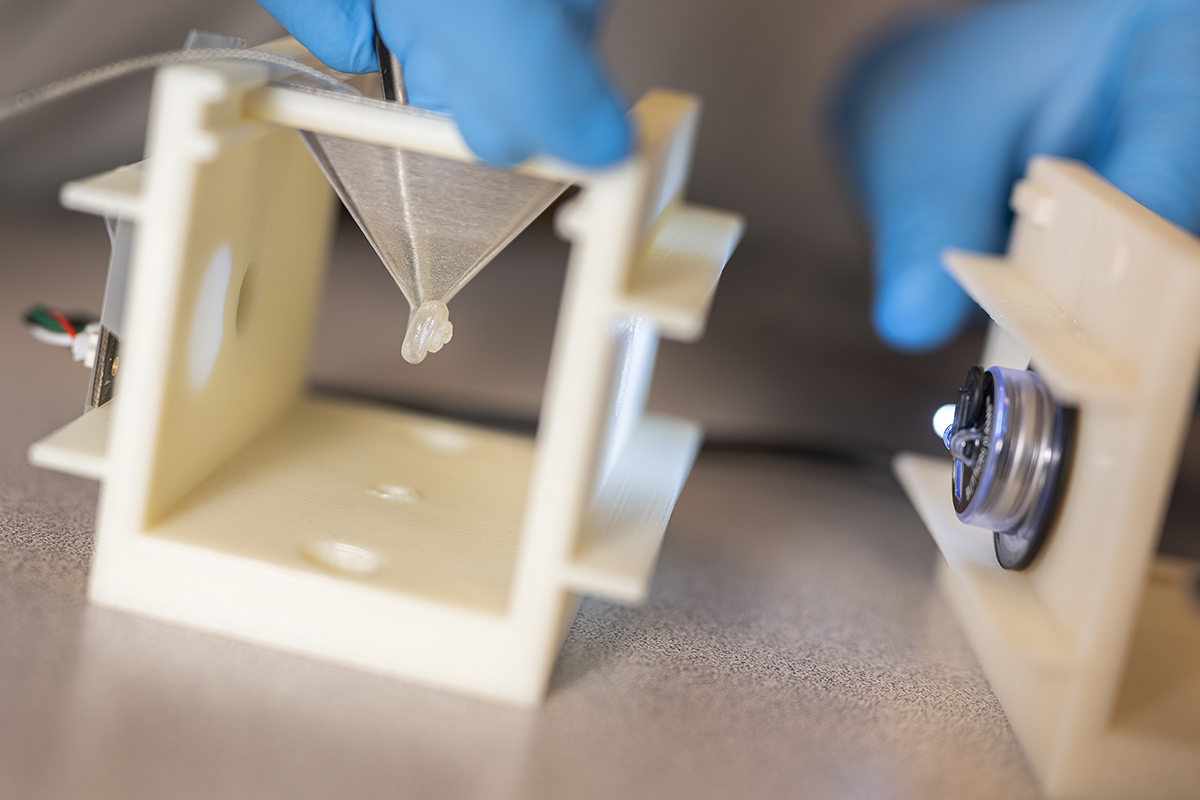 A detailed photo featuring the 3D-printed cochlear model with the insertion of a CI electrode.
On Monday, Oct. 2, the top three simulation project authors will present their work to a panel of expert judges during the SIM Tank event as part of the American Academy of Otolaryngology's annual meeting. The judging criteria include innovation and creativity, scalability throughout the specialty, and advancement of training and practice in the field of otolaryngology.
The project has already received recognition for its excellence, receiving the highest scores among nearly 20 simulation abstracts submitted this year. Additionally, the team behind this project is preparing for its publication in an upcoming issue of the Journal of Biomedical Devices.
"It is always rewarding to see our UA students working with medical residents from hospitals on innovative products that are aimed at improving patient care," said Mahajan, who has helped create many such interdisciplinary collaborations in the region. "It is a mutually beneficial relationship as the students and residents learn to work across disciplines and get mentored by engineering faculty and practicing clinicians. This is a great example of innovation born from one such collaboration between UA and Mercy Health."
The students who have contributed to this project are Michala Dauterman (M.S.), Shahba Tasmiya Mouna (M.S.), Ishwor Gautam (Ph.D.) and Avi Shaw (D.O.). Their collective effort underscores the importance of interdisciplinary collaboration between engineering and medicine in advancing health care practices.
---
RELATED CONTENT:
---
Story by CEPS Marketing.
Media contact: Cristine Boyd, 330-972-6476 or cboyd@uakron.edu.
Share