Business Analytics Innovation Summit
09/18/2023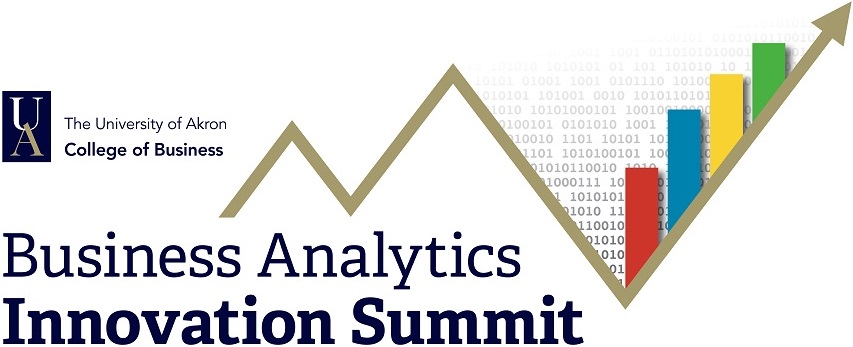 Because data serves as the lifeblood of decision-making in today's business world, the creation and nurturing of a comprehensive data ecosystem becomes not just a strategic choice but a fundamental necessity. It is this ecosystem that empowers organizations to harness the full potential of their data for both strategic and operational decision-making, paving the way for true data-driven success. To illustrate how an ecosystem comes together and what steps firms and organizations are taking to realize analytics, the University of Akron's (UA) Center for Information Technologies and Analytics (CITA) will host the sixth-annual Business Analytics Innovation Summit (BAIS) on Sept. 29 to focus on the importance of cultivating an intelligent data ecosystem.
Presenters at this year's Summit have many years of experience in this field and will deliver meaningful insights reflective of the companies and customers they serve. Leading the keynote session is Alan Jacobson, chief data and analytics officer at Alteryx, who will share his perspective and short case studies on effective analytics solutions.
Additional presentations include:
The Data Warehouse Modernization Journey at Goodyear by Laura Kish, global analytics IT director, The Goodyear Tire & Rubber Company, and George Marino, data architect, The Goodyear Tire & Rubber Company
Acting the Last Mile of AI by Cal Al-Dhubaib, CEO & AI strategist, Pandata
Using Proactive Data Management Techniques for Significant Improvements in Data Quality and Analytics Outcomes by Justin Barr, partner/founder, Clear Process Solutions, and Sue DuPont, data architecture leader at Westfield Insurance
Registration for the Summit and Summit workshops is open to business professionals and UA faculty, staff and students. More information and a full schedule can be found on the Business Analytics Innovation Summit website.
UA graduate and undergraduate students are encouraged to attend. Students who register and participate in the Summit will be included in a drawing for a Dell Precision laptop, Microsoft Surface laptop, Dell 27" gaming monitor and many $100 gift certificates. To register for the event, visit
https://www.uakron.edu/cba/bais/2023
. Corporate sponsorships are also available. For more information, contact Alan Bedingfield at
abedingfield@uakron.edu
.
About CITA
The Center for Information Technologies and Analytics (CITA) is a multi–disciplinary Center within the College of Business. CITA was created in 2000 with the mission to teach students and develop faculty in the principles and practices of the related disciplines of Information Technology. CITA accomplishes its mission by providing scholarships, mentoring, internships and co-op opportunities to students in the information systems and business analytics disciplines, providing resources to conduct research to faculty, and conducting several outreach activities that promote IT and analytics among local companies.
CITA is made up of an advisory board of Information Technology leaders from the Northeast Ohio region and the College of Business faculty, staff, and students. For further information, visit the Center for Information Technologies and Analytics (CITA) website.
Share