EJ Thomas Performing Arts Hall showcases the arts in Akron for 50 years
05/30/2023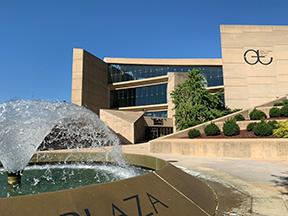 E.J. Thomas Performing Arts Hall opened in October 1973 to rave reviews. Occupying three acres on the western edge of The University of Akron (UA) campus, adjacent to downtown, this beautiful facility is owned and operated by UA for use by students and faculty of the University and by community and civic organizations active in the performing arts.
The University will celebrate the 50th anniversary of this gem on Sept. 29 with a special performance by the Akron Symphony Orchestra.
"The Akron Symphony Orchestra was the inaugural act of the facility when it first opened, so it is fitting that we kick off the celebration with a performance from them," said Margo Ohlson, director of theatre operations.
Named in honor of Edwin J. Thomas, retired chairman and chief executive officer of the Goodyear Tire & Rubber Company, long-time member of the University's Board of Trustees, and a driving force for community progress for more than a half century, the building remains very active. It regularly features a variety of speakers, private events, graduations, and musical and theatrical acts. It also serves as home to the Akron Symphony Orchestra and Tuesday Musical Association.
"E.J. Thomas Hall is a great place for everyone to come," said Ohlson. "We offer diverse programming, convenient parking and ticket prices for all budgets. Most important is that it's located right here in Akron, so there is no need to go far for Broadway performances and musical acts."
A complete calendar of celebration events will be listed at uakron.edu/ej.
---
UNIQUE DESIGN
Architects Caudill, Rowlett and Scott of Houston, and Dalton, Van Dijk, Johnson and Partners of Cleveland created an overall design for E.J. Thomas Hall which resulted in one of the world's finest multi-purpose halls in terms of design, acoustics and creative mechanisms.
The building boasts a three-level auditorium, featuring continental seating (no center aisle), with seating capacity of 2,955. One of the focal points of the building is the movable 44-ton ceiling which can close off either the Flying Balcony or both the Flying Balcony and Grand Tier creating a one-, two- or three- level auditorium. The unique movable ceiling allows overseers to regulate the volume, manipulate the acoustics and alter the physical dimensions of the main hall.
Located in Goodrich Lobby and weighing in excess of 40 tons are the 27 chrome Witzman Counterweights which balance the ceiling in the house and are computer controlled. The configuration of the counterweights determines the position of the ceiling in the house. The entire transformation takes approximately 15 minutes to complete.
The building also features many works of art from Akron metal sculptor, Don Drumm.
Share