Esports continues to make name for itself
05/24/2023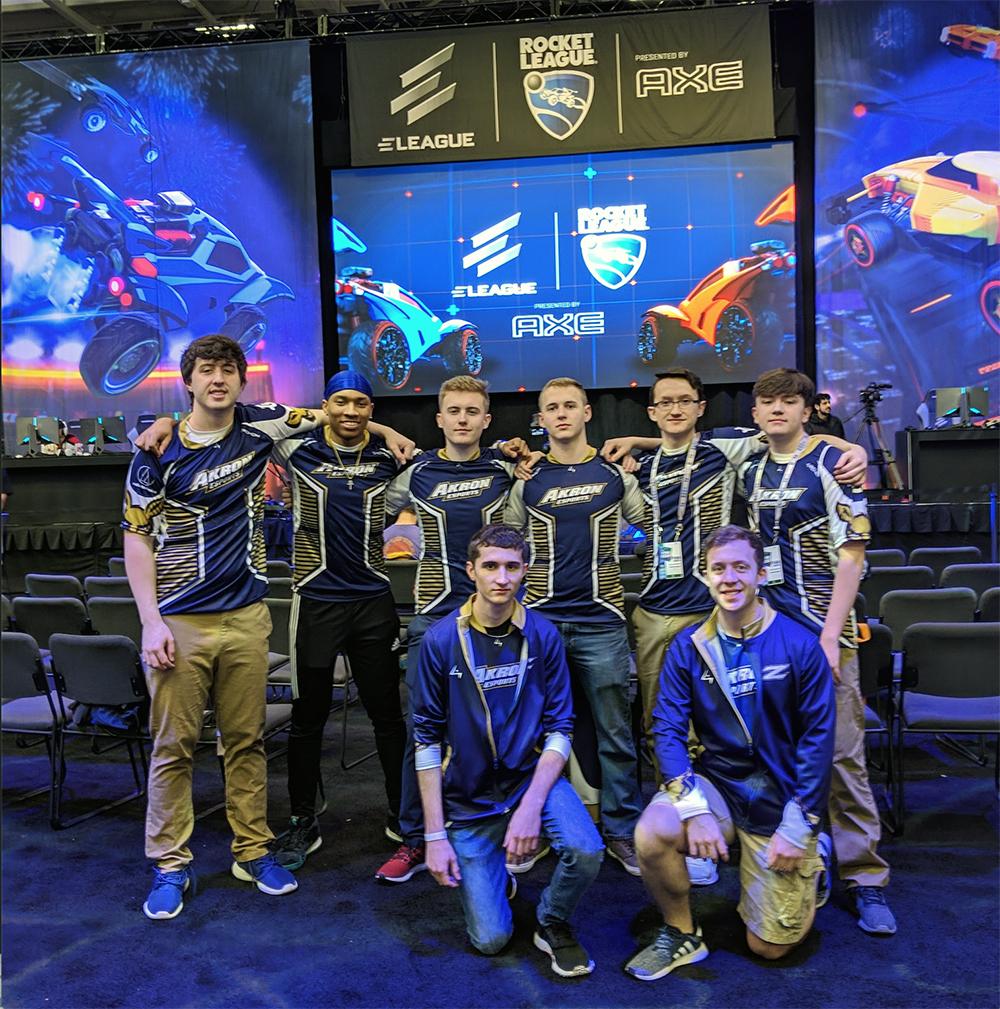 "The simplest way to describe esports is that it's team competition in an electronic format," said Nate Meeker, director of esports at UA. "Esports teams are essentially an analog version of a traditional sports outfit, but tend to be smaller with three to five players competing against other collegiate teams across the country."
Zips Esports has 52 student-athletes, including subs and coaches, across seven game title teams:
Call of Duty: Modern Warfare II, a team-based militaristic battle game that is set in a realistic battle zone
Fortnite: Battle Royale, a survival game where players and their teammates are pitted against other teams in a large arena after their characters skydive onto an island
League of Legends, a multi-player game similar to capture the flag
Overwatch, a team-based battle game against robots with artificial intelligence set 60 years
in the future
Rocket League, a vehicular action soccer game where three players control rocket-powered cars to hit a ball into an opponent's goal to score points, much like traditional soccer
Tom Clancy's Rainbow Six Siege, a five-on-five tactical game where the teams work against each other to defend or secure certain objectives
Valorant, a five-on-five, team-based tactical game taking place in the near future
Next year, the program expects to add Super Smash Bros. as a varsity team. At UA, student-athletes compete in the esports arena inside InfoCision Stadium during regular season play where competitions are held remotely against other teams. Championships are typically held in person at large sports arenas in such cities as Atlanta, Chicago, Las Vegas and New York City where upwards of eight teams battle to earn national titles. The UA varsity Rocket League team has earned the national title for three consecutive years, in addition to three Mid- American Conference championships.
The program not only gives students an opportunity to showcase their abilities, they also learn valuable soft and hard skills that can be applied to their careers.
"Esports has helped me build my resume and skills," said Mike Mandato, sport business major from Mentor, Ohio. "An esports industry professional who spoke to one of my classes mentioned some important experiences esports programs provide that can help a student get ahead in the industry such as facility operation, tournament operation and team management. As she was speaking, I started to realize that I had already gained a lot of the experience she recommended."
The impact of UA's program and the rise of esports nationwide has brought new ventures for the University. In 2021, the College of Business began offering an interdisciplinary Esports Business certificate in response to the industry's need for properly trained college graduates to fill such esports-related positions as team manager, tournament manager, event coordinator, marketing specialist, social media specialist, sales manager, content creator and more.
Since its launch in December 2017, the program has partnered with well-known and reputable brands, such as Samsung, Intel, Gravity Gaming and Elgato. In 2018, the University opened up three spaces across campus that house the components of esports — varsity, club and recreation. Today, there are about 2,400 students involved in the club component of Zips Esports.
The impact of Zips Esports extends beyond campus. The program has been very involved with the startup of similar programs at area high schools. It also hosts events for high school students to spotlight the esports program and establish relationships with prospective students.
"We work a lot with high schools and their students, whether it's visiting established programs, helping to build new programs, practice and, most importantly, recruit student-athletes," said Meeker. "We see ourselves as leaders in the industry and we want to help other players and programs startup."
Zips Esports also hosts several events on campus, including an annual summer camp for youth and high school students. This year, UA is playing host to Ohio's state esports tournament where 48 teams from across the state will converge at UA to compete in May. Earlier this year, the program hosted an educational summit with the National Association of Esports Coaches and Directors for high school coaches and administrators to help them improve their programs.
Zips Esports student-athletes are eligible for scholarships offered through the program, which rely on the generosity of alumni, donors and sponsors. Zips Esports alumni can continue to be involved in the program at its annual alumni gatherings and by joining the program's Discord server at uakron.edu/discord.
"Zips Esports does a great job at providing experiences in all aspects of the industry," said Mandato. "Whether it's playing competitively, facility management, stream production, community engagement, or even event production, this program does it all and it still continues to grow. Every year I have been here, the program has improved. The community is amazing; it has always been super inclusive and accepting of everyone."
Learn more about Akron Esports.
Story by Alex Knisely
Share