Historic Law Dean's Chair Endowment established by Akron benefactors Joseph and Linda Gingo
08/26/2022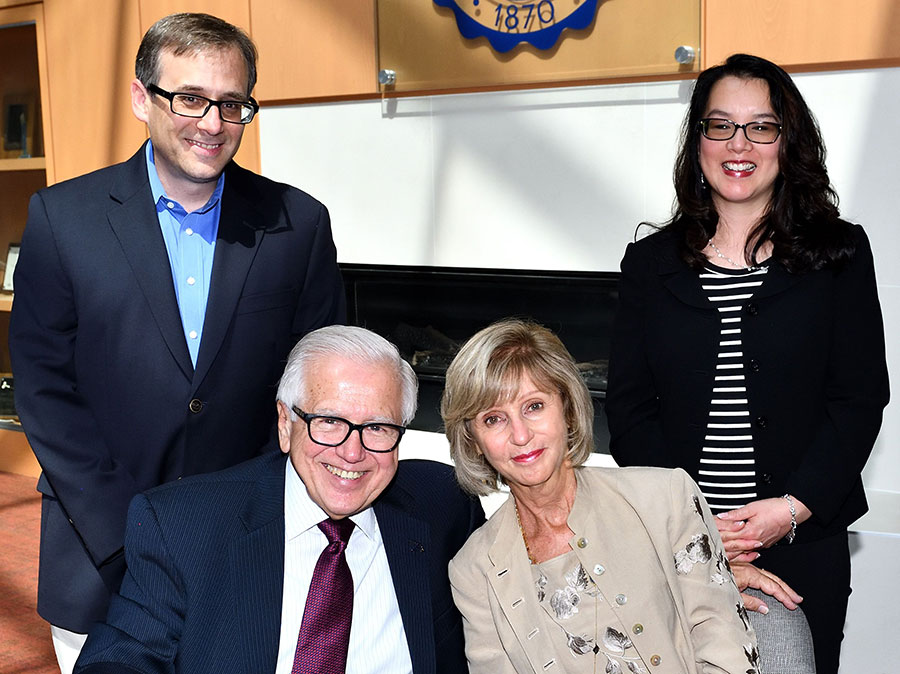 Joseph and Linda Gingo are joined by their son Jeffrey Gingo and his wife Allison.
The Joseph M. and Linda L. Gingo School of Law Dean's Chair Endowment spotlights a transformative moment in the life of The University of Akron (UA) and the School of Law. This magnanimous expression was made possible through a pledged estate gift from Akron benefactors Joseph and Linda Gingo, historic higher education champions.
The endowment is the first dean's chair endowment commitment in University of Akron history. This effort helps ensure the law school will remain a national leader, additionally strengthened in its ability to attract and retain superior, accomplished leaders in legal education.
"This tremendous gift by Joe and Linda is a redefining moment for the School of Law," said President Gary L. Miller. "A promise for the future, this endowment ensures the law school's ability to draw the upper echelon of leadership. The long-lasting effect will continue attracting top-flight faculty and students whose preparation readies them for both new and continuing issues surrounding legal education and leadership."
"As the law school moves into its next century of excellence, the Gingos will always be recognized for their leading role in that advancement," said Miller.
The Gingos have long shared their wise counsel and friendship with the Northeast Ohio region. A retired chief executive officer, president, and chairman of the board of A. Schulman, Inc., Joseph Gingo earned a bachelor's degree in chemical engineering from Case Institute of Technology (now Case Western Reserve University) in 1966. He earned a law degree from The University of Akron in 1971. In 1982, he was selected for the Sloan Fellowship program at Massachusetts Institute of Technology, and he received a master's degree in business management from the program in 1983.
Joseph attended law school part-time in the evening while working at The Goodyear Tire and Rubber Company full-time. His perseverance through law school and the overarching lessons of critical thinking led him to call his law degree his most valued educational accomplishment.
"Linda and I have a lasting love and appreciation for this University," said Gingo, who joined the UA Board of Trustees in 2016 and has served as board chair since 2018. "I am cognizant of the talents and abilities learned there as a student, which have served me ably over many years. Akron's lessons and, more importantly, its camaraderie have always been with me."
"Through this gift, hopefully we can touch a future generation of excellence. Linda and I are thrilled to play a part in the burgeoning success story of Akron Law," said Gingo.
School of Law Dean Emily Janoski-Haehlen also lauded the impact of the newly established chair.
"The School of Law is honored by the prestige the Gingo's endowment will add to the dynamism of our program," Janoski-Haehlen said. "The support of this generous couple will elevate and assist in driving Akron Law forward. Their words, actions, leadership and lasting friendship will always be hallmarks of the excellence we strive to produce."
This historic gift commitment is a part of the University's $150 million We Rise Together capital campaign. This forward-looking initiative was launched in February 2020 and raises funds supporting UA in the key areas of scholarship, student support, endowments for faculty and leadership, and support for faculty research and equipment.
---
Media contact: Cristine Boyd, 330-972-6476 or cboyd@uakron.edu
Share