Impacting society: Williams Honors Scholar Jacob Stump finds passion through law
02/14/2022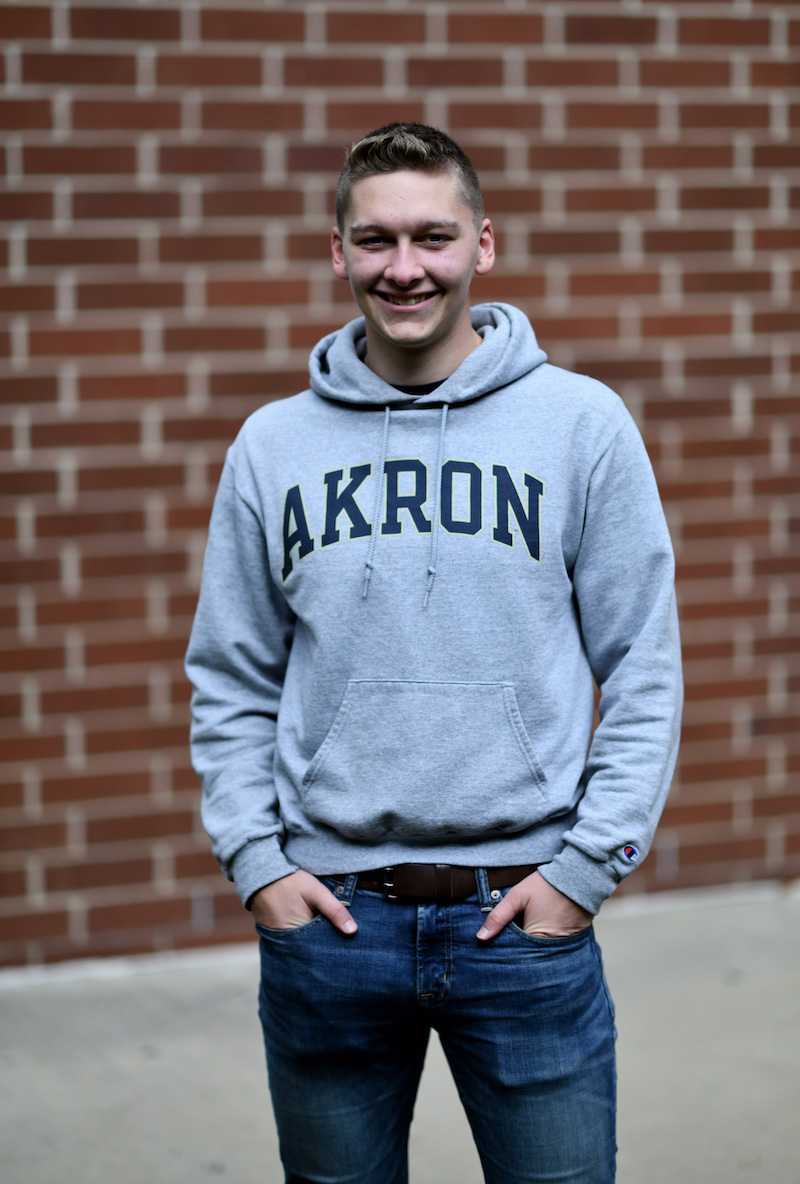 Jacob Stump
Jacob Stump has two dream jobs in mind—being a nature photographer and serving as a judge or justice. While the former is influenced by his hobbies, the latter is where he feels he can make the biggest impact on the world.
"For one, I really enjoy being outdoors and preserving nature and the environment," says Stump, a native of Seville, Ohio. "But for the other job, I feel like I would enjoy being in a position that allows me to interpret the law and serve the community to provide justice and help others to build a better society for everyone."
Stump is in his third year studying political science—and his first semester in UA's School of Law. He's working toward earning his accelerated Bachelor of Arts in Political Science/Juris Doctor degree (simply put, the School of Law's 3 + 3 program). In December, when he completes his undergraduate career, Stump will continue as an Akron Law student.
"Being able to make an impact on the world in a way that helps it grow and move forward through this work is why I have made my career goal to become an attorney," says Stump. "Practicing law will give me the ability to make an impact on the world by helping people through legal matters to ultimately shape our lives for the better."
Stump is also a student in The University of Akron's (UA) Drs. Gary B. and Pamela S. Williams Honors College (WHC), where he's acquiring valuable experience and support for his endeavors.
Stump is currently researching the effectiveness of the death penalty as a deterrent policy for his Honors research project, a requirement for all students in the WHC. He intends to collect and analyze data from each state that compares the rate of violent crime with other factors to determine whether there is a correlation between the death penalty and rates of violent crime.
As an Honors Scholar, he's also had the opportunities to take fewer general education classes, which enabled him to pursue minors in Spanish and pre-law. Plus, the Honors Colloquia courses bring together Honors students from various majors to discuss timely topics in the sciences and humanities.
"The Williams Honors College has helped facilitate my growth as a learner and has given me greater opportunities to pursue my academic and career interests through their administrative support and colloquia courses," says Stump. "Choosing to be an Honors student has opened a lot of paths for me to become more insightful as to who I am and how I want to make a difference for myself and for the world through the work I accomplish."
And for future Honors Scholars, Stump has some advice.
"Being an Honors Scholar will provide you with an additional challenge that comes with its own series of benefits and is ultimately rewarding," says Stump. "It's important for any high-achieving high school student to continue that level of engagement and commitment for their studies, especially those that go beyond the normal set of requirements for a student. Not only will the experiences gained from that mindset look good on an application or resume, but they will also continue to push you to be a high achiever."
---
Media contact: Cristine Boyd, 330-972-6476 or cboyd@uakron.edu
Share