Student success rooted in safety
05/30/2023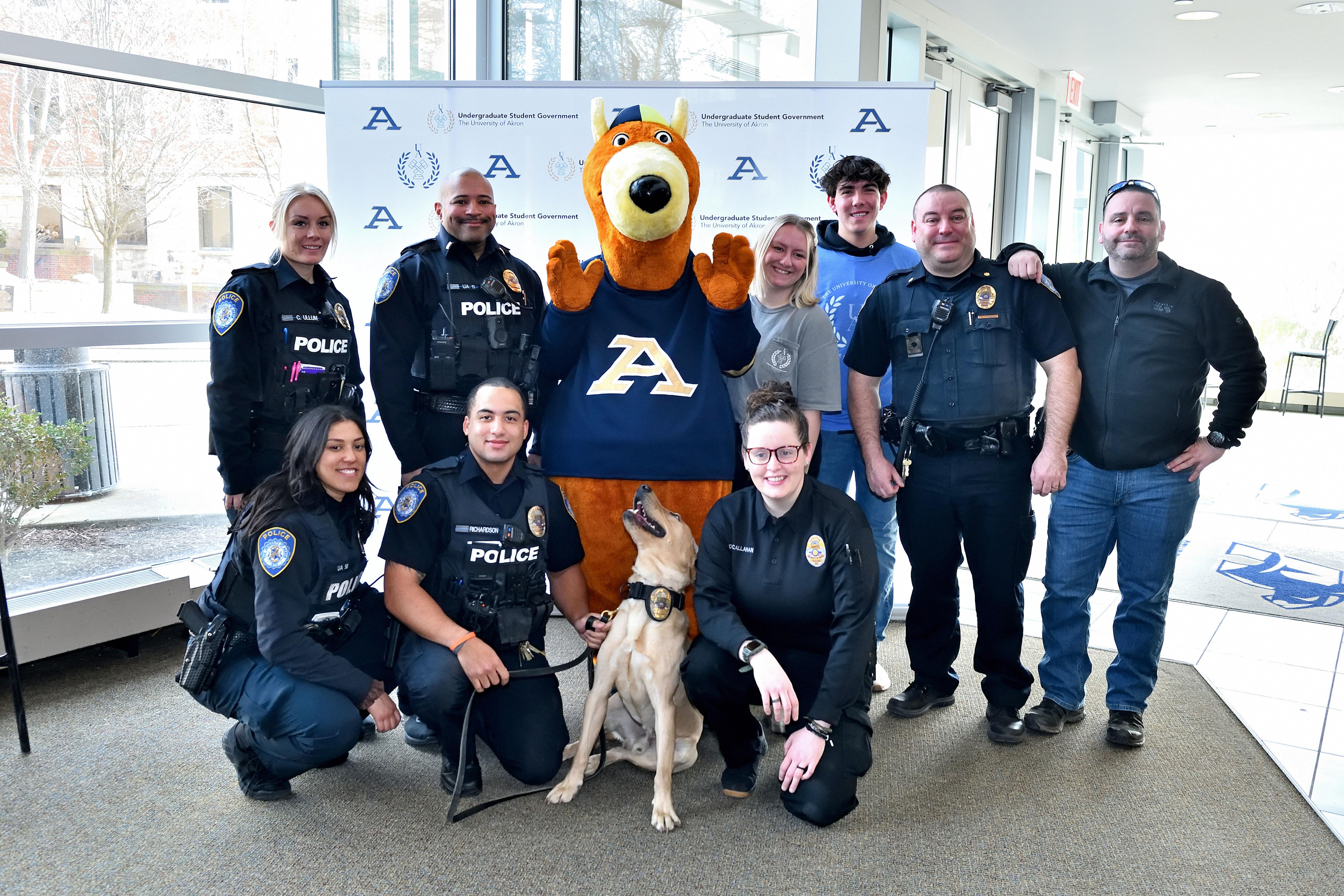 The University is focused on student success, and The University of Akron Police Department (UAPD) believes that safety is an important aspect of achieving it. Commissioned in the 1960s in response to civil unrest on college campuses, today's department is focused on building relationships.
"We see our work as less of a policing model and more of a safety model," said Chief Jim Gilbride. "At the end of the day, our goal is to work with our students so that they know we have their backs — to help them feel prepared for emergencies, but also to feel comfortable and safe in the classroom, residence hall and walking across campus."
UAPD officers help students succeed in a number of ways — educating them on crime prevention (locking doors, putting valuables out of sight), conducting trainings (active shooter/alcohol/drugs/ sexual assault), providing safety escorts, unlocking cars or jumping those with dead batteries, and conducting self-defense courses. They also investigate crimes on campus, work with students on capstone projects, and assist in providing security on campus and at athletic events.
Undergraduate Student Government (USG) President JP Garchar, a senior from Akron, sees the relationship between students and UAPD as very beneficial. "The UAPD helps students in so many ways. Not only are they prepared for large emergencies, they also consult with us on ways to make campus safer and more welcoming for all who come to campus."
USG and UAPD recently hosted an officer/ student meet-n-greet to help students get to know officers better.
"I love having them here — they check on my rental home when I am out of town and always smile and ask if we need anything when they see us on campus," said Julie Miller, a sophomore from Cleveland, who attended the event. "It gives me peace of mind."
UAPD is comprised of 34 officers, most of whom have degrees or are working toward degrees, and know what it's like to be a college student. Chief Gilbride encourages them to be involved in the community and the department provides a variety of trainings to help officers be more understanding and responsive to the everchanging student population.
The newest member of the UAPD is K9 Dunkan. Trained in bomb detection, he is a friendly face on campus and will soon begin training to also become a therapy dog.
"Our goal is to be able to effectively protect our students as we continue to create a feeling of safety for all segments of our community," said Gilbride. "It's our hope that their experience at UA is the best it can be.
Story by Cristine Boyd
Share