Students stretch to success at annual Rubber Band Contest
06/09/2023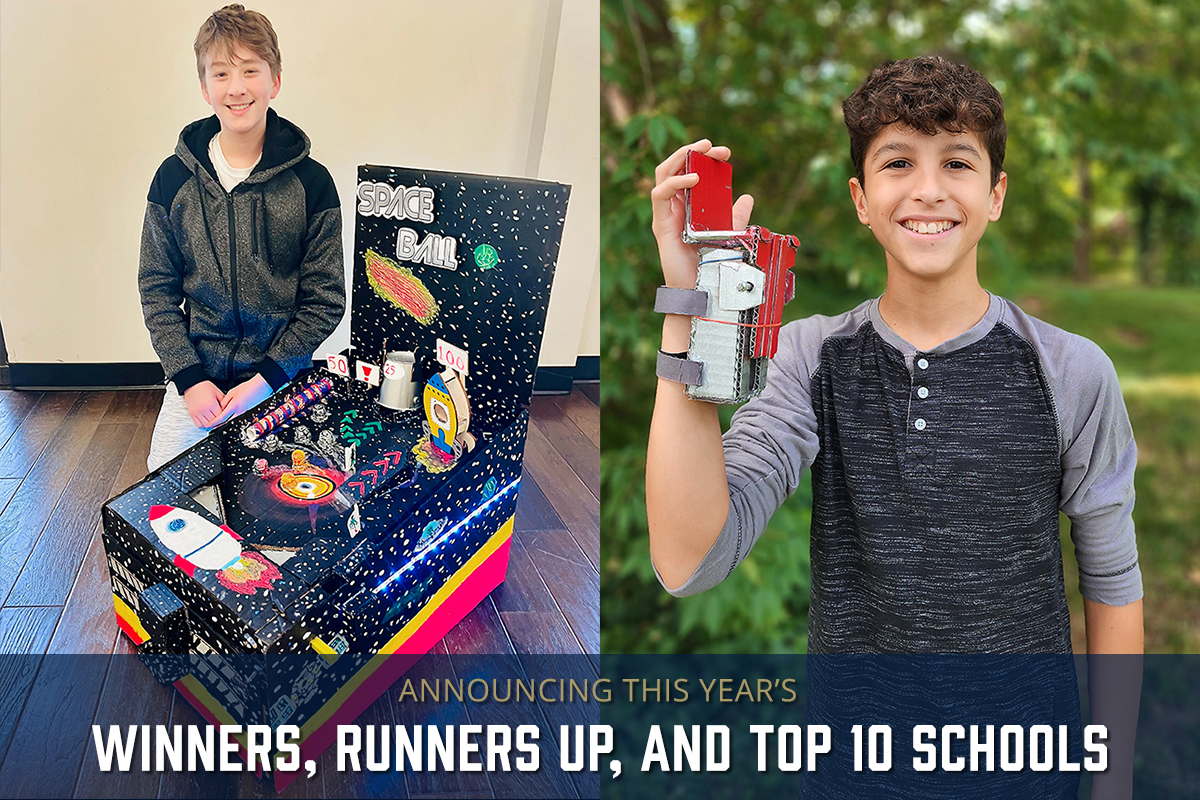 Congratulations to the winners, runners-up, and top 10 schools of the 15th Annual Rubber Band Contest for Young Inventors!
This national contest showcased the talent of students in grades 5-8 who let their imaginations run wild as they designed and created an invention or artwork incorporating at least one rubber band. These young innovators applied principles from science, technology, engineering, art, and math to their projects. They also had the option to submit their entries to either the Arts & Leisure or Science & Engineering categories.
Max Peña, first place winner in the Science & Engineering division, shared his thoughts about the contest. "The Rubber Band Contest was a challenging and fun experience. During the process of creating my project, I had to learn new skills on building with cardboard, working with rubber bands and problem solving. At some points in the design process, I didn't know if my project would work well in the end, so I had to learn to make improvements along the way. I also had a lot of fun filming and creating the video for the finalist round. Thank for you this opportunity!"
Video entry for Spiderman Web Shooter, Max Peña's first place invention in the Science & Engineering division.
"We saw Max work very hard on his project and put in many hours. He enjoyed the creative process and had a lot of fun with it," said Mary Jane and Joel Peña. "However, he also ran into several roadblocks and we watched him struggle too. But in the midst of the trials he kept pushing through. It was a reminder to us that if you have a vision, keep at it. You never know where it will lead you!
The contest, created in 2008 by the Akron Global Polymer Academy—an outreach division of The University of Akron's School of Polymer Science and Polymer Engineering—aims to promote polymers and engage students in the captivating world of STE(A)M education (Science, Technology, Engineering, Arts, and Mathematics). This immersive learning project emphasizes the design process, problem-solving, research, communication, and innovation.
"Building your creation takes a lot of thought and innovation, but it's a super fun experience," said Ezekiel Pujol, first place winner in the Arts & Leisure division. "There were times when I would complete something that only made a small difference, but I was so excited to show my friends even though the whole thing wasn't finished yet. Stepping back and seeing the project you've completed, and seeing everything come together at the end is truly astounding. This contest has taught me how to be a real and true engineer, how to innovate, how to think outside the box, and how to learn from your mistakes."
Video entry for Space Ball, Ezekiel Pujol's first place invention in the Arts & Leisure division.
"When Ezekiel embarked on this project, it consumed our lives," said Javier and Esther Pujol. "It sprawled across our kitchen table, floors, and even his bedroom. Cardboard boxes piled up, late-night trips to the craft store became routine for glue guns and paint. Videoing sessions turned the kitchen table into a permanent set with a laptop. Yes, there were frustrating moments for the family, adapting to the inconveniences. But deep down, we cheered him on. We witnessed his mind and skills flourish in remarkable ways we couldn't have imagined. He delved into rubber band engineering, pinball art, painting, space imagery, and more through research. As a finalist, he self-taught using YouTube: gimbals, cinematic shots, video editing software, and editing techniques. He discovered royalty-free music, choreographed his speaking with the music beats, wrote scripts, made cue cards, and scouted locations for shooting. The final product left us astounded. Winning was the icing on the cake, as the true prize lay in the invaluable skills he acquired. This experience refined his passion for engineering and inventing, becoming a pivotal event this year. Our gratitude extends to the University of Akron and their contest staff, who were incredibly kind, helpful, and responsive to our questions and concerns. We highly recommend this contest to any young innovator or program aspiring to inspire kids to unleash their creativity!"
We extend our thanks to all the students, teachers, and parents whose incredible support contributed to the success of this year's contest. A special thanks to our esteemed Gold Level Sponsor, Rubber Division of the American Chemical Society, for their continued support.
"I loved participating in the Rubber Band Contest. It encouraged me to do something new, to create. The fulfillment I felt when I saw my picture as a runner-up is beyond words." — Maxwell Miller, runner-up in the Arts & Leisure division for his invention Tic Tac Toe3
"I was surprised when the egg did not break when I made the video on tensegrity! It was also a surprise to me that tensegrity is even in my body!" — Nicole Haragutchi, runner-up in the Science & Engineering division for her invention Shock Absorber
Once again, congratulations to all participants in this remarkable display of rubber band ingenuity!
VIEW THIS YEAR'S CONTEST WINNERS
---
RELATED CONTENT:
---
Story by CEPS Marketing.
Media contact: Cristine Boyd, 330-972-6476 or cboyd@uakron.edu.
Share