Super Bowl ads a springboard for Suarez Lab research
02/16/2022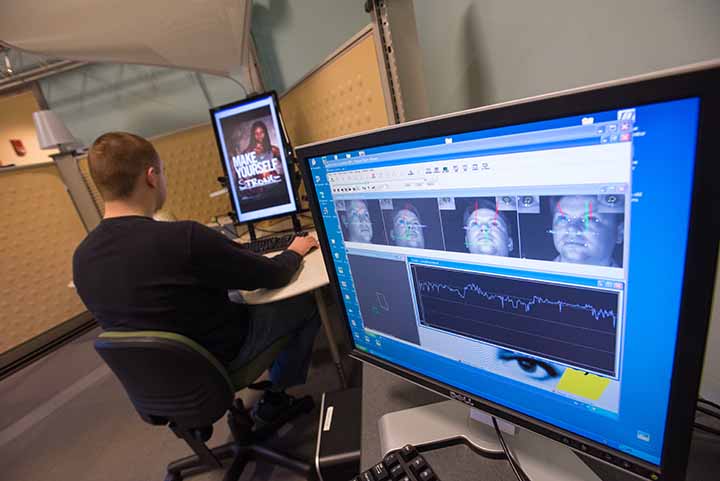 If you happened to be among the millions of Americans who tuned in for the 2022 Super Bowl, you might still be celebrating –or bemoaning—the Rams victory. Perhaps you're still scrolling through Twitter to catch up on your friends' opinions about the half-time show. But, most likely, you and your coworkers are dissecting the commercials.
Coinbase was one company dominating headlines on Monday, after its floating QR code commercial aired, with some calling it ingenious and praising its simplicity. Chevrolet's "Sopranos"-themed commercial and BMW's iX spot featuring Arnold Schwarzenegger and Salma Hayek were also hits with the public.
But why? What makes a particular Super Bowl advertisement stick in your mind?
The University of Akron's Suarez Applied Marketing Research Laboratories is one place to go for answers. Opened in November 2008, these facilities were created to allow the UA community to test market ideas.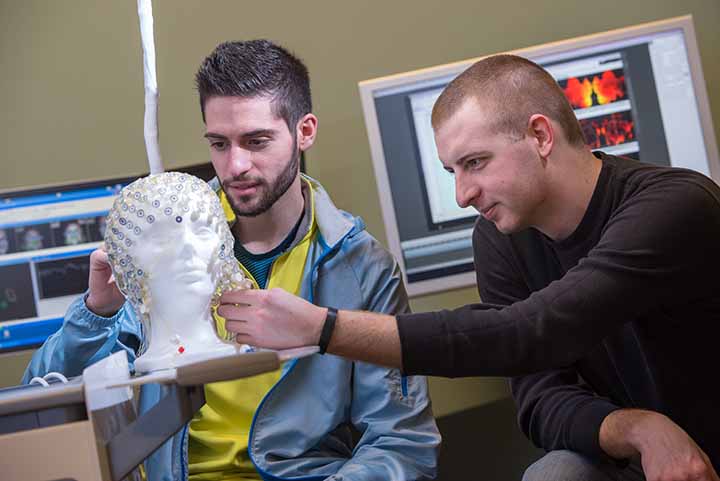 Both faculty and students use the lab's state-of-the-art technologies, such as eye tracking and facial coding software, to test various types of advertising.
"The lab has three main priorities," says Dr. Vanja Djuric, associate professor of practice and director of the Suarez lab. "About 40 percent of our work is to provide UA students with experiential learning, 30 percent is faculty research, and the last 30 percent is consulting projects."
In the Fall of 2020, Jim McKelvey, associate professor of practice in UA's College of Business, used Suarez Lab tools to test students' responses to Super Bowl ads, using computer webcams to code facial expressions of joy.
If you didn't catch that—it was Fall 2020—when in-person classes and faculty research were pretty much nonexistent due to the pandemic.
"Thanks to the technology at Suarez," explains McKelvey, "we were able to move full-steam ahead with meaningful research even while students were learning at home."
The entire class participated in everything from pretesting software to collecting and analyzing data, thanks to the hands-on, experiential approach that's a hallmark of UA's undergraduate experience.
Two students in particular excelled in the class. Tabitha Meers, a human resources management major, and Elias Lignos, who majored in sales management, studied facial expression data from volunteers with iMotions software available to the Suarez lab, combined with post-viewing survey questions.
With guidance from McKelvey and Dr. Sydney Chinchanachokchai, assistant professor of marketing, the students reported these findings in a paper for the 2021 virtual spring conference of the national Marketing Management Association (MMA) and won the Undergraduate Research Poster Award.

When the paper was accepted, MMA reviewers were impressed with the use of facial recognition technology.
"Not many undergraduates have access to a full suite of technology for capturing a consumer's physiologic reactions to marketing material such as advertisements or commercials," says McKelvey. "The University of Akron business school incorporates technology into curriculum, exposing students to the methodologies they will be using in their future workplaces."
Suarez lab is located on the fifth floor of the Polsky Building in downtown Akron and includes an amphitheater for classes, a cognitive research lab for physiological analyses, a marketing intelligence lab, and the experiential research lab.
Learn more about opportunities in the College of Business.
---
Media contact: Cristine Boyd, 330-972-6476 or cboyd@uakron.edu
Share