Surveying and mapping project supports local transportation business
12/19/2022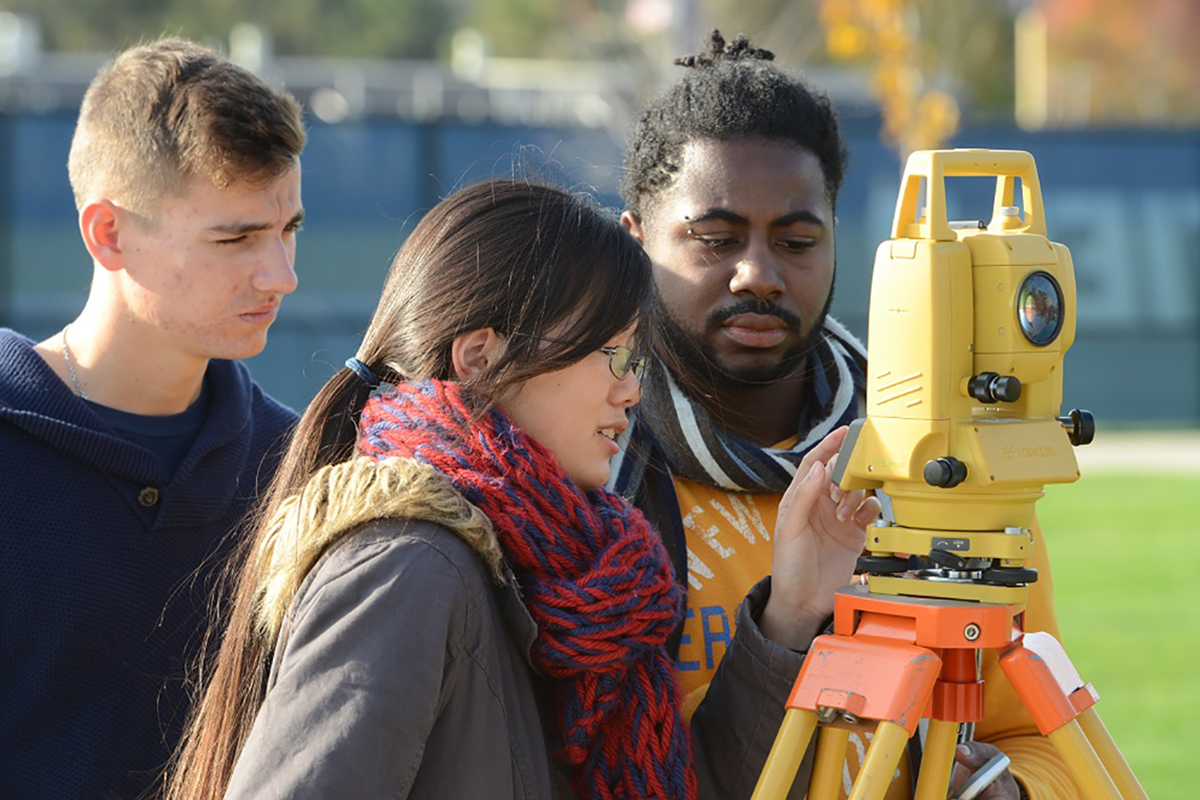 Students in The University of Akron's Surveying and Mapping program had the opportunity to gain hands-on, real-world experience with a recent group project.
In November of 2021, Fleet Response celebrated the grand opening of its corporate headquarters in Hudson, Ohio. As part of this celebration, the company commemorated its location in a unique, creative way – by installing a survey marker.
To help with the project, Profs. Joe Fenicle and Ann Besch were contacted by UA alumnus Jeff Jalbrzikowski, Appalachian Regional Advisor for the National Geodetic Survey (NGS). The NGS provides the framework for all positioning activities in the Nation. After reviewing the project details, Fenicle and Besch saw this as a great opportunity for their students to use as their senior capstone project.
As part of their project, Surveying and Mapping students Aaron Sowick, Dalton Lopp, Eric Kingsley, Frank Powers, Mitch Wilburn, Thomas McMullen, Timothy Ike, and Tyler McQueen collected data on the new survey marker using a GPS unit. This positional data was sent to the NGS and uploaded to the Online Positioning User Service (OPUS), officially putting Fleet Response in the federal database.
"This was a unique opportunity and win-win situation for Fleet Response and the students," said Joe Fenicle, Assistant Professor of Practice.
The Surveying and Mapping program prepares students for technical and professional careers in surveying as they learn how to manage geospatial data using laser scanning, drones, precise satellite positioning, ground penetrating radar, and robotics.
Fenicle continued, "Our program is among the top five Surveying and Mapping programs in the nation and the only accredited program of its kind in the state of Ohio."
This past summer, the program received a $10,000 Surveying Education Award from the National Council of Examiners for Engineering and Surveying (NCEES). This annual award recognizes surveying/geomatics programs that best reflect the NCEES mission to advance licensure for surveyors to safeguard the health, safety, and welfare of the public.
Thank you to the Fleet Response team and Jeff Jalbrzikowski for involving UA and supporting the Surveying and Mapping program.
---
RELATED CONTENT:
---
Story by CEPS Marketing.
Media contact: Cristine Boyd, 330-972-6476 or cboyd@uakron.edu.
Share