The EX[L] Center launches the Akron Community Engaged Scholars (ACES) Program
09/01/2023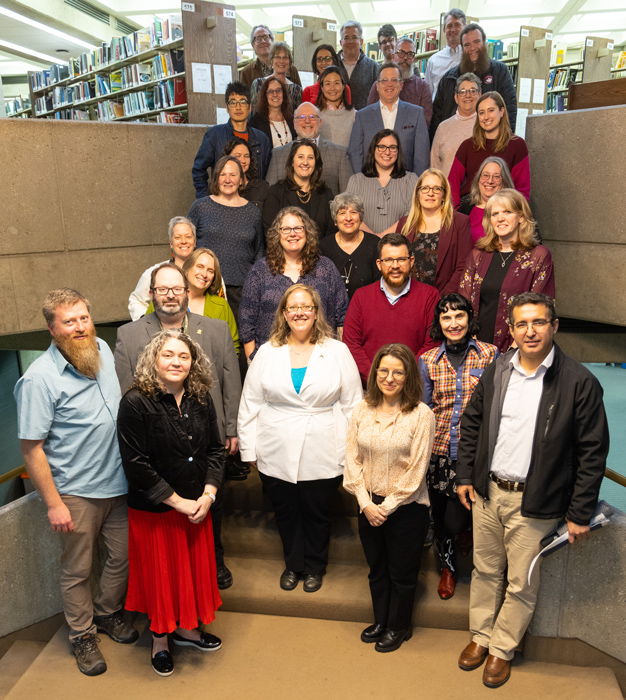 Akron Community Engaged Scholars (ACES) recognizes the first cohort of Faculty and Staff into the program.
The EX[L] Center for Community Engaged Learning at The University of Akron (UA) is pleased to announce the launch of its Akron Community Engaged Scholars (ACES) Program. The program offers a way for full- and part-time faculty who demonstrate a commitment to public impact by connecting campus and community through their teaching, scholarship and/or significant service to formally affiliate with the EX[L] Center. The ACES program is a representation of decades of work at UA, which has been designated a Community Engaged Campus with the Carnegie Foundation since 2008.
"The University of Akron has an impressive number of faculty members who actively engage the community and offer students real-world, hands-on opportunities to learn while conducting significant professional work, research and service that has a positive impact on Akron," said Dr. Christin Seher, director of the EX[L] Center. "We are beyond pleased to be able to recognize this often-unsung work with a formal title attached to our ACES' employment record, and to create a directory where the community can connect back with these champions of community-based learning."
The inaugural class of ACES includes 61 faculty and staff members from all walks of life, disciplines and parts of campus, who completed an application and selection process. From conducting audience research to helping non-profit organizations reach their publics; analyzing data that organizations have already collected; designing marketing materials and leading community-based programming, ACES are making a difference one project at a time.
"Many of the teaching and research projects completed by our ACES have genuinely benefitted Akron," Seher said. "We are hoping this program will increase the visibility of this important work, as well as the profile of faculty members, both part- and full-time, who are dedicated to giving our students hands-on work opportunities and to building a better Akron."
The selection criteria for ACES can be best summed up as: ACES are mindful of best practices, striving to create partnerships based on mutual benefit, reciprocity, authenticity, trust and equity. They actively support a culture of engagement on campus and contribute to telling UA's community engagement story. ACE Scholars are connected by a shared passion and will convene for professional development, to share best practices, to mentor others and to innovate in community engagement.
The inaugural cohort of ACES can be viewed in the 2023 ACES Directory. The directory separates the ACES into three different groups. ACE Scholars (57 named in 2023) are faculty and staff members who have already devoted a significant amount of time to community-engaged teaching, scholarship and service. Emerging ACE Scholars (four named in 2023) are faculty and staff members who are early in their career, and who are paired with mentors through the ACES program as they develop their work.
The last of the three groups are those titled Lifetime ACE Scholars (six named in 2023), which is a title reserved for faculty and staff members when they move on from UA. Throughout their career, these ACES were instrumental in building and supporting a strong culture of community engagement through their support of the EX[L] Center, and with their teaching, scholarship or service.
Dr. Carolyn Berhman, co-founder of the EX[L] is one such Lifetime ACE Scholar. "During my time at UA, I helped lead two broad initiatives," she said. "The first was the NSF-funded Active Research Methods (ARM) Lab which focused on methods for studying human behavior."

"The ARM platform and the grants we accrued enabled transformative experiences for undergraduates (students presented at international meetings and published their work which has led to jobs and graduate degrees for them), community partners (some of whom innovated on our shared research designs advancing their own data collection and analysis to guide their activities and programs), and for Akron residents (for example, the creation of an enduring multi-partner program addressing food security among children at an elementary school that has done so for 16 years and counting)," Behrman said.
The second broad initiative led by Berhman was the EX[L] Center itself.
Of 48 academic units at UA, more than half have at least one ACE Scholar and every College is currently represented. The inaugural cohort includes part-time instructors, non-tenure and tenure-track faculty, professional staff and university administrators.
"In more than a decade at The University of Akron, my students have worked with dozens of community clients," added Julie Cajigas, professor of practice in she School of Communication and ACE Scholar. "Just this summer students in my Advanced Strategic Social Media course created communication plans, a website and social media content that tells the story of the positive transformation of Akron's Kenmore neighborhood."
Together, the ACE Scholars represent some of the very best of UA, as it works to fulfill its vision as a public research anchor institution with an unsurpassed commitment to community engagement.
About The EX[L] Center
Founded in 2015, the mission of the EX[L] Center is to help students emerge as civically-engaged, adaptable leaders, ready to join in the enterprise of building strong and sustainable communities by promoting hands-on, community-based, problem-centered learning. To address this mission, EX[L] seeks to: support, expand, and create community-based opportunities that allow UA faculty and students to engage in Akron, sustain and develop connections between UA stakeholders and local business and non-profit changemakers, help students develop a connection to Akron as they explore their own interdisciplinary and innovative pathways to a degree, and assist faculty with creating innovative, interdisciplinary, community-engaged learning strategies. The EX[L] Center
---
Media contact:
Dr. Christin Seher, Director
Phone: 330-972-6322
E-mail: exl@uakron.edu
Share