The high-achieving Honors scholar: Grace Kolar
01/25/2022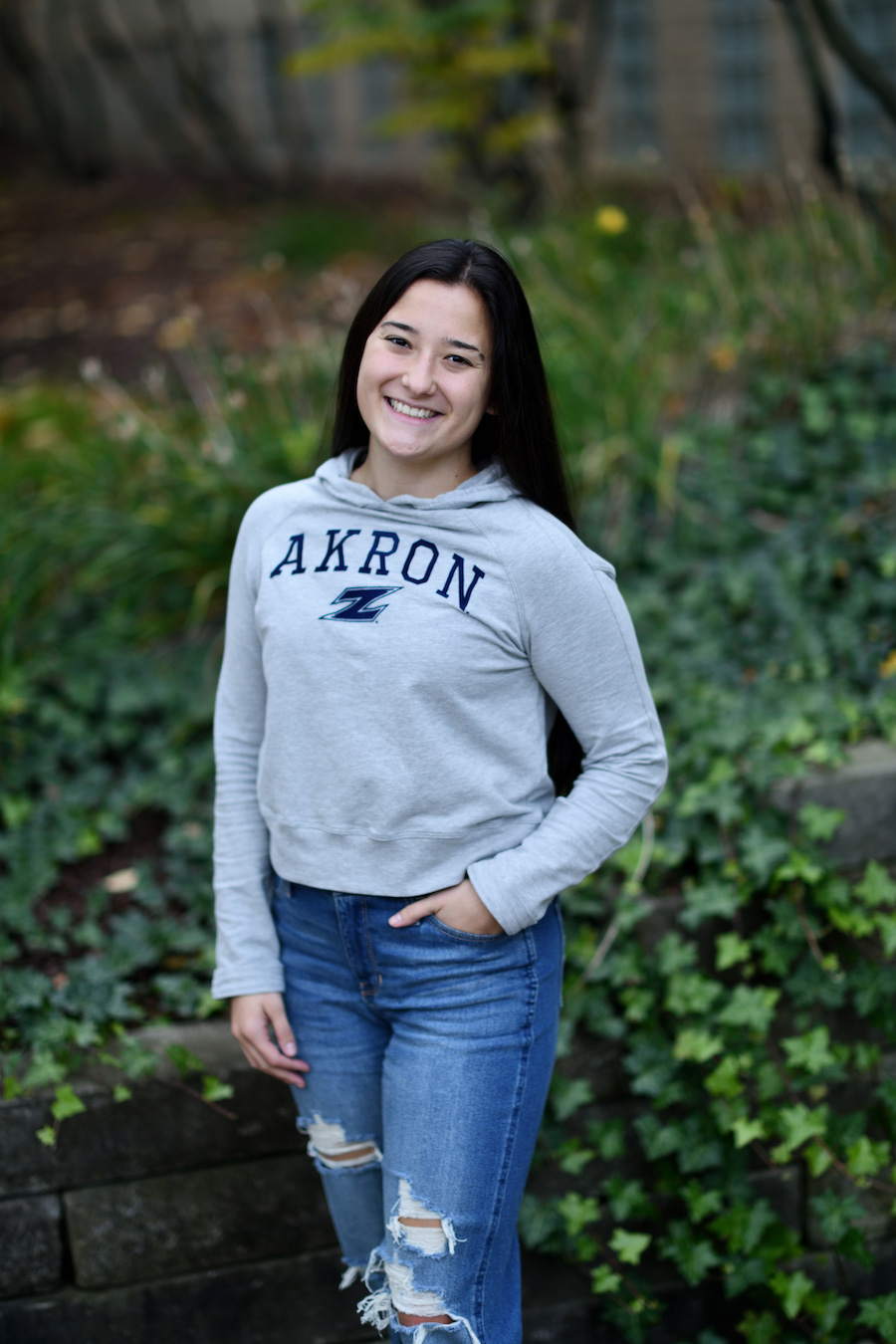 Grace Kolar
If there's one thing Grace Kolar knows, it's how to reach her fullest potential as a student.
And when she entered at The University of Akron's (UA) Drs. Gary B. and Pamela S. Williams Honors College (WHC), Kolar's success in academics was put to the test.
"I knew college would challenge my perfectionism from high school, and it did; however, I learned to stay on top of my tasks, do my absolute best, and be proud of the results and myself," says Kolar, a native of Twinsburg, Ohio. "I have always been a high-achieving student and have never known anything other than striving for my best."
Striving for her best earned Kolar the Lisle M. Buckingham/Owen O. and Della M. Orr Honors Scholarship—considered to be UA's most prestigious scholarship, offering students accepted into the WHC the opportunity to have free tuition, fees, and room and board, for up to four academic years of an undergraduate program.
"Being an Honors student is both demanding and gratifying," Kolar says. "There are numerous opportunities to improve yourself in multiple areas, and this can be extremely rewarding and provide you with necessary life and career skills. The demanding part comes in making time for all of these opportunities and concentrating on the ones you need to work on most."
Kolar is in her second year studying biomedical engineering in UA's College of Engineering and Polymer Science. Specifically focused on biomaterials and tissues, Kolar wants to pursue medical school after graduating in 2024 and work in the medical field, with eyes on general practice, dermatology, neurology and nephrology.
Kolar found inspiration to study biomedical engineering from the country's deadly opioid crisis and the need to prevent and reverse overdoses, treat addiction and identify new synthetic and lethal drugs. And after writing an essay for a chemistry class about the chemicals in the brain that cause the feeling of love, she knew she wanted to work in the medical field after remembering how much she loved biology and all its intricacies.
Kolar's interests have led her to several opportunities to earn valuable career and life skills, such as being a member of the Biomedical Engineering Society, the Society of Sales Engineering and Delta Gamma Fraternity, in addition to representing the WHC as an Honors Delegate.
"Being in the Williams Honors College has given me a place to belong on campus and feel comfortable as a new student," says Kolar. "The value of being an Honors scholar is innumerable. Some of the tangible 'perks' include priority registration, schedule flexibility and intriguing colloquia. I think the best value, though, is in being surrounded by like-minded and similarly determined people who will boost you up, not step on you for a spot."
And for future high achievers, Kolar has some words of wisdom.
"High-achieving students such as yourselves need to think not only about the education you will get in college, but also the connections you will make with your peers and your professors and the skills, outside academia, that will lead you to succeed in your careers. These are not visible aspects of your transcript or GPA, but of equal importance. The faculty at the University of Akron are always willing to help, chat, and recommend you to others, and your peers will be your best friends, your study partners, and your fellow complainers—choose wisely! The Honors College is full of people willing to help you if you're willing to take the opportunities presented to you."
More: See other Williams Honors College students' stories
---
Media contact: Cristine Boyd, 330-972-6476 or cboyd@uakron.edu
Share