The Servant Williams Honors Scholar: BreAnna Piorkowski
12/01/2022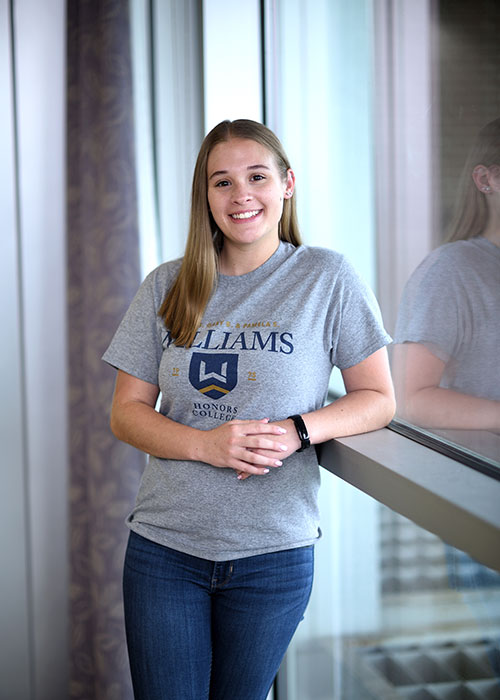 BreAnna Piorkowski
The Rev. Dr. Martin Luther King Jr. once said, "Everybody can be great, because everybody can serve."
Taking those words into consideration, BreAnna Piorkowski, a senior majoring in psychology at The University of Akron (UA), is preparing for greatness. With minors in child development, family development, and sociology, the Massillon native aspires to serve one of the most vulnerable populations — children.
"I have a servant's heart, and I really enjoy helping people," said Piorkowski, a graduate of Washington High School in Massillon, Ohio.
"My dream job would be working with children in a hospital setting, which is why I'm pursuing the profession of a child life specialist."
Child life specialists work closely with children and families in medical settings to provide emotional and developmental support and coping strategies as they navigate the challenges of illness, hospitalization or a disability.
"I have always loved kids and enjoy making them smile, especially when they are going through one of the toughest times of their lives," Piorkowski added.

At UA, the Drs. Gary B. and Pamela S. Williams Honors College (WHC) is helping Piorkowski rise to greatness with additional opportunities and experiences to realize that dream. For instance, a required component of the Honors experience is the Honors Research Project. Piorkowski is focusing her work on how student involvement on campus affects a student's well-being in college. She plans to compare data from on-campus versus off-campus students and see if there is a correlation between the two values.
"This experience can carryover well into my career because not only can I apply the results of involvement and wellbeing to the children I might serve, such as playing games and doing crafts to lift their spirits," said Piorkowski, "I can also use these research skills throughout my entire profession."
WHC's Honors Distribution program requires students to complete courses in several disciplines; likewise, the college's Honors Colloquia courses bring together honors students from various majors to discuss timely topics in the natural sciences, social sciences and humanities.
More so, Honors students are not required to take some of the general education classes as other students, offering them opportunities to further explore their interests. For Piorkowski, that means adding three minors and completing two certificates, all making her a more marketable job candidate to work toward her career choice.
"Being an Honors student has pushed me to be the best version of myself," said Piorkowski. "My motivation is based on the light at the end of the tunnel. Once I later graduate with my master's degree and pass my child life certification exam, I can start making a difference in children's days. Being able to possibly help children in the future is a constant driving factor for me."
After graduating from UA, expected this spring, Piorkowski plans to attend graduate school to earn a master's in child and family studies with a concentration in child life. Ultimately, she hopes to work in a children's hospital. It's a role she's already familiar with by volunteering at Akron Children's Hospital with a child life specialist in the school age unit where, typically, she is assigned a list of patients, including babies, and spends her day checking on their comfort and socializing with them. She'll often bring coloring books, toys, and games, and will take children on walks to cheer them up.
Outside of her academics, Piorkowski serves across campus in student organizations. In addition to being in the National Residence Hall Honorary and Psi Chi, an international psychology honor society, she is president of UA's Residence Hall Program Board, a member of the American Sign Language Association and a UA Ambassador. Suffice to say, Piorkowski has taken full advantage of her opportunities as a student and Honors scholar.
"High-achieving students should consider UA because of the multitude of opportunities the university offers its students," she said. "The Honors college, specifically, has so many unique opportunities and gives you ample chances to meet other high achievers. I lived in the Honors Complex for my first two years at UA, and it allowed me to meet the most amazing people and make memories that I will always hold close to my heart."
---
Media contact: Cristine Boyd, 330-972-6476 or cboyd@uakron.edu
Share