Timothy Meyers named executive director of School of Nursing and associate dean of College of Health and Human Sciences
12/08/2022
After a national search, The University of Akron (UA) has selected Timothy Meyers, Ph.D., as associate dean of the College of Health and Human Sciences, executive director of the School of Nursing and professor of instruction in the School of Nursing. He will begin these roles effective Jan. 2, 2023.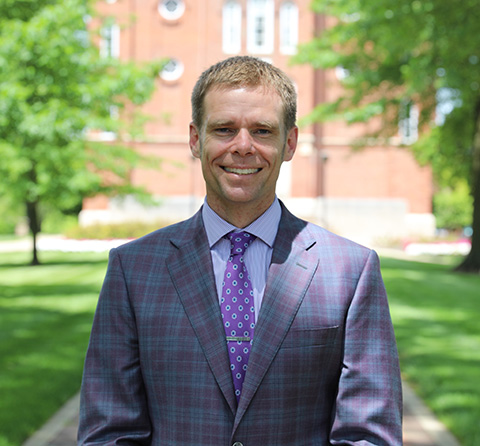 Meyers currently serves as chair, director and professor in the Department of Nursing at The University of Mount Union. He is also a statistical consultant with the American Society of Consultant Pharmacists. From 2007 to 2020, Meyers held several teaching positions with Kent State University in the accelerated undergraduate nursing program, in addition to holding leadership roles with Kent's undergraduate honors program.
In clinical practice, his areas of specialization included medical surgical nursing, nurse education and infusion nursing. He has worked as a nurse at Southwest General Hospital and at the Cleveland Clinic Foundation, both in Northeast Ohio, and St. Vincent Hospital System in Erie, Pa.
"I am honored to be selected as associate dean of the College of Health and Human Sciences and to lead the School of Nursing—one of the top schools in Ohio—as executive director," said Meyers. "The University of Akron's School of Nursing is dedicated to the belief that nurses are the backbone of today's health care system and I look forward to empowering the next generation of transformational, innovative medical leaders."
In his new role, Meyers will serve as the academic leader of the School of Nursing, in addition to holding administrative and teaching responsibilities. Reporting to the Dean of the College of Health and Human Sciences, Meyers will work closely with other College directors, faculty and staff.
"With his strong background in clinical nursing practice and in nursing education, we believe Dr. Meyers will be a tremendous asset to our School of Nursing—and will build upon the strengths of an already excellent program," said Dr. Timothy McCarragher, interim dean of the College of Health and Human Sciences. "We look forward to collaborating with Dr. Meyers in strengthening academic programs, enriching the University community, and achieving School, College and University strategic planning goals."
Meyers earned a Bachelor of Science in Nursing from Edinboro University and a Master of Science in Nursing Education from Clarion University, both in eastern Pennsylvania. He later earned a doctoral degree in evaluation and measurement, with an informational technology focus, from the Kent State University College of Education.
He has researched competency-based approaches to leadership development and resilience for student nurses, competency-based education for practice-ready nurse graduates and instrument development for common data elements for simulation, among many other projects.
Learn more about the School of Nursing here.
Media contact: Cristine Boyd, 330-972-6476 or cboyd@uakron.edu.
Share