UA offers free evaluations for National Depression Screening Day
09/30/2022
In support of National Depression Screening Day, The University of Akron's (UA) Counseling and Testing Center will host free screenings for depression and other mood disorders for students on Thursday, Oct. 6. The event will take place from 11 a.m. to 2 p.m. in the Piano Lounge in the Jean Hower Taber Student Union.
Approximately 40 million adults each year go about their lives while experiencing anxiety, which commonly results in depression or vice versa, according to the Anxiety & Depression Association of America. With the COVID-19 pandemic and ongoing social issues, that struggle has only been worsened. And college students are one of the most vulnerable populations to experience mental health challenges.
"Just like with physical ailments, the best opportunity to control mental illnesses and mood disorders is with early recognition and treatment," said Dr. Natacha Keramidas, a psychologist and outreach coordinator for the Center. "Screenings are one of the best tools we have to take that first step in helping someone as they experience depression."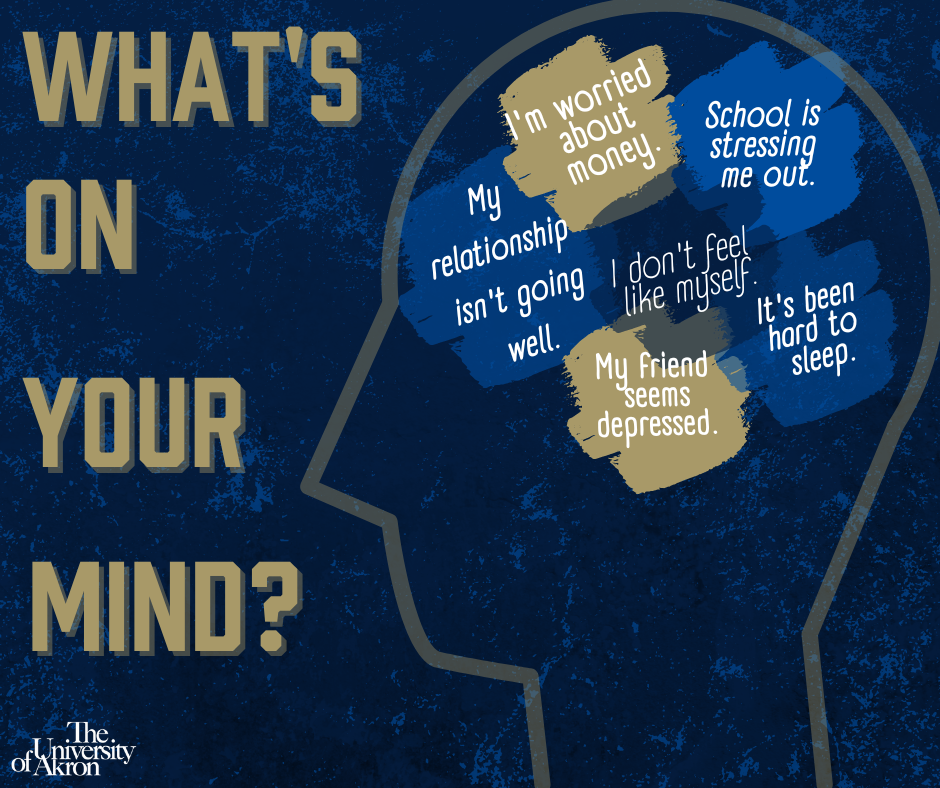 UA's screening event for students is aimed at helping decrease stigma while raising awarness of mood disorder symptoms.
According to a 2020 survey of nearly 18,800 college students by the The Healthy Minds Network and the American College Health Association, 60% of students indicated that the pandemic made it more difficult to access mental health care. More so, a separate 2021 survey by the The Healthy Minds Network indicated that 41% of college had some form of depression and 34% experienced some form of anxiety.
"We really want students to know that it's OK to not be OK and that seeking help is one of the best things they can do when struggling with a mental illness," said Keramidas. "Based on the results of each student at the screening, we will encourage them to seek out campus resources and refer them to the Counseling and Testing Center. Many times, we screen students who are doing well and that's great to see."
National Depression Screening Day has been a nationwide event since 1991, with many people benefiting from early recognition through free screenings hosted by communities, schools, military bases and workplaces.
The goals of UA's screenings are to help students learn something new about depression, such as its symptoms and how to manage them; encourage them to reach out to others who appear to be depressed and offer resources or encourage them to get screened; and contribute to fighting the stigma associated with mood disorders.
"This event is a great opportunity for all of us to come together as a community to fight the negative stigmas around depression and learn about available resources we have on campus," said Keramidas.
The Counseling Center offers a full range of free and confidential counseling services to enrolled students. It is open for in-person services and conducts walk-in intake appointments Monday through Friday. For more information, call 330-972-7082 or visit the Counseling and Testing Center webpage.
---
Media contact: Cristine Boyd, 330-972-6476 or cboyd@uakron.edu
Share