UA ranks on Top 100 U.S. Universities Granted Utility Patents in 2022
09/25/2023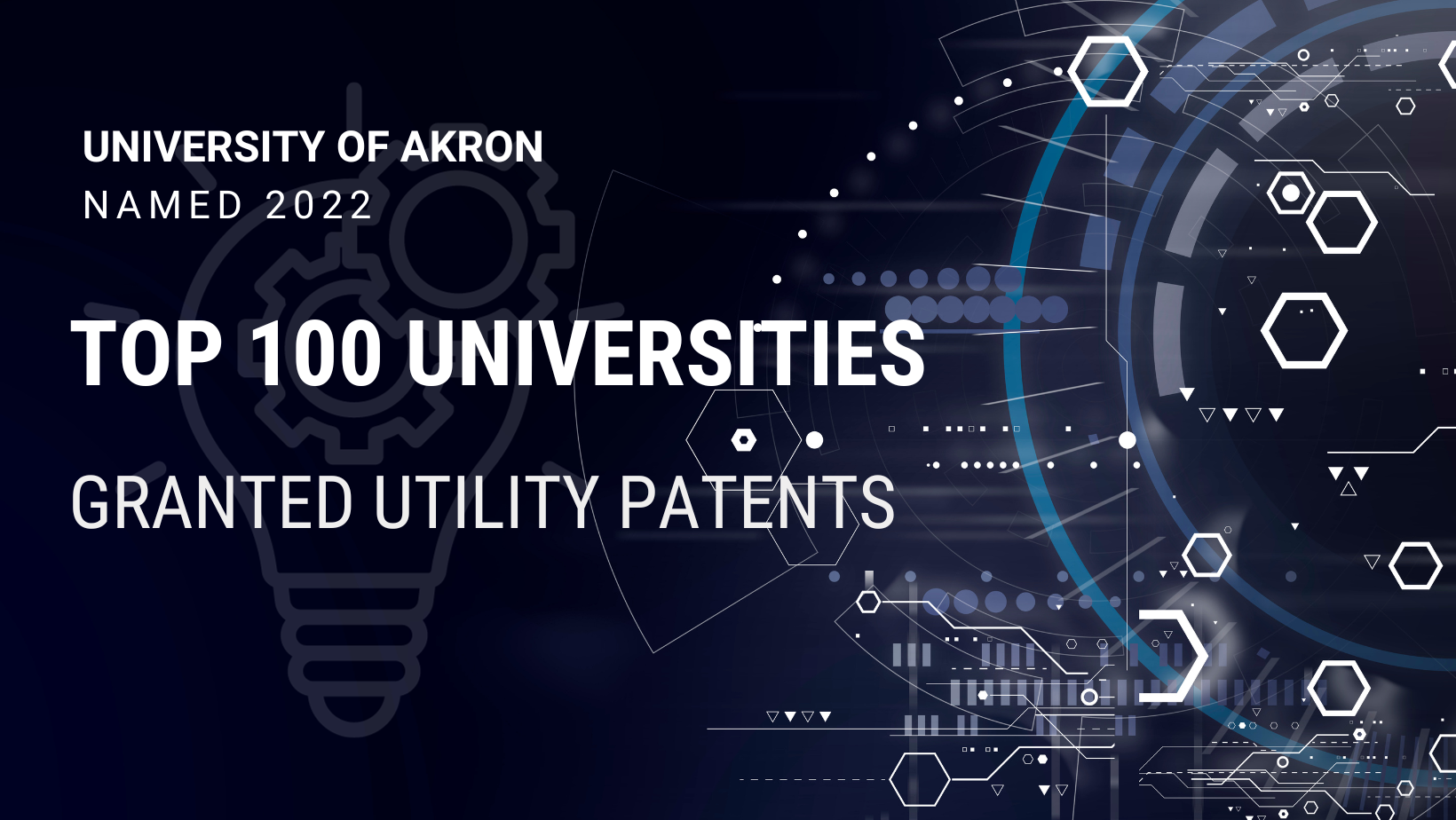 The University of Akron (UA) ranked 86 on the Top 100 U.S. Universities Granted Utility Patents in 2022, a list published by the National Academy of Inventors (NAI). This new list was created to highlight and celebrate American innovation and to showcase the universities that play a large role in advancing the innovation ecosystem within the U.S. and beyond.

"It is an honor and a privilege to be honored as a Top 100 U.S Universities Granted Utility Patents in 2022," said Dr. Suzanne Bauch, vice president for research and business engagement and dean of the graduate school. "Of those U.S. patents issued in 2022, 65% have been licensed to external industry partners and UA start-ups leading to continued collaboration and commercialization efforts of UA technologies."

The University of Akron (UA), one of the nine founding NAI charter members, has been ranked in the top 100 every year since 2017. The Top 100 U.S. Universities list is meant to provide a more focused view of the national innovation landscape and the contributions made by U.S. academic institutions.

NAI's Top 100 lists are created using calendar year data provided by the United States Patent and Trademark Office. Top 100 placement includes all named assignees listed on the patent. See the full Top 100 U.S. Universities List here.
 
UA's portfolio includes more than 400 active, pending and provisional patents in areas including specialty polymers science and engineering, biotechnology, medical devices, biomimicry, chemistry, sensors and devices, energy and green technologies, and nanotechnology.
Check out UA's published patents and patent applications
Learn more about the Office of Technology Transfer
Visit the University of Akron Research Foundation and the I-Corps

"As a U.S. based national academy, it is important to us not only to showcase innovation happening on the broader world stage, but here at home as well. Invention has been part of the American experience since the country's inception, with intellectual property being protected in the Constitution,'' said Jamie Renee, executive director of NAI. "Innovation has always been at the heart of U.S. culture and the Top 100 U.S. Universities list allows us to recognize and celebrate the commitment these universities have to the American tradition of invention and protection of IP."

"Innovation and new research have always been a core part of UA, and this recognition will continuously help us push the boundaries on a global scale," said Bausch.
Share