Undergraduate students dive into the fascinating world of polymers
09/27/2023
Unleash Your Potential with a B.S. in Polymer Science and Polymer Engineering at UA.
The University of Akron (UA) has long been recognized as a world leader in polymers — and now undergraduate students are solving some of the world's most complex challenges involving macromolecules through the Bachelor of Science in Polymer Science and Polymer Engineering degree program.
With the program established in 2022, UA is the first public university in Ohio to offer such an undergraduate degree, giving younger scholars the opportunity to learn the chemistry of how polymers are made while exploring unique physical properties that allow them to change from liquids to stretchy elastomers to hard plastics. Students can choose to specialize in sustainability, processing, or biomaterials.
Polymers are very large molecules, such as DNA, proteins, paint, rubber, and plastics, that are pervasive in everyday life, even if one might not immediately recognize them. They find applications across diverse industries, spanning from aerospace and electronics to medicine, petroleum and fiber. Polymer scientists invent new materials, optimize processes, and model the physical behavior of macromolecules.
Second-year student Pailey Vitale said she's met resourceful faculty who have guided her and supported her interests in studying polymers in the program. She's even gotten to provide feedback on a polymer class curriculum and discuss ideas for her own education path.
"I've thoroughly enjoyed learning about different polymers and their properties and types of molding," said Vitale, who is from Freeport, Pennsylvania. "My plans for after graduation are to either go into industry with a focus in processing, like 3D printing and molding, or continue my education for an advanced degree."
In UA's comprehensive undergraduate program, students acquire the knowledge and skills necessary to become a leader in the field of polymers, where cutting-edge research and innovation meet real-world applications. Until now, UA's polymer programs were only available in advanced master's and doctoral programs.
UA boasts distinguished faculty with expertise in polymer science and polymer engineering, guiding students through a curriculum that blends rigorous coursework, hands-on laboratory experiences, and collaborative research opportunities.
More so, students in the program benefit from state-of-the-art processing facilities, access to the 25 polymer-related research labs in the School of Polymer Science and Polymer Engineering (SPSPE), industrial collaborations with local polymer-focused companies, and a wealth of research opportunities.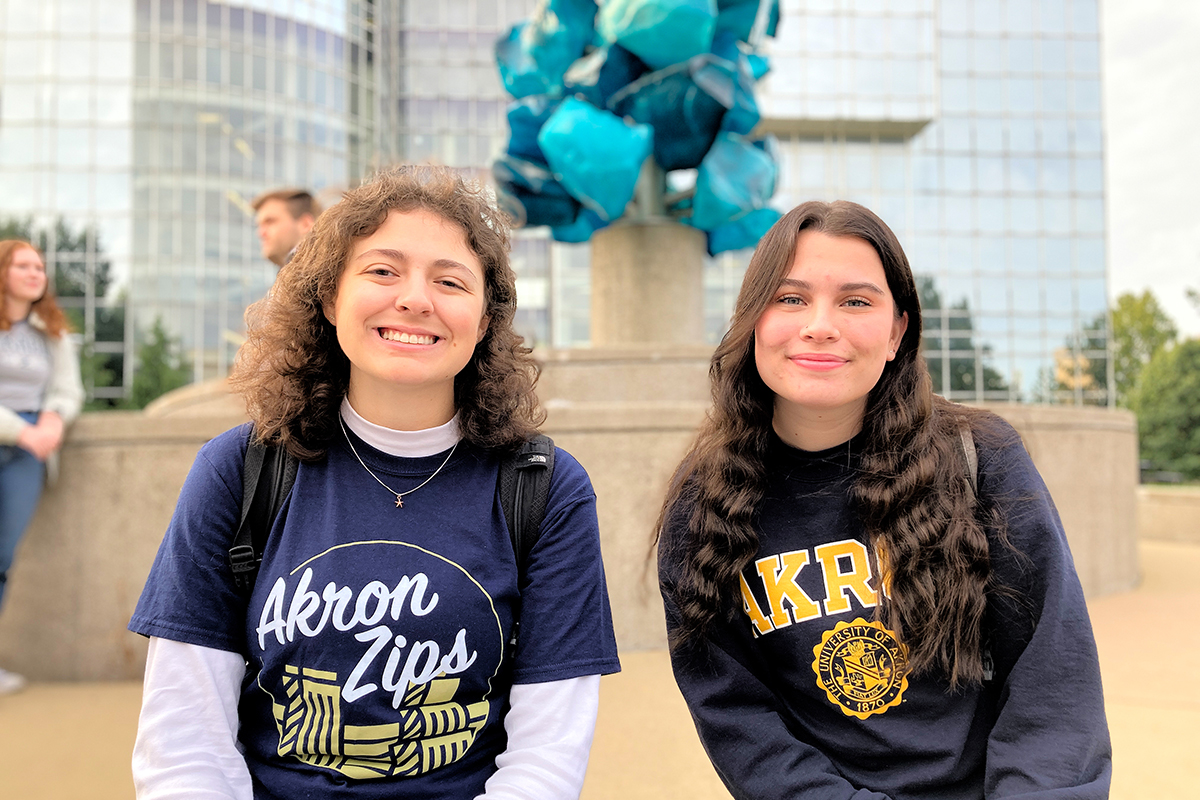 One of the student groups in the College that Vitale is a member of is Zips Precious Plastics, where she and other members take recycled plastic and shred the material into small chips and shape them into molds to make "Z" (for Zips) keychains.
"I love this student group because I am getting actual hands-on experience with polymers," she said. Students enrolled in the undergraduate program like Vitale have access to advising, career services and tutoring, all currently offered in the College of Engineering and Polymer Science. They can participate in design teams and student organizations, such as the Polymer Student Organization, and participate in the University's famed Co-op and Placement Program.
The undergraduate program was established on the heels of the University's recent ranking as No. 1 in polymer science and plastics engineering programs by global ranking site EduRank.
"The University of Akron's internationally recognized polymer programs have long been symbols of innovation and research that contribute to the advancement of this critical industry," said Dr. Craig Menzemer, dean of the College of Engineering and Polymer Science. "Our continued engagement with the regional and national polymer community strengthens our ties with industry leaders and ensures that our students receive the best education rooted in real-world experiences. Our undergraduate polymer program will help shape the future of this dynamic field, so we remain dedicated to the excellence of our students, alumni and partners."
UA's strength in polymers dates back to 1909 when the world's first course in rubber chemistry was taught on campus by Dr. Charles M. Knight. Eventually, UA launched the first Ph.D. program in polymer chemistry in 1956. As the polymer industry grew and diversified, so did the programs, with UA ultimately offering cutting-edge academic and research programs in polymer science, polymer engineering and chemistry. Students benefit from industrial collaborations with local polymer-focused companies, state-of-the-art processing facilities and a wealth of research opportunities.
---
RELATED CONTENT:
---
Story by Alex Knisely.
Media contact: Cristine Boyd, 330-972-6476 or cboyd@uakron.edu.
Share