UA awards education scholarship to East CLC grad
08/12/2022
The University of Akron (UA) has selected Karley Scott as the 2022 recipient of its Harrington Scholarship, which provides full tuition coverage for an incoming education student. This award is given annually to a recent graduate of Akron Public Schools who is directly admitted into UA's LeBron James Family Foundation (LJFF) School of Education and wishes to become a teacher in the Akron Public Schools (APS).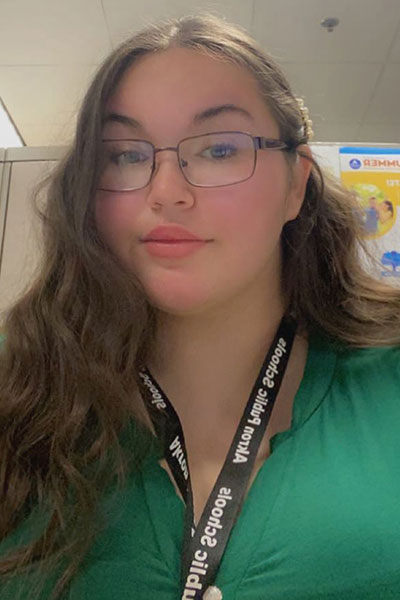 Karley Scott
"I'm absolutely shocked and so grateful for earning the Harrington Scholarship," said Scott, an alumna of East Community Learning Center. "This is an amazing opportunity because I don't have to worry about college debt, and it's taken a financial burden off of my mother's shoulders."
The Harrington Scholarship program provides full-tuition, fees, room and board for each year up to four years. The "Harrington Scholar" must remain a student majoring in a degree program within the LJFF School of Education to continue to receive the award. The scholarship is named after the late Madge W. Harrington, a 1926 and 1927 graduate of UA.
"We are proud to have Karley join the LJFF School of Education. The Harrington Scholarship program aligns with our commitment to providing opportunities for those who want to become excellent teachers in an urban school district," said Lisa Lenhart Ph.D., director of the LJFF School of Education.
'I want to be a support system'
During high school, where her favorite classes were language arts and history, Scott served as a student ambassador and secretary of her class and was on East CLC's student leadership cabinet. She was a member of National Honors Society and participated in DECA (Distributive Education Clubs of America) competitions for three consecutive years through her high school's business and hospitality management pathway. Scott also played bowling on the varsity girls team her first two years in high school.
Scott is interested in studying Language Arts and Social Studies and wishes to teach grades seven through 12.
"As a teacher, I want to be a support system for my students who they can come to when they're having a hard time," said Scott. "I want to ultimately be a teacher who is kind but also fair where my students can come to for questions if they're ever confused in a future lesson."
"I am so proud that Karley is a Harrington Scholarship recipient and am excited to see her developing into the strong, smart, kind young leader she is today," said Megan Mannion, a library media specialist for APS, who provided a reference letter for Scott's scholarship application. "Karley has a delightful outlook and personality that intentionally weaves in kindness and realism in all that she says and does. I know this scholarship is an opportunity for her to fulfill a dream of becoming a teacher so that she can continue to impact the lives of those around her."
Support for learning
More than three decades ago, Madge W. Harrington and her late husband, F. Theodore Harrington, who graduated from UA in 1925, bequeathed their estate to UA and established The M.W. Harrington Education Professorship Fund in Education and the F.T. Harrington Engineering Professorships Fund. The Harrington Scholarship in Education is a component to the Madge W. Harrington Professorship in the School of Education.
Applicants may apply at the end of their senior year of high school, must have a 3.0 grade point average (GPA) to be eligible for the scholarship, and must maintain a 3.0 GPA throughout the course of their college careers. There is no specific amount that will be awarded as this "last dollar" scholarship is designed to bridge the gap between a recipient's financial aid needs and the total cost of tuition, fees, room and board.
---
Media contact: Cristine Boyd, 330-972-6476 or cboyd@uakron.edu
Share