Rebecca Erickson, Ph.D.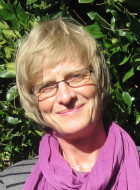 ---
Biography
Professor Erickson's research interests include emotion management in work and family and their effects on well-being as well as issues related to the social psychology of the self. Her most recent project focuses on the occupational experiences of nurses and how the emotional demands of the nursing profession impact nurses' health and present unique challenges to healthcare organizations seeking to retain qualified nurses in bedside care.
---
Research Accomplishments
Specializes in Personality & Social Systems
NSF Grant: "Identity and Emotion Management Control in Health Care Stettings"
Education
Ph.D. Sociology (1991) from Washington State University
---
Courses
Sociological Theory
Personality & Social Systems
Proseminar in Sociology
Introduction to Sociology
---