Dr. Zhe Luo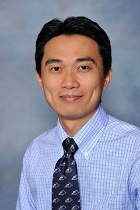 Title: Assistant Professor
Dept/Program: Civil Engineering
Office: ASEC 210E
Phone: 330-972-7292
Email: zluo@uakron.edu

---
Biography
Dr. Zhe Luo is an Assistant Professor of Civil Engineering at the University of Akron. He received his B.S. in Civil Engineering and M.S. in Highway and Railway Engineering from Tongji University, and his M.S. and Ph.D. in Geotechnical Engineering from Clemson University. He is an Associate Member of American Society of Civil Engineers (ASCE), Member of American Society for Engineering Education (ASEE), Member of Canadian Geotechnical Society (CGS), Member of The United States Universities Council on Geotechnical Education and Research (USUCGER), and Member of TC304 Engineering Practice of Risk Assessment & Management of the International Society of Soil Mechanics and Geotechnical Engineering (ISSMGE). He is currently serving on the editorial board of International Journal of Geotechnical Engineering (Maney Publishing, UK) and Marine Georesources & Geotechnology (Taylor & Francis).
Dr. Luo's primary research areas include geothermal foundation, probability-and reliability-based design, risk assessment, and robust design for resilience. He is the co-author of 40 research papers published in prominent international peer-reviewed journals and conferences, and the co-author of the book entitled Principles of Soil Dynamics, 3rd Edition, published by Cengage Learning. Dr. Luo's written work has been cited multiple times by other research scholars in at least 30 countries/territories on 6 continents worldwide. Between 2011 and 2015, he was invited by international conferences and universities in USA and Canada for 18 presentations.
Dr. Luo is a recipient of the Outstanding Lab Instructor Award from Clemson University (2011), the Best Paper Award of Journal of GeoEngineering (2012), the Best Paper Award of Georisk: Assessment, Management of Risk for Engineered Systems and Geohazards (2013), and Faculty Research Award from University of Akron (2015).
Dr. Luo also serves as an active reviewer for National Science Foundation and 22 international journals.
UNIVERSITY SERVICES
Graduate Committee, Department of Civil Engineering, University of Akron, 2014-present
Seminar Committee, College-wide and departmental seminar series, University of Akron, 2014-present
Student Recruitment and College Scholarship Committees, University of Akron, 2014-present
TEACHING
Statics, Soil Mechanics, Soil Mechanics Lab, Foundation Design, Soil Dynamics, Design of Earth Structures, Numerical Methods in Geotechnical Engineering
---